 Rep. Joe Walsh (R-Ill.) this week mocked Democratic opponent Tammy Duckworth, an Iraq war veteran and double amputee, for speaking at the Democratic National Convention, charging that the only issue Duckworth cares about is her outfit.
"Ms. Duckworth has continued to show more interest in rubbing elbows with big name party insiders, then [SIC] staying home and tackling the tough issues facing voters in the district," he said in a statement on his website. "It has become abundantly clear that at this point the only debate Ms. Duckworth is actually interested in having is which outfit she'll be wearing for her big speech."
Duckworth told The Huffington Post that she has already debated Walsh twice and has three more debates scheduled with him, but she is not surprised by his degrading insult.
"It's not the first time Mr. Walsh has been sexist, but frankly I have more important things to do than listen to a man whose whole purpose in Congress is to shout from the mountaintops and not to serve his constituents," she said. "My whole point of being here was to bring the perspective of my constituents to leadership and to make sure we do talk about jobs, the economy, and our country's military policies, and I think I've done a great job of that."
Duckworth, one of the first women in the U.S. Army to fly combat missions in Iraq, spoke at the DNC Tuesday night about President Obama's military accomplishments, including ending the Iraq War, eradicating terrorist leaders and allowing women to serve in more combat jobs. She also shared personal stories about growing up poor, becoming a Blackhawk pilot, and losing both of her legs in Iraq when a grenade launched by an insurgent exploded in her lap.
Prior to running for Congress, Duckworth ran the Illinois Department of Veterans Affairs and later became an assistant secretary at the U.S. Department of Veterans Affairs.
Walsh's attack on Duckworth's priorities is not the first controversial comment he's made about his opponent. Earlier this year, Walsh said that Duckworth is not a "true hero" because instead of downplaying her military experience, she has made it central to her campaign.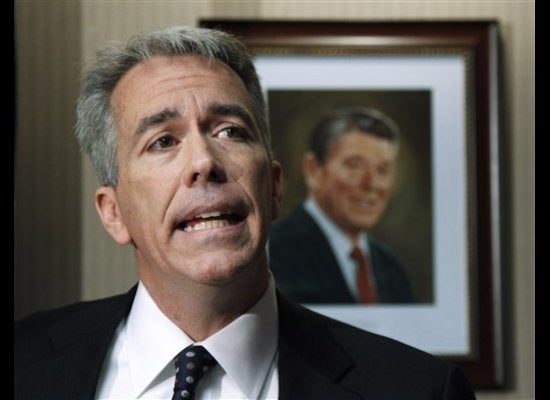 Rep. Joe Walsh's Most Outrageous Statements
Popular in the Community