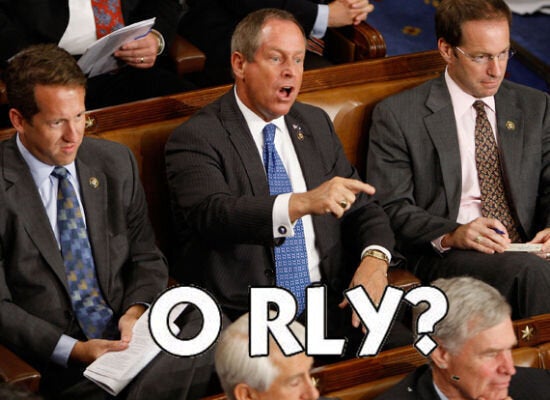 I got a lot of razzing yesterday about Joe Wilson from my Syracuse University students.
We were talking about persuasion and influence, what to do and what not to do and how my fellow South Carolinian was in the "not to do" category.
I shared that I have mingled with Congressmen Joe Wilson at family gatherings over Thanksgiving in the Palmetto state. Let's just say he's sort of "kin" through marriage.
So "say it ain't so Joe" isn't enough today. But apparently people are saying too much because when I just checked, Joe Wilson's Web site was down with this message:
Due to exceptionally high traffic, this site is temporarily unavailable. Please come back shortly.
Don't you know that finger wagging is as ineffective a form of communication as shoe-throwing? It may be spontaneous but it's just not wise. It may make you an instant YouTube sensation, but that's not always a resume-builder with the likes of water-skiing squirrels and Diet Coke and Mentos igniters.
While Joe Wilson quickly apologized to President Obama for his irrational mind hiccup -- which Obama graciously accepted -- it still left a bitter taste in my mouth. Remember, this is a congressman from South Carolina. I've got a South Carolina accent. I earned my undergraduate degree from Clemson University (Go Tigers!) And my Tigers lost last night to Georgia Tech.
Do I need to remind anyone about one South Carolina governor who said he was going hiking, or about a man and a horse named Sugar?
It's been one long, hot and bothered summer in South Carolina and we just don't need this piling on.
We don't need public spectacles. We need public diplomats.
On this, the eighth anniversary of 9/11, we need to become soft power high rollers, the way Joe Nye implores us. We've come a long way from October 2001 and that rhetorical inward-looking phrase: Why do they hate us?
Joseph Nye and I served on a BBC Panel four years ago that asked the question, "Does the US rule the world?" A lot of good vibrations have come our way since then. But we still need our daily affirmations. Here's the bumper sticker moment.
Guernica magazine describes Joe Nye like a Benjamin Franklin of our time:
Tall, thin, rarely seen without a suit or a smart, brightly striped tie, Nye has a handsome face with warm, creased eyes. Balding on top, he wears his hair short on the sides and looks much younger than his sunny seventy-one years. After listening carefully to a question, he speaks in perfectly measured sentences that reveal a mind at peace with its own work, as well as someone accustomed to repeating an idea for new audiences or listeners. Colleagues at Harvard, where he still teaches, have called him "elegant," "patrician, " and "wise," and see a practical and hugely influential application of his work.
Soft power is this century's fuel efficiency for the global mind.
Inspired by Joe Nye, who will be on our campus next weekend, Syracuse University Chancellor Nancy Cantor called on our students to think about their roles as influential agents of change for the public good.
It will require that you look outward, connect to others here and everywhere, as your wired generation can do so well. You have to be the world's best public diplomats, and you need to start right away. You need to prepare for the world in the world. It's not too early---in fact, it's the right time---to start bending things in the service of a better day -- building long term relationships at every level that open the doors to communication, problem-solving and change. Public diplomats, that's what you need to be.

But to do that, you will need to listen as well as talk, interact across chasms, and make yourselves vulnerable, letting the tables turn on who is the expert and who is the novice, playing many roles beyond the familiar student and teacher. How do you start the conversations, large and small, weighty and trivial, that constitute good public diplomacy?
Imagine if that other Joe had thought about starting his "conversation" with the president that way?!
I promise you this: If I see Joe Wilson this Thanksgiving, I'll make sure not to shout out or finger point as I reach for the pecan pie.
Dr. Nancy Snow is Associate Professor of Public Diplomacy in the Newhouse School at Syracuse University. She is the author/editor of six books, including The Arrogance of American Power, Information War, and Propaganda, Inc.
Popular in the Community