 Leo Tolstoy fans expecting another predictable adaptation of "Anna Karenina" might be a little disappointed with Joe Wright's new film. The director's latest feature takes a traditional script by playwright Tom Stoppard and sets it on a giant stage, with sets clicking together behind the film's talented stars.
"It was meant to be a straight telling. Joe told me [about the set] 12 weeks before we started shooting. I was like, 'Oh, God. Here we go!'" Keira Knightley, who plays the titular heroine in "Anna Karenina," told HuffPost Entertainment in a recent interview. "The idea that he wanted to look at movement and tell the story and emotion in as many different ways as possible. I just thought it was a ballsy move."
"Anna Karenina" is Wright's fifth feature film -- and his third with Knightley -- and like "Pride and Prejudice," "Atonement," "Hanna" and "The Soloist," it takes what might be a traditional story, and subverts it for modern audiences. The result is one of the year's most beautiful films, with roots in Russian oligarchy, puppetry and even animation.
Wright spoke to HuffPost Entertainment about his decision to make "Anna Karenina," how Knightley has changed as a performer since "Pride and Prejudice" and what he thinks of the term "Oscar bait."
This film utilizes such an original visual way to tell an old story; how did you decide to set it on one big stage?It came about rather late in the production. I had been wanting to make a film like this for some years now. Tom's screenplay was written in the naturalistic form. It wasn't until I found myself walking around palaces in Russia, and them saying, "Yes, we've made seven 'Anna Kareninas' before" -- or stately homes in England, where they said, "Yes, we've made five Keira Knightley period films before" -- that I started to get kind of depressed. I began to really feel that I needed to try and make something that was more formally relevant and vital to a contemporary audience. To just shake it up a bit. At the same time, we were having certain budgetary issues, and a lot of the budget was being spent on travel and accommodation around Russia. So, I guess I kind of came to a point and said, "OK, let's just stay in one place and accept that this was the film that I needed to really step up my game with."
It almost feels like a musical at times. What were some of your influences?I set out to make a ballet with words. So, the Michael Powell-Emeric Pressburger movies, especially "The Red Shoes," were a big influence. Also, the aesthetics of Jan Švankmajer, the Czech animator. Also, my own childhood: My parents founded and ran a puppet theater in London. I was brought up in this theatrical, magically world where anything is possible. I really believed in that world. I think that was the biggest influence.
Did you have any trepidation about doing another costume drama after "Atonement" and "Pride and Prejudice"?I guess what energizes me always is the story I'm telling, regardless of the genre or period. I was so deeply affected by Tolstoy's meditation on love in all its many forms. So deeply affected, in particular, by the journey that Levin goes on in contrast to Anna's story. You can't have one without the other, I don't believe. So I felt very strongly that I had to make this film because I wanted to understand what Tolstoy was trying to tell me.
This is your third film with Keira. How do you think she's changed as a performer since "Pride and Prejudice"?It's been fascinating. She was 17 when I met her for "Pride and Prejudice," so she was a kid then. I watched her go through her late teens and she was 21 when we made "Atonement." Then I didn't see her for a while afterward. We met up again for this, and I discovered that she'd been through some stuff that had probably been quite difficult for her, but she had come out the other side, stronger, fiercer, more determined and more centered in her own emotional life. More sexy, too, actually. I kind of wanted to bear witness to all of that on screen. She's no longer a girl or even a young woman -- she's a woman now. That's so brilliant to see.
How has your relationship with her developed?We both have a deep respect for each other, I think. Or at least I certainly do for her. We do argue sometimes, but we're not afraid of that, because we know that even if we argue like siblings, we are siblings and therefore we're going to have to work it out. We're able to be fully expressive of our feelings and our thoughts and that's vital. We're very, very open with each other. We tried to communicate as clearly and directly as possible. I think that's how it works.
What do you think when you hear the term "Oscar bait"?I think the term "Oscar bait" is pretty horrible. I certainly make my films for myself and for the general public. I don't consider that stuff when I'm choosing a film or when I'm making a film. That aside, I would be inhuman, I think, if I was to say that I didn't care about the whole Oscar issue. It would be lovely to be recognized by one's peers. I respect my peers. But I try not to think about it too much, because I think madness does probably lie that way. I try to not enter into competition in my head with other people. It's a slightly uncomfortable feeling, really.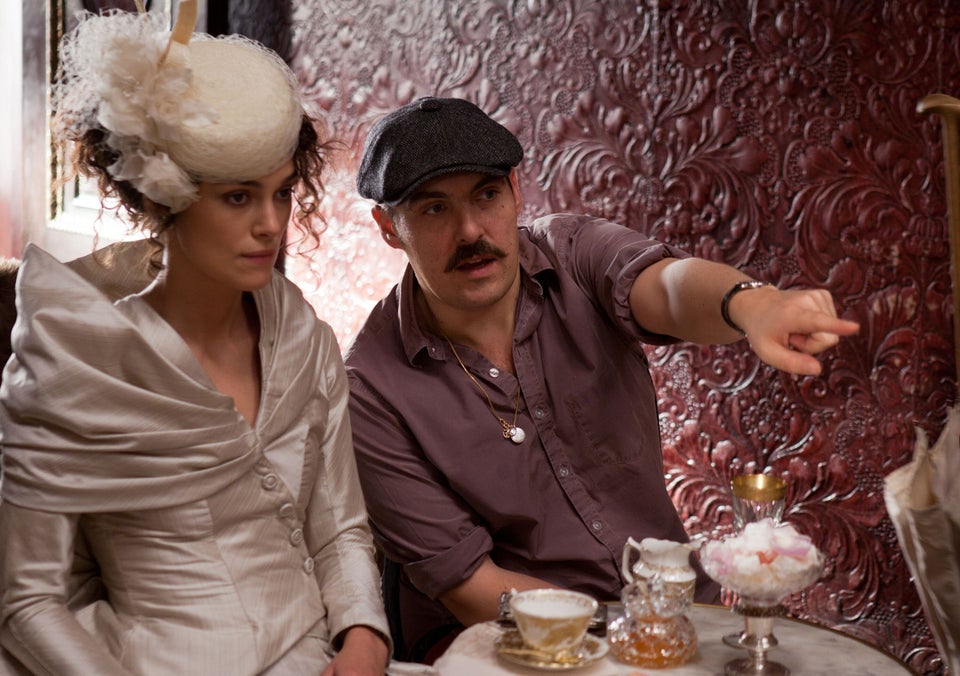 'Anna Karenina' Photos
Popular in the Community