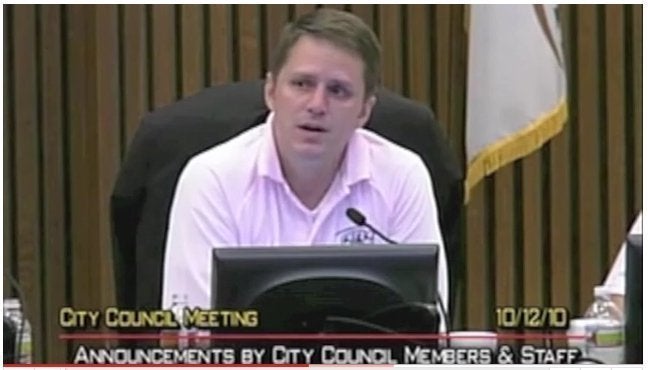 Openly gay Fort Worth, Texas, City Councilman Joel Burns gave an impassioned plea to youth struggling with their sexual identity during a meeting Tuesday night, urging them not to despair in the face of intense adversity.
"I want to tell any teen who might see this, give yourself a chance to see just how much better life will get," Burns said, fighting back tears. "And it will get better, you will get out of the household that doesn't accept you, you will get out of that high school and you never have to deal with those jerks again if you don't want to. You will find and you will make new friends who will understand you and life will get so, so, so much better."
Burns began his speech with a display of a number of recent teens who have taken their own lives as a result of gay bullying from their peers. The councilman admitted that he, too, had been a victim of persecution as a high school student.
He began to tell a story about the effect that a specific incident in which he was called a variety of slurs and beaten up had had on him, but decided that it would be too difficult to relay to the council.
"To those who are feeling very alone tonight, please know that I understand how you feel, that things will get easier," Burns said. "Please stick around to make those happy memories for yourself. It may not seem like it tonight, but they will."
Burns's testimony was met with applause from fellow councilmembers, who later commended him on his bravery. From the Forth Worth Star-Telegram:
"So very proud of my friend and colleague Joel Burns for his stance against bullying of gay youth and those perceived to be gay," Councilwoman Kathleen Hicks wrote on Facebook during the meeting. "I am sure he saved many tonight."

Councilman Sal Espino echoed Hicks' thoughts.

"Burns displayed tremendous personal courage today in speaking out against bullying against youth and children particularly gay youth in light of the recent tragedies," he also posted on Facebook. "Fort Worth is a diverse community and we believe that all of God's children should be treated with dignity, compassion, and love."
Video of Burns's testimony is below.
REAL LIFE. REAL NEWS. REAL VOICES.
Help us tell more of the stories that matter from voices that too often remain unheard.