Joel Embiid, freshman center for the Kansas Jayhawks, has to be careful. Embiid is currently sidelined with a stress fracture in his back, and no one knows how long it will keep him off the court -- he may end up missing the opening weekend of the NCAA tournament. The 7-foot phenom is 19 years old with his entire basketball career ahead of him. Embiid, the Big 12 Defensive Player of the Year and a potential No. 1 pick in June's NBA Draft, is stuck in a precarious situation. Right now, 10th-ranked Kansas is one of just a handful of teams capable of winning a national championship, and having Embiid on the court would certainly help the Jayhawks' chances. But if Embiid returns to the game too soon, there's no telling what kind of damage he might do to his body.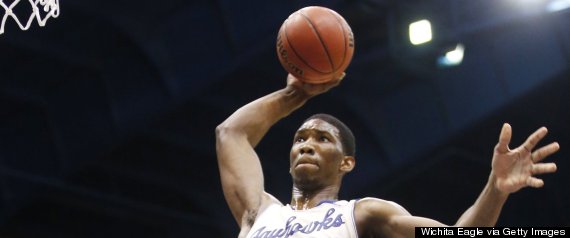 "Everyone is 100 percent confident that Joel will heal and be back to normal soon, but the most important thing is that he gets well," head coach Bill Self has said. "We're certainly not going to put him out there unless the doctors, his family and Joel are ready for him to go. I know how bad he wants it."
Embiid's back may be in question, but his robust talent is undeniable. A Cameroon native who grew up playing soccer, he inherited a rare blend of exquisite footwork and soft hands for a man his size. Defensively, he will become an instant game changer as a pro (he averages nearly three blocks per game), particularly as he gets stronger. Self has called him "as good a rim protector as there is defensively."
And yet it's Embiid's offensive improvement since the beginning of the season that is perhaps most impressive. His 11 points per game may not strike fans as the gaudiest of averages, but he converts 69 percent from the free-throw line and his soft touch around the basket stands out.
The questions Embiid faces now are not unlike those facing any athlete who gets injured and wants to return. But it gets tricky when we consider the ramifications of a 7-footer with health concerns, especially something as complex as a back injury. It was seven years ago when another dominant 7-footer named Greg Oden starred during one college season and became the first pick. But Oden, with persistent knee issues, has never been able to stay healthy, and is today considered one of the all-time busts as a result. And Bill Walton, another enormously gifted 7-foot player who was a No. 1 overall pick in 1974, infamously lost much of his career to foot problems. It's hard not to wonder if Embiid might face a similar fate if he returns too early.
This isn't to say that Embiid's future will definitely be clouded with injuries, but he has to be smart right now. It's not a trivial matter that his back has already caused him to miss games at such a young age, and he definitely shouldn't return to the game before he's ready. The pressure for his return will naturally mount if the Jayhawks make it into the second weekend of the tournament and to a regional final. But a stress fracture can seriously impact a basketball player's future, both in the short term and the long term, and rushing to a return could prove to be a catastrophic mistake, even if the intentions are good.
Email me at jordan.schultz@huffingtonpost.com or ask me questions about anything sports-related at @Schultz_Report, and follow me on Instagram @Schultz_Report. Also, be sure to catch my NBC Sports Radio show "Kup and Schultz," which airs Sunday mornings from 9 to 12 EST, right here.
Calling all HuffPost superfans!
Sign up for membership to become a founding member and help shape HuffPost's next chapter