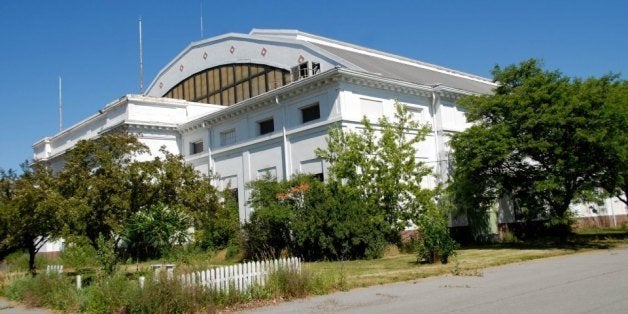 CORRECTION: A number of inaccuracies were published in this piece by Michigan Now, which have been corrected and updated by The Huffington Post. Joel Ferguson is not the current owner of the property on Gladstone, as an earlier version of this post incorrectly stated. The State Fair grounds were also not sold to the partnership Magic Plus LLC for $1, but for at least $4.65 million, according to the purchase agreement, which was reviewed by The Huffington Post. An earlier version of this post also incorrectly stated that the report first aired on Michigan Radio.
Magic Plus LLC consists of Magic Johnson, Joel Ferguson and Marvin Beatty. The Michigan land bank Fast Track Authority is expected to sell them the state fairgrounds today at 2 p.m. Magic Johnson is a household name in America and Joel Ferguson is not. But Ferguson has been Magic's mentor for decades. Michigan Now's Chris McCarus has found some of Ferguson's other real estate holdings.
Joel Ferguson is 75. He's chairman of the Michigan State University board of trustees. He's developed multi-million dollar office buildings in Lansing. Ferguson knew Magic Johnson when he was a boy and later taught him about business. A year ago, I asked Ferguson about his team's plan for the 157 acre state fairgrounds. It lies unused at 8 Mile and Woodward.
"When you see it you will be able to have a good interview with me. We'll give you to Magic. Let me give you a brochure."
I interviewed Ferguson a couple months later. He used swear words to describe the Detroiters who don't like his plan for big box stores and parking lots.
Central Detroit Christian is at the corner of Second Avenue and Hazelwood. It's in a neighborhood where shootings occur about every month and murders a couple times a your. CDC's office is in the basement. They work on gardening, home ownership and youth education. Dottie Foster works for CDC and lives two streets away. She walks across the street to a brown brick three story apartment building.
"We see a lot of guys come out and cars pull up. People come out. People go in. When you in the hood you know it's drug activity. You have it in the day and night and when we are doing business in our warehouse. We just want it to stop. When a drug deal goes bad all the people are in danger."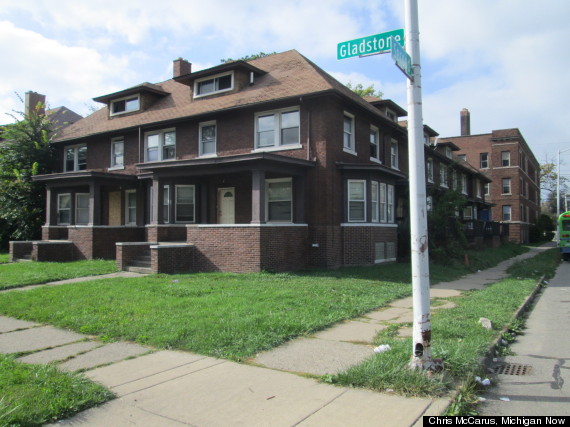 600 Gladstone is three-quarters of a mile north of the Fisher Building and Cadillac Place, where the Michigan Land Bank met to discuss the fate of the State Fairgrounds. Photo courtesy of Michigan Now.
Central Detroit Christian is fixing up 35 properties north of the Fisher Building. They boarded this one up even though don't own it.
"We went inside and boarded from the inside out. And it was open. The doors are gone. The windows are gone. And you look at that plywood to try to keep people out from selling drugs and living in them and squatting in them and putting trash in them and setting them on fire. Whatever you can think of they do out of them."
Magic Johnson's net worth is a half billion dollars. Dottie Foster had heard he was going to be chosen to redevelop the state fair. But she didn't know anything about Joel Ferguson, Magic's mentor and partner in the project.
"I didn't know he owned this. We could never find out who owned it. We've been trying to buy it to rehab it."
Detroit City records show Joel Ferguson bought the six-unit building 13 years ago. He sold the property three years ago to his nephew and no longer owns any of the buildings. The taxes are all paid. Dottie Foster walks over to another property he owns on the same block.
"It's an empty vacant lot with trash on it. Weeds grown up. It's an ugly sight for our neighborhood. Trash cans. There's a lot of negative.. I know that the people who own it don't live like this."
Joel Ferguson's 4,000 square foot home is on the Lansing Country Club golf course near the governor's mansion.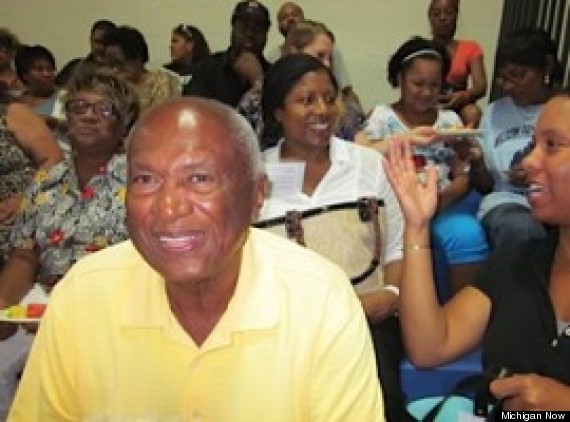 Joel Ferguson at rally in Lansing Boys and Girls club in September 2012 where Magic Johnson honored his uncle and Ferguson's brother. They taught Magic basketball. Joel taught Magic business. Johnson's sister is in white. Photo courtesy of Michigan Now.
Dottie Foster questions why state government is willing to entrust the state fair property to Ferguson.
"Why wouldn't they investigate and see if he owned any more property in the city of Detroit before they give him any other property to rehab if he's not rehabbing the property he owns in the city of Detroit. That doesn't make any sense to me. How do you get money from the state to take care of one thing when you're not taking care of the other thing."
The Michigan Land Bank Fast Track Authority has been close to giving Magic Plus LLC the state fairgrounds for The article states that Magic Plus LLC is purchasing the fairgrounds property for at least $4.65 million. People at public hearings have protested the give away and the 1950s feel to the redevelopment plan. Land Bank Director Kim Homan said Joel Ferguson has been willing to modify it. She spoke to me at an event organized by the land bank to bring back memories of the state fair before the Magic mall and movie theater wipe them out.
"They've been very open to the ideas coming from the community. The legitimate ideas that are coming. There are a number of people out there that are very zealous."
The zealots want agriculture to continue on the site as it did for 100 years. They want 8 Mile and Woodward to be a public transit hub. They want a public asset to stay public.
MichiganNow.org is a resource for news and information about how Michigan can succeed in the new economy.
REAL LIFE. REAL NEWS. REAL VOICES.
Help us tell more of the stories that matter from voices that too often remain unheard.
BEFORE YOU GO
PHOTO GALLERY
Weirdest All-Time State Fair Treats