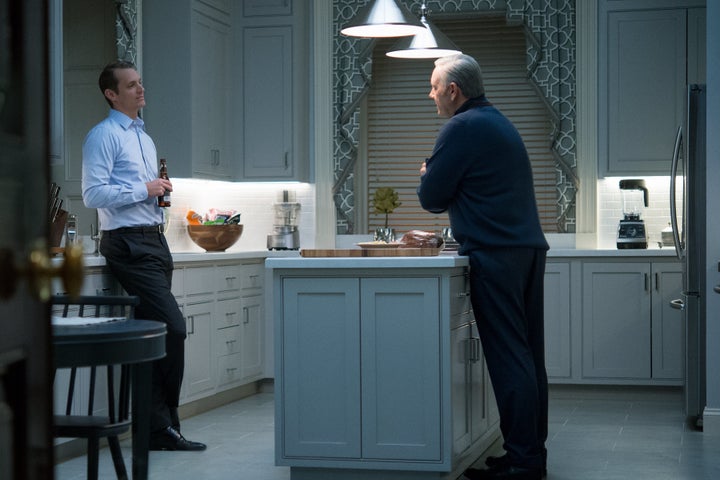 What's it like to work with one of the greatest character actors of all time?
According to Joel Kinnaman, who stars opposite a masterful Kevin Spacey in Season 4 of "House of Cards" as Frank Underwood's Republican nemesis Will Conway, it's "a delight." 
"His role, he's so into it," Kinnaman told The Huffington Post. But Spacey, apparently, doesn't just spend his downtime practicing his Southern drawl. He does impressions, too.
"I felt like I spent half of the time on set with Bill Clinton and half with Kevin," Kinnaman said. "He's always doing these Bill Clinton impersonations, and all these old actors that I don't know."
And what do you do when your idol makes a reference you don't understand?
"I'm, like, laughing politely," Kinnaman told HuffPost. 
On set, the actor, who also appeared in the AMC-turned-Netflix show "The Killing," said that Spacey and Robin Wright, who plays his on-screen wife Claire, are so close it's as if they're real-life partners in crime.
"They're so disgusting together -- talking baby talk," he joked. In scenes where Conway comes head-to-head with one tyrannous Underwood, Kinnaman said he felt like he was sparring with both.
Asked whether the Underwoods or the Conways reminded him of any real-life presidential candidates, however, the actor demurred. He sees only one strong connection between the popular Netflix series and the U.S. 2016 presidential race. 
"It's all entertainment."
"House of Cards" Season 4 is now streaming on Netflix. 
BEFORE YOU GO
PHOTO GALLERY
Leo Finally Wins An Oscar And Breaks The Internet