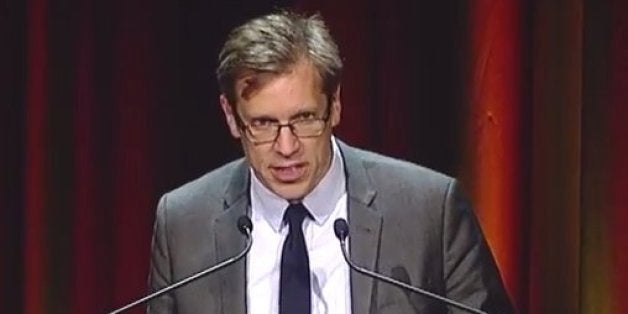 NEW YORK –- Joel Lovell, who served as a New York Times Magazine deputy editor and was most recently working on special projects for the paper, is leaving Friday to take on two new roles in narrative journalism.
"Basically, it's obviously a great moment for 'storytelling' -- but also: the word gets thrown around a lot these days, and the difficulty of telling a story really well, in narratively and emotionally and journalistically compelling ways, isn't always fully appreciated," Lovell wrote in an email to The Huffington Post "There really aren't that many places that are great at it."
He described This American Life and the Atavist as "extremely good" at storytelling. "And they also happen to be the most inventive places I can think of, in terms of where they're pushing their respective media," Lovell said. "Anyway, for me, that's a pretty exciting work life to imagine."
Lovell edited some of the Times' most innovative multimedia features in recent years, including Jeff Himmelman's piece about his journey on the South China Sea and John Jeremiah Sullivan's deep look at two female blues musicians from the 1930's, compete with audio clips embedded in the text. A magazine veteran, Lovell said Sullivan's piece was the "first time I felt the digital version of the story is just demonstrably better than the print version."
An internal candidate to become editor in chief of The New York Times Magazine, Lovell lost out on the job earlier this year to Jake Silverstein, then the editor of Texas Monthly. Lovell has since been editing Times stories and working on special projects across several desks, from sports to investigative. Lauren Kern, a second deputy editor who was also passed over, became executive editor at New York magazine.
The Times has been seeking to reduce its newsroom headcount by 100 through buyouts and layoffs, while continuing to hire in growth areas like digital, mobile and multimedia. Lovell wasn't eligible to apply for a voluntary buyout, since he'd rejoined The Times from GQ in 2011 and thus didn't meet the criteria of having worked five consecutive years at the paper. He informed management of his plans to leave at the end of the year and was included in this week's layoffs, which began after not enough staffers volunteered to take buyouts.

Lovell said there were some discussions about starting an experimental storytelling desk after he didn't get the Times Magazine job, but the plans never came together. He said there are "wildly talented people" now the Times working on different modes of storytelling, but that he personally didn't feel there was a place for him to edit the writers and oversee the projects he was most interested in.
Upon leaving The Times, Lovell will serve as a part-time story editor for The Atavist Magazine and an editor on This American Life. He's also been recently advising on Serial, the popular spin-off podcast from This American Life that finished its first season Thursday. Lovell said he helped out with some editorial fine-tuning late in the process and hopes to work on the second season.
And so where does Lovell come down on the guilt or innocence of Adnan Syed, who was convicted of killing his high school girlfriend in the case that was exhaustively dissected in season one?
"I think he didn't do it," Lovell said, "but I can't marshall the evidence to support that."
Popular in the Community