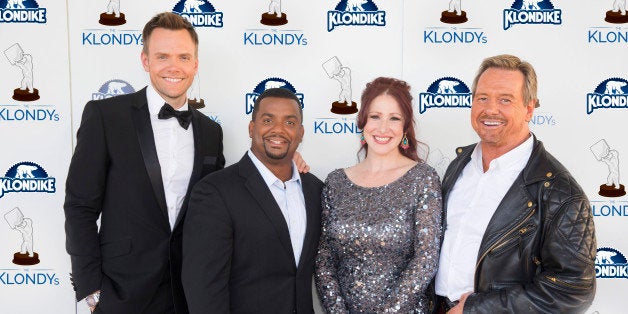 On a sweltering day in early September, a very unusual awards ceremony was taking place in an abandoned cluster of stores behind the three dollar movie theater in North Hollywood.
Outside, the air was sticky and still, but inside the nondescript buildings, "Community" star Joel McHale was dodging chairs hurled by wrestling Hall of Famer "Rowdy" Roddy Piper, while singer Tiffany and "Fresh Prince of Bel Air" alum Alfonso Ribeiro looked on.
For Piper, what attracted him to the project was the chance for the father of four to connect with a whole new generation of kids, as well as existing fans -- one of whom got the chance to participate in the wrestling legend's challenge video. "The fan who came up with the idea had to be in it too -- he's a great guy, but you know when you watch something your whole life and go 'I can do that'? By the time the end of the day came, he was a little sore, but he was really up-spirit about it," Piper laughed. "It's kind of cool because they never get a chance, nor I, to actually interact, let alone actually be in something like this with 'em, so it's a great opportunity."
Tiffany, best known for her 1987 cover of "I Think We're Alone Now" -- which reached number one on the Billboard Hot 100 -- relished the opportunity to return to the mall to relive her touring days. "It's been such a great laugh, it's been so fun to have the fans involved," she enthused. "My challenge was singing at the mall and it's been a while since I've done that, so it was really tapping back into that. I knew that was my challenge, but it's one thing to say it and another to turn around and start doing it. I had a blast with it … When I was younger, I was 14 doing the mall tour so I just wanted to sing, and people would yell or scream 'you're too loud' and I would [pause] and then get back up there. I'm a big ham and very resilient and I really embrace things that I get involved with, but I have to say, when I started busting out 'I Think We're Alone Now' and people were looking at me, at first I was like 'yeeeeeah, it's gonna be like this' but there's something about that song that people really like and I just had a fun time with it."
Ribeiro, who recently hosted ABC Family's competition game "Spell-Mageddon," proved that he still has some of the moves that made him famous, although he wisely kept most of them reined in during his challenge video. "It's been fun, it's been awesome -- shooting our initial video, was like [a] blast from the past," he admitted. "But shooting that and dancing and realizing that I'm clearly older and can't do it like I used to is fun. It's one of those things where it's harder to do -- I can still do it, but I just have to work a little harder to make it happen. [But] I still got some sweet moves."
Somehow, McHale managed to escape the contest without having to do a single challenge. "I did one challenge, but it turns out it was completely illegal: I taxidermied a bear," McHale deadpanned. "And I thought it would be hilarious, but it wasn't. Very messy and smelly. No, somehow I've avoided it ... and it's great that the celebrities are game. And of course, the challengers who got their [dares picked] … there's only two of them, one other guy was like 'Oh s---, I didn't realize you were serious; no way am I gonna be on camera!" I just love how we scared a guy … you get a lifetime supply of Klondike bars, [but he was like] 'no way, don't wanna be on camera, I'm scared!' So he missed out. That means the other two guys will split a half a lifetime supply of bars, so they get a lifetime and a half of Klondike bars each."
Naturally, the participating stars had a few ideas for what they'd challenge McHale to do for a Klondike bar, just to even the score. "Joel's got that show 'The Soup' -- I'd say you have me on 'The Soup' and see if you can go one-on-one with me," Piper suggested with a chuckle.
Ribeiro mused, "I would try to come up with something that would clearly go against what he does on his show -- make him be the butt of jokes, not the one who's telling jokes about what other people did. Making him do really silly, funny stuff that he would not be comfortable with."
Tiffany agreed, "He's such a funny guy, I would probably make him do something in that vein -- tell jokes or be someplace really awkward for him to be on and be that funny guy, maybe like high school where everyone's like, 'who is this guy?!' I think he'd have a blast and he'd survive quite well. He's one to take digs and I think [kids] would probably love that."
Check out the video for The Klondy Awards below:
Here's what else we learned on set with McHale, Ribeiro, Piper and Tiffany:
"Community" is back and better than ever:
McHale was two weeks into filming Season 5 of the NBC comedy when we spoke, and with creator Dan Harmon back in the saddle, the actor was feeling confident about the new year: "Dan is back and his scripts are just grand slams, if I do say so for him. They are terrific, and I can't wait 'til everyone is able to see it, because what he's doing with it is just sublime. I'm so happy," he enthused. "And we've got Walton Goggins coming on as a guest star, and Jonathan Banks is here for 11 episodes and he's amazing, and John Oliver is back for a number of episodes. He went and said 'I'm gonna go and have a really successful career.' So I don't know what sort of photographs we have of him, but I'm very happy he agreed to come back."
Ribeiro still doesn't think a "Fresh Prince" reunion will ever happen, but he has a good reason ...
"I think that the reality of it is, 'why did we stop in the first place?' We were never cancelled, we weren't on a show where the networks were like 'we're done, we don't want you anymore,' we stopped. And the reason we stopped was because we felt like there were no more new stories. We were doing story lines over and over again. And that's pretty much what happens on most shows, 'we're gonna tell this story through this character's eyes' so there's only so many stories that you can tell. And I think with 'Fresh Prince' we reached a point where we felt like we were no longer making better shows, we were starting to decline," Ribeiro reasoned.
"And why stop after people are telling you 'thank you very much, you guys have to go over here, bye bye, we'll never see you again,' versus when you're riding high? It obviously worked out well for Will, it didn't work out for every character, but I understood when Will made that decision, him and his people, that it made sense to decide to move in that direction. For me, I doubt it ever happening mainly for that reason. I think the only way something like that would ever happen is if there was a storyline that was so amazing that it was like 'we gotta make this thing'. And then with everybody being older ... James Avery is much older now, we're older, we're all moved on in our lives and careers, and it's wonderful to see how much people love the show and still love it and still watch it, but I just never see it fully happening. I wouldn't say it's an impossibility, but I don't see it ever happening."
McHale's latest movie role is like nothing he's done before:
There's nothing funny about "Beware The Night," a horror thriller that McHale recently finished shooting. "In my mind I was always playing a cop who was too quick to violence and knives, but in this movie, I'm [actually] playing a cop that's way into knives and violence, an ex-army ranger," McHale said wryly. "Mr. Eric Bana is the star of the movie. He is not very good at acting at all, never proven himself … no, he's amazing and a very good guy -- huge, jacked ... the man has enormous arms. It's directed by Scott Derrickson who did 'Sinister' and 'The Exorcism of Emily Rose' and he knows how to scare the hell out of people. It was really fun to make with him."
"Community" returns midseason on NBC.
Are you excited for the return of Dan Harmon and "Community"?
PHOTO GALLERY
'Community' Season 4
REAL LIFE. REAL NEWS. REAL VOICES.
Help us tell more of the stories that matter from voices that too often remain unheard.