Joel McHale opened up about his former co-star Chevy Chase's tumultuous "Community" tenure on "The Howard Stern Show" this week.
Chase parted ways with "Community" in November 2012 after repeatedly ripping the show and engaging in a public feud with its now-fired showrunner Dan Harmon, although he will appear in most of the upcoming fourth season.
When asked about Chase's generally negative attitude towards the show, McHale replied, "He just didn't want to be there." He added, "When I would try [to talk to him about his attitude], he would just try to fight me ... He physically wanted to fight me."
Chase's distaste for "Community" boiled over in the press. In March, he told HuffPost TV that he had "creative issues with this show," then compared the show's sense of humor to "being relegated to hell and watching 'Howdy Doody' for the rest of your life."
The tension came to a head when Chase, apparently unhappy with the increasingly dark direction of his character Pierce Hawthorne, unleashed an N-word laced-rant as they were filming Season 4. "You shouldn't be throwing that around on-set," McHale told Stern. "When he said it, I said, 'We are now at Defcon 1.'
"He was protesting his character's racism. He didn't like the way his character Pierce was going," McHale continued. "But he had also said in the past that Richard Pryor said it was OK for him to call him that. He literally used that."
"Community" returns on Thursday, February 7 at 8 p.m. ET on NBC.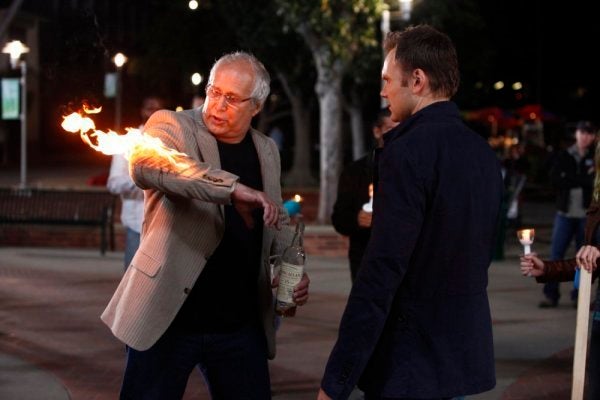 Chevy Chase On 'Community'
Popular in the Community