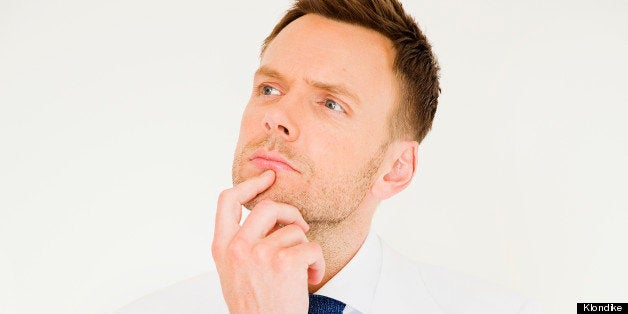 "Community" star Joel McHale is the latest in a long line of luminaries to ask, "What would you do for a Klondike bar?" and you'd better have a darn good answer, because you might be asked to prove it over the next few months.
McHale has partnered with Klondike for the What Would YOU Do for A Klondike Bar? Challenge, a summer-long contest featuring the comedian and several nostalgic celebrities of the '80s and '90s, in which fans can suggest acts that the celebrities will be required to carry out in pursuit of the fabled ice cream bar. The only catch? If your idea is chosen, you have to do the deed too. Luckily, there are prizes, bragging rights and potential viral video fame up for grabs in the process, if such things entice you. The first celebrity participant is Alfonso Ribeiro, star of "The Fresh Prince of Bel Air" and originator of the iconic "Carlton Dance" -- so if your challenges don't include a hint of Tom Jones, you're not trying hard enough. Check out McHale's video introductions for the Klondike Celebrity Challenge below.
"I'm looking forward to seeing what the challenges will be from the people," McHale told The Huffington Post between takes for the video. "People will submit challenges for what they would do for a Klondike bar. Most of them, it's just gonna be murder, but that's not creative enough -- it's got to be creative murder. So those are gonna be interesting, and the person who submitted it will then do it as well as the celebrity. I will sit back and watch in a lounge, maybe adirondack chair ..."
The identities of the remaining two participating celebrities are shrouded in secrecy for now, but every three weeks, a new video will be posted via Klondike's Facebook page to introduce the latest participant and invite new submissions for challenges from fans.
"June 17th -- much like when you hear the space shuttle reentering the atmosphere -- you will hear two loud booms: that means the contest has started," McHale joked. "You're gonna see enough banner ads to have a Chinese New Year's parade with, of me going 'June 17th, go to Facebook!' Which is a website where you put things up and people view them and they let you know if they like something or if they prefer it. There will probably be the use of the Twitter engine, where notes the length of telegrams will communicate this contest, and hopefully, I assume, because people have imaginations, they'll come up with good things for them ... It's cool because if we choose it, they have to do it too, so you can't just go, 'I want you to detach your jaw and swallow a baseball whole,' they have to do it as well. 'Saw off a foot -- yours.' If they say that, then they have to do it themselves. 'Bag a rhino.' Very difficult and highly illegal." No cheating and stealing his ideas, folks.
Naturally, McHale joked that the main reason he took the job was because, "They offered me some money, and ... I had my eye on this Jeep ..." but the campaign also proved to be an attractive prospect creatively, thanks to the involvement of veteran "Community" director Tristram Shapeero and McHale's friends and "The Soup" writers Boyd Vico and Brad Stevens.
"They just wrote 'The Soup Investigates,' which is a brand new show -- or, I guess, special; if the special goes well that means there might be a new show. They're two guys that I trust implicitly, and they can take anything -- they're like Rumpelstiltskin -- and they can spin comedy out of it," the actor explained. "Because obviously, when you're trying to sell a product, you have to include certain very important things, like the name of the thing and what it is and what you're doing, and they're able to do that in a funny way, which makes me look really good. But they're terrific and Klondike was very cool about letting them be part of the team and so I think they're gonna get some free ice cream bars out of it."
As for Shapeero, McHale admitted he was "very glad that he could do it because ... I got to know him on 'Community,' because he came in as a journeyman director and everyone fell in love with him, and he and I spent a number of romantic weekends together. This year, he will direct more 'Community' [episodes] than any other person, and he just directed me in this movie called 'A Friggin' Christmas Miracle,' with Mr. Robin Williams -- Sir Robin Williams, that's me namedropping -- so I'm just really glad he was available, because now he's prepping for Season 5 of 'Community,' and he's tremendous. I love the man. He's the best retired, grey-haired, former rugby player I've ever worked with."
"A Friggin' Christmas Miracle" features McHale and an enviably star-studded cast, including Williams, Lauren Graham, Candice Bergen, Oliver Platt, Wendi McLendon-Covey, Tim Heidecker, Clark Duke and fellow "Office" alum Mark Proksch. "The cast that came together, it really showed that a lot of terrific people need work, like myself," McHale said with a laugh. "It was a really fun script to make and it's a Christmas movie, kind of 'Midnight Run' meets Christmas. Robin Williams plays my dad and believe me, every time I'd be there, I'd be like, 'Hey, there's Robin Williams. He's right there!'"
On Twitter, Harmon credited McHale as the reason for his unlikely but well-received return to the series. McHale demurred, "I think it was a group effort. Dan is the voice of the show and there's nobody else on the planet like him, so when it started happening that he was coming back, I became as excited as a little boy on Christmas morning -- who celebrates Christmas. I'm thrilled he's back, [along with] Chris McKenna, who wrote 'Remedial Chaos Theory.'"
Despite a lukewarm reaction from fans and critics, McHale expressed fondness for certain parts of the Harmon-less Season 4 of "Community," noting, "I think when you had such a strong voice with Dan ... you didn't know where it was going, but you really felt like, 'We know the tone of what we're doing,' and without him, that was harder. I think there were some really good episodes. The one Jim [Rash] did was amazing. [The season] was really different. But Jim's, and Megan Ganz wrote one that was amazing -- a couple. And Andy Bobrow was great. Andy Bobrow is back, and obviously Jim is too ... So I'm thrilled we're back."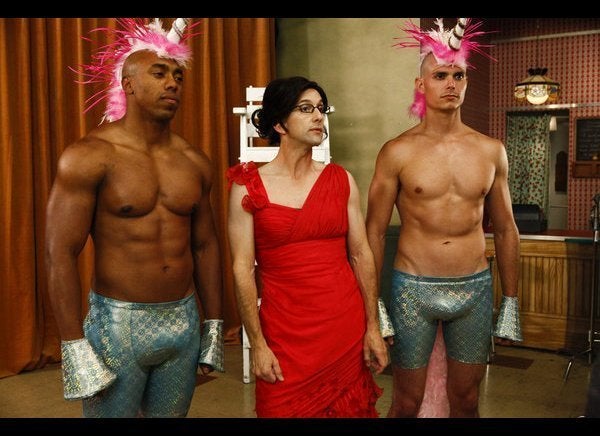 'Community' Season 4
Related
Popular in the Community