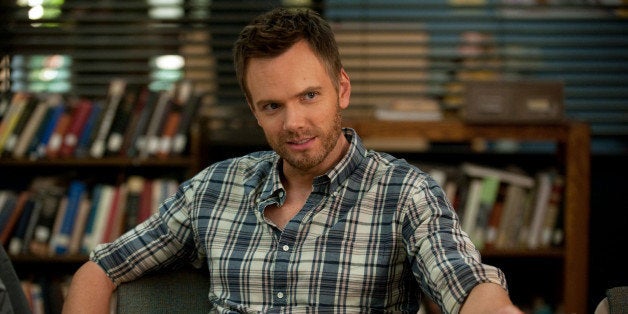 "Community" star Joel McHale is a busy guy. Besides filming the new season of the show on Yahoo and working on "The Soup," he also stars in a new video for Fitbit's FitForFood program. Recently, McHale talked with HuffPost Entertainment about FitForFood, the new season of "Community" and he also revealed "the one way" the original cast could get back together (other than Photoshop).

Image: Tumblr

What's the best thing about "Community" being on Yahoo?
There are so many different things that are great about it. It's hard to say. I mean, one, the attitude is completely different. It used to kind of be we waited until the very last minute to be picked up. And it was like, "You're lucky to be on the air." As opposed to Yahoo, where it's like going to live with new foster parents who are cool. It's a real breath of fresh air.
Will we ever see the original study group back together?
Not unless they're photoshopped. Because you know Yvette Nicole Brown is gone now. She's on "The Odd Couple," and, of course, Chevy Chase moved on a couple years ago. And so did Donald Glover. So I don't know how that would happen.
We have six seasons. What about #SevenSeasonsAndAMovie?
Boy, I mean I would love to do a movie. I would love to fulfill #SixSeasonsAndAMovie. I know Dan Harmon, when they talked about the movie, he would like to do it on a scale of like "Pirates of the Caribbean." So we're gonna need a couple hundred million dollars. If you could help pitch in for that, that would be great.
I can maybe make a Kickstarter.
Yeah, I mean that would be the one way you get the cast back together, I think, is if it became a movie. But, again, that's all pie in the sky, and I don't know what's going to happen after the sixth season because all of our contracts are up. But I've always said, I love being on the show. I love it. I love doing it. I love the cast, so that's where I am.
"The Soup" fooled everyone into thinking E! messed up a lot of names at the Golden Globes. How did you pull that off?
Everybody fell for it. It was crazy, and we weren't even trying to trick people. It was just a joke. It wasn't at any point like we thought, "Let's get 'em!" And some of them were so ridiculous that I was like, "Did you really think that us calling Jake Gyllenhaal and his sister female Gyllenhaal was something that E! would actually put out? Or Ethan Hawke being the lead singer of Sugar Ray, and then really think that that was a thing?" When that stuff happens for us, it's great.
You had a part in "Spider-Man 2." Were you happy you weren't in "Spider-Man 3"?
"Spider-Man 3"? That was the one with Topher Grace? Yeah, I like that one. Did you like that one?
I liked when Tobey Maguire was dancing down the street, but I don't think critics did.
[Laughs] I mean, I liked it. I thought secretly, "Oh yeah, Sam Raimi is definitely going to make my character a pretty significant presence in the next ... six movies." I thought my secret power was going to be revealed, too bad.
In the Fitbit video, we see you doing a lot of pretty unhealthy things. How close is that to the real Joel McHale?
Oh, almost every day of my life I start out in some sort of dirty robe, and I usually smoke a cigar or drink while in a pool, and I usually sleep in my driveway, so it's pretty much a documentary. No, it's ... boy, I don't do any of those things other than eat a lot. I'm constantly having to take my shirt off at "Community." I'm always in great peril that I'm going to have to take my shirt off, and I'm not ready for it, so it's a lot of desperation exercise.
Your "Community" co-star Gillian Jacobs previously told HuffPost Entertainment, "Joel McHale is a terrible person." What do you think about that?
Well, when Gillian calls you a terrible person, that's pretty much, you know, it's pretty indicative of someone like her, who I would say, smells the worst out of everyone in the cast.
Does she "Britta things up" in real life?
Oh, no, she's a damn fine actor, and I think she's so beautiful and so cool. And she really doesn't know it or flaunt it. But she is the stinkiest on the cast, though. Make sure that's in big quotes ...
Joel McHale thinks Gillian Jacobs is "the stinkiest on the cast."
The FitForFood program officially started on Feb. 3. The goal is for participants to burn 1 billion calories, which Fitbit will donate in the form of 1.5 million meals for Feeding America. More info is available at Fitbit.com.
This interview has been edited and condensed.
Calling all HuffPost superfans!
Sign up for membership to become a founding member and help shape HuffPost's next chapter
BEFORE YOU GO
PHOTO GALLERY
Orange Is The New Black Cast, On And Off Screen