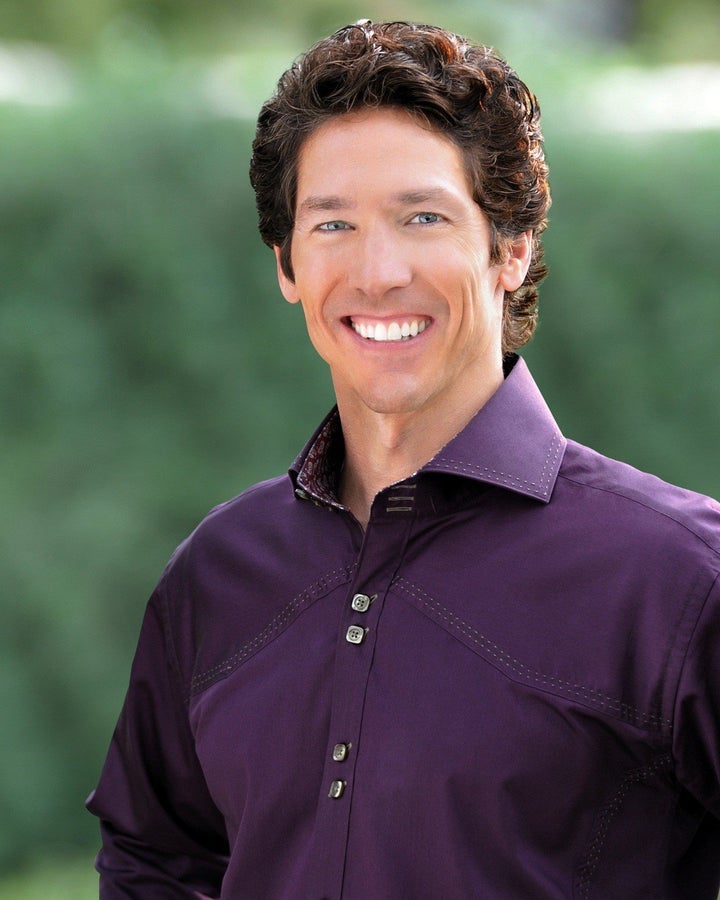 "If God chose to use perfect people only, He'd have no one to choose from." ... Joel Osteen
Joel Osteen is a crowd pleaser. The senior pastor of Lakewood Church in Houston, Texas, whose television ministry reaches over 100 million homes in the U.S., has been called "the voice of hope." And for good reason. If you've ever watched him speak to his congregation of 16,000 in Houston's Compaq Center (once home to the Houston Rockets professional basketball team), then you know how persuasive he can be when it comes to motivating the masses. He knows how to work a room, and God shines a light on every message. With a little help from his late father, who encouraged a young Joel to step up to the plate -- or, in this case, the pulpit -- he has continued to build their faith-driven ministry for the past 14 years.
Osteen's newest motivational book "I Declare" may just give him his 5th run on the New York Times Bestsellers List. The preacher with the charismatic million-dollar smile turns 50 today, March 5. He graciously chatted with The Huffington Post so we could help him celebrate this milestone birthday. He shares how terrified he was the first time he gave a sermon at the age of 36, how faith can pull one up from those dark moments we all experience, how he keeps his marriage fresh after 26 years and other food-for-thought revelations.
First things first. Happy birthday! This is a big birthday. You're turning 50! You wear 50 very well. What's your secret to looking so good and feeling so good?
A big part of it is your genes. It's just hereditary. I think another part of it is living life happy and having a relaxed attitude. I eat right and I exercise... getting enough recreation, working hard and being emotionally, spiritually and physically in balance.
Once we hit 50, a lot of us begin to think about our own mortality. Do you think about your mortality or not so much?
I don't think about it a whole lot but from time to time I realize I've probably already lived more than I'm going to have left to live on the second half. [My mortality] comes into play at times, but I try to be the best each day and appreciate each day as a gift.
I was moved when I read that you resisted preaching but finally accepted your father's offer to preach in 1999 which was the last Sunday he was alive. How did that play out?
At 17-years-old I worked with my parents behind the scenes. My father tried to get me up there to minister many, many times, and I never felt like I had it in me. He didn't pressure me but he certainly asked me hundreds of times, and I would always tell him no. My dad was on dialysis the last three months of his life. One Monday, I think he finally thought he needed a break so he called and asked me to speak. I had always said no but something on the inside -- I don't know how to explain it... I just knew I was supposed to speak. So I told him yes. That Sunday I was so nervous about getting up to speak. I never thought about getting up in front of people. I dreaded it, but I think I did OK. I never imagined that it would be the last Sunday of my dad's life. He had a heart attack that next Friday, and he died. It was several days after he died -- after the shock of that -- I had that same desire to step up and address the church. It didn't really make sense. I hadn't gone to seminary. I had only ministered one time. I never dreamed the ministry would grow but 14 years later, here we are today.
If I'm afraid of something, it's almost impossible to talk myself into doing it. How did you conquer your nerves or did you just get through it the first time at the pulpit?
The first time, I just got through it. I said, 'OK I've committed to do this. You just have to do your best to keep yourself calm and be prepared.' Still, when I got up there, I talked very fast. My mouth went dry. I had to hold onto the podium. In the months to follow, I'd have to talk to myself saying, 'Joel, you can do this.' I'd quote scriptures: 'You can do all things through Christ...' If you don't talk to yourself the right way -- I'm talking about your inner dialogue -- you'll talk yourself out of things. I basically talked myself into it. (Laughs)
Your recent message on your Sunday television show was to pray for big things. So back in the early days, did you have big goals or did you think: let me take one sermon at a time and see where it goes?

Back then, it was one day at a time, and it wasn't necessarily big goals. I guess the biggest goal was to just try to maintain what my dad had built. The big goal to me was: Joel you can get up there and minister and you've never done it. I suppose that was big in a sense, but after a year or two I got some confidence and I realized, 'OK, I think I'm good at this. I think I am called to do this; God has helped us this far so let's plan for big things.' That's how the Compaq Center, the place where we meet now, became a reality. I felt we could do this. I learned to pray... pray for big things.
What I like about your sermons is that you inject humor into your messages. Do you have a funny story that you'd like to share -- some kind of human-error story?

The first six months -- or at least in the first year -- I'm about to go out on the platform to minister, and my wife says, 'Joel, your hair is sticking up. Go back there and spray it. There's a red can of hair spray under the sink. Get it and spray your hair.' So I ran back there, grabbed the red can, and sprayed my hair. After the service, Victoria said, 'You didn't spray your hair. It's still sticking up.' I said, 'Yes I did. I used that red can of hair spray.' She said, 'Come back here and show me.' So I took her back, picked up the red can of what I thought was hair spray, and it was air freshener. I had sprayed all this air freshener on my hair. My hair didn't stay down but I sure smelled good. (Laughs)
So funny! What's your secret to being married 26 years? How do you keep your marriage fresh -- besides using air freshener?
We keep a lot of humor and laughter in the home. A lot of times these days, people let the stress of life take the joy from the home. When you can laugh and you can have joy, that's very healthy. Victoria is easy going. She's very spontaneous and fun. I can hear her laughter all through the house. It sets the tone for the house. I like someone who can laugh. The second thing is respect. We just do our best. We don't always agree with each other but we make the decision that we want to treat each other with respect.
When you were 10-years-old, did you know what you wanted to do for a living?
I didn't know then. In my early teens, I knew I wanted to do television production. I loved cameras, editing and producing, anything that had to do with television production. My friend had a production studio across town and we'd go over there at night and shoot and edit. I produced my father's televised service for 17 years.
Did you ever have awkward moments when you were a teenager or were you always very confident?
My friends and I had fun together but I was more reserved, not at all the life of the party. I would just be the quiet one in the room. (Laughs)
Who taught you the most important lesson in your life and what was it?

If I had to narrow it down to one, I would say my dad or my parents. One of the most important lessons was to be a person of integrity. I saw my dad always take the high road. His word was his bond. There was no kind of compromise when it came to that. That was a big lesson. The other lesson I learned from my parents was to love every person. My dad was always for the underdog. He didn't judge people. I'd see my dad so many times growing up, visiting someone or a guy on the street, giving them a hundred dollars. My dad was always thinking how can we lift people up? How could he encourage somebody? I think that's the heart of our ministry now... how we can try to empower people.
It sounds like the secret to happiness is to try to make other people happy.
That's a big key. If you make someone else's day, God will make your own day. Sometimes we get busy and think: how can I be blessed today? How can I get ahead? But if you can learn to help somebody else get ahead, if you'll sow a simple seed or hold a door open for somebody or call a friend and encourage them... simple things like that, that's the whole joy in life. That's where your own happiness comes from.
We're all brought up to believe what our parents introduce us to in terms of religion. We're Christians, Jews, Mormons, Muslims, Buddhists, etc. What we all have in common is we're human beings, but what do you say to atheists who believe in nothing?
I encourage people. I have a lot of atheists who watch. They write me all the time. I try to live a life by example and to show God's love. God can reveal himself to people. Some people are at a point where they may not be ready yet. I think God knows how to get people's attention. I'm not a big believer in trying to jam stuff down somebody's throat: 'You're going to do it my way.' I'd rather show by example and live my life and have people say, 'You know what, I want to live like Joel has. He's got peace and joy, and he seems content.' I'm not a debater. This is what I believe and somebody else may not believe in it.
In Ben Affleck's Oscar speech, he said, "It doesn't matter how you get knocked down in life, it matters how you get back up." Have you ever been down and had to pick yourself up?

Yes. We all have those times. In 1981, my mom was diagnosed with terminal cancer. It was like the wind was taken out of our sails. We grew up and our mom was always healthy, and now, we thought: we're good people, we've always done the right thing and how could this happen? As a family, we had to get up. Fortunately, our mom overcame it and is alive today. She'll be 80 this year.
When you're in the public eye, there's criticism, there's judgment, there's things written about you that's not true... and there are times, like any of us, we have to make a decision that my best days are still in front of me; I may be down but I'm not going to stay down. I'm going to get back up again. That's the whole power of faith and trust and hope.
You've got to have a spirit and determination and resolve that this is not going to defeat me... whether it's cancer or disappointment or a divorce, you've just got to have that resolve because it's easy to sink into depression. You start getting bitter. It's using your faith in the wrong direction; you're drawing in negativity and more bitterness and more discouragement. You've got to change it. Just say: this was a bad break, this was not fair, but I'm still in control. Know that God can turn things around and use it to your advantage.

Mark Burnett and Roma Downey, who are producing The History Channel series "The Bible," are advocating for the Bible to be taught in public schools "as a primary document of Western Civilization." Do you think the Bible has a place as an elective course in our schools?
Yes, the Bible should be taught in our schools because it is necessary to understand the Bible if we are to truly understand our own culture and how it came to be. The Bible has influenced every part of western culture from our art, music, and history, to our sense of fairness, charity, and business. It is the foundation of our laws and courts, and was the main reason Europeans settled the Americas in the first place.
For daily motivational tweets, follow Joel on Twitter: www.twitter.com/@JoelOsteen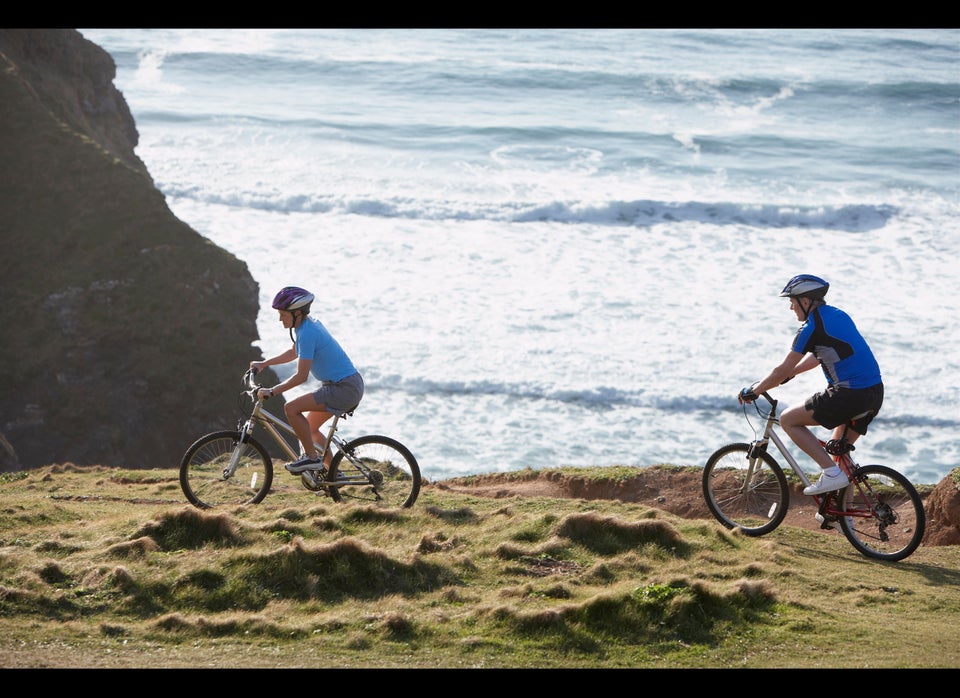 8 Things That Make Or Break Your Happiness: AARP Survey
Related
Popular in the Community