Dozens of Houston-area churches, schools and community centers opened their doors to offer temporary shelter to survivors, while other local houses of worship organized volunteer teams to help with relief efforts.
One church, however, drew criticism online for remaining shut. Joel Osteen's Lakewood Church, a 16,800-seat indoor arena, announced on Facebook that it was "inaccessible due to severe flooding."
The post included a long list of resources for those affected by the storm, including the street addresses for nine temporary shelters in Houston and surrounding counties.
Osteen also posted prayers on social media over the weekend for those affected by the disaster.
Osteen and his wife live in a $10.5 million mansion in the upscale River Oaks neighborhood in central Houston. The neighborhood was hit with intense flooding over the weekend, with rescue teams coming to evacuate residents and their dogs. The preacher did not say whether his home was damaged.
Lakewood Church has previously helped with relief efforts in the city, most recently hosting a benefit concert in 2016 after heavy flooding. In 2001, the church sheltered roughly 5,000 Texans displaced by a tropical storm.
But the church's response to Harvey drew harsh criticism on social media, with hundreds of users saying Osteen owes the city more than his prayers.
Osteen and Lakewood Church did not immediately respond to requests for comment or say what other relief efforts they would be offering.
The church announced Monday afternoon that it was partnering with Samaritan's Purse, a Christian aid organization, to raise funds to support hurricane relief efforts.
Freelance reporter Ruth Graham also posted a thread on Twitter saying she had spoken to a Lakewood representative who said the church wouldn't turn anyone away.
The representative also reportedly told Graham that the church wasn't flooded but would be difficult for most people to access due to nearby flooding.
Olsteen and Lakewood Church released another statement Monday night, arguing the establishment did not close its doors and would house people once shelters became full.
A photo posted on social media by HuffPost blogger Charles Clymer appeared to show air mattresses being set up in a hallway of the church on Monday night. Don Iloff, a spokesperson for Lakewood, told Chron.com that the church had "begun preparing" for the arrival of evacuees. He was not able to confirm the authenticity of Clymer's photo which was shared thousands of times on Twitter.
This article has been updated with additional information from Lakewood Church and freelance reporter Ruth Graham.
Related
Before You Go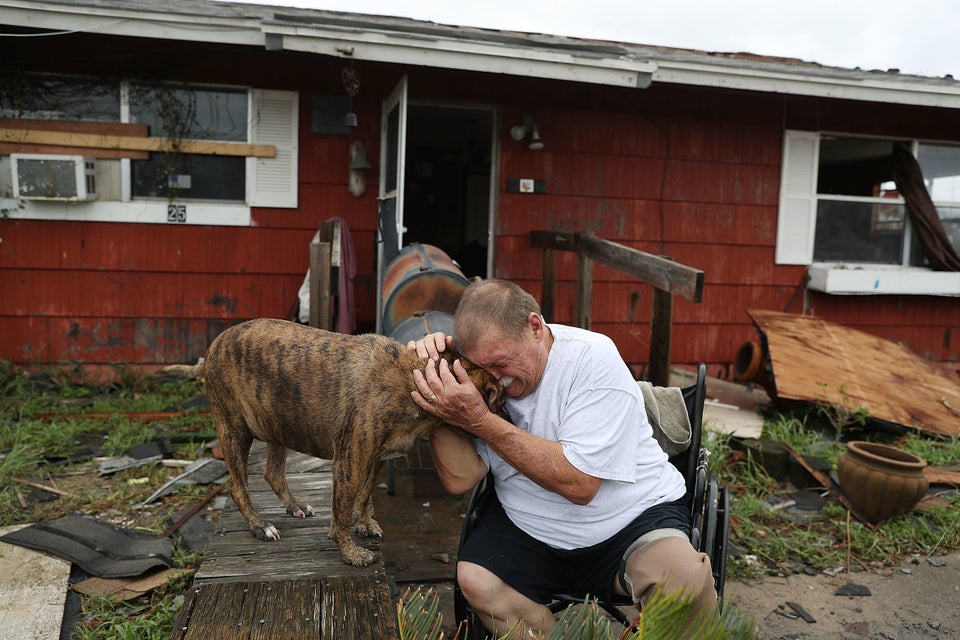 Hurricane Harvey Aftermath
Popular in the Community