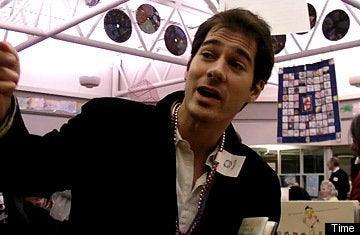 Time magazine columnist Joel Stein was the first person to take our Sabbath Manifesto "Unplug Challenge," going "off the grid" for 24 hours last weekend. He got lost on the way to a party because he had turned off his GPS; missed his friends because he had gotten lost and couldn't text to let them know; and drove really fast to fill in the void of the radio. But he still found the notion of being unplugged addicting.
"Arranging my one day of not using e-mail with the National Day of Unplugging people required 24 e-mails, two phone calls and one Facebook friendship acceptance," Stein wrote in his Time magazine column April 2.

"Right before sundown on Friday, I used my printer more than I had the rest of the time I've owned it. I printed directions, calendars, phone numbers and notes for the book I'm writing, in case I needed to work on it. I clearly have lost all understanding of how long 24 hours is. And of the fact that I would never write anything longer than my name with a pen," Stein wrote in Time. Stein's wife joined him in the experiment initially, and promised they could "make love by candlelight."
While Joel is back on the grid now and said that "technology is a gift from God and should never be turned off," he did learn something about his addiction.
"When Sunday night arrived, I dreaded turning my computer back on. I knew it meant I'd have to do work or respond to e-mails from friends and family, i.e., more work ... I did learn that I'd rather hang out with my wife and son than find out every time someone retweets me. I don't want to feel the need to respond to everything as soon as I can."
Read his entire column in Time magazine here.
Watch the Huffington Post for more reports from the "Unplug Challenge," which is sponsored by Reboot, a non-profit organization that aims to reinvent the cultures, traditions and rituals of Jewish life for a broad audience.
This month, Josh Radnor, star of the CBS series How I Met Your Mother and writer, director and star of the movie happythankyoumoreplease (winner of the Audience Award at Sundance 2010) will power down.
The Sabbath Manifesto "Unplug Challenge" builds on the success of Reboot's National Day of Unplugging March 20, 2010, when people were asked to shut off their cell phones and computers for 24 hours. Stein and Radnor are members of the Reboot network.
Reboot's Sabbath Manifesto is a new project that is encouraging young, hyper-connected, and frequently frantic people of all denominations to re-embrace the ancient beauty of a day of rest.
Post your stories of what it was like for you to unplug for 24 hours on our Sabbath Manifesto site. Every month, we will choose a testimonial from those posted and pair it with the "Unplug Challenge" column on the Huffington Post.
This month, we are highlighting an unplugging testimonial from Mark Gardner, a 34-year-old information security specialist living in the United Kingdom. Gardner is not Jewish but was intrigued by the idea of the Sabbath Manifesto's National Day of Unplugging.
"Now, I'm not Jewish but the idea seemed a good one. My wife especially thought it was a good idea -- I'm always on my phone, be it reading twitter, surfing the web or playing games, and for that reason she was convinced I couldn't do it," he wrote in a post on his blog.
To start with it was hard. Your immediate reaction is to pick your phone up in a spare millisecond. However, once that urge passed, although it never truly did, the changes in me were remarkable. I was more attentive, my concentration span was greater, I was even calmer. These outcomes surprised me -- does my phone make that much difference? Yes I think it does, particularly to me. I missed one particularly important e-mail, which ironically was received about 30 seconds after I turned my phone off. But did 24 hours without receiving that e-mail, or viewing twitter, or Facebook make that much of a difference, on a weekend? No, not at all. On a side note, I'm still questioning whether not viewing Facebook at all would make a difference!
After his experience, Gardner has decided to make unplugging a regular weekly practice.
"Try it -- see what reaction you get," he wrote.