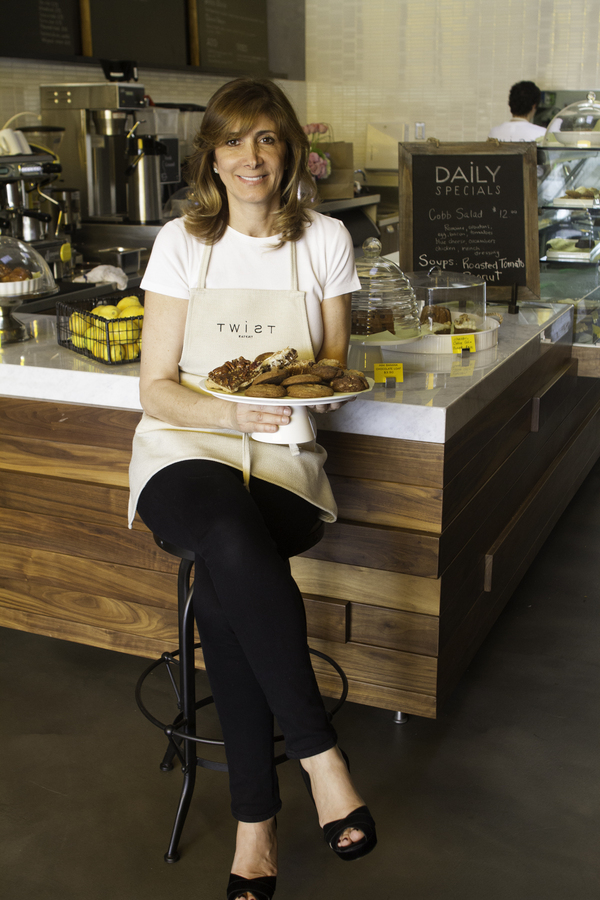 Photo Courtesy of Anthony Pino
Joelle Bercovitch emanates a particular kind of sweetness, along with a rooted sense of confidence that everything is and will work out just fine. Her new endeavor as a restaurant owner has proven to her that she's capable of following her dreams and that the stars will align to support her success.
Twist Eatery, Bakery and More, opened its doors in the trendy Miracle Mile community of Los Angeles just a few weeks ago. The decor has a slightly sophisticated East Coast vibe, but Bercovitch's warmth makes her L.A. customers feel right at home. For twenty-five years, Bercovitch worked with her father running Charles David, a premier women's shoe and handbag company. During her time at this small, family-run company, Bercovitch honed her business, customer service, and retail skills. "Outside of what I'd learned in the accessories business, I knew nothing about running a restaurant. In order to prepare, I talked with other restaurant owners and for two years my head chef and I met each Wednesday at my home. I'd take the day off from Charles David, and we'd spend the day testing recipes and perfecting the menu."
Bercovitch says that she always loved baking and entertaining. She envisioned having a restaurant that felt like her home, where people would feel as though they belonged to a community. "It was my intention to keep the prices at a level that encouraged patrons to come again and again. I want them to feel like they are in someone's home, and that they can stay as long as they like, and return as often as they'd like. This feeling in clear in the café--it's a wide-open space, and you can see the entire restaurant, including the kitchen, from the front door. The menu includes an assortment of choices for breakfast and lunch and there are also homemade jams and preserves to purchase. Everything is delicious and modestly priced.
Bercovitch is married and the mom of three children. Two of her kids are adults, and the youngest is a teen-ager who will be driving within a month. "My youngest keeps noticing that I'm not home very much any more. Running the new restaurant means I'm there from 7:30 a.m. to 7:30 p.m. I knew that he'd be a little taken aback initially, but I also knew that his ability to drive and have more independence would replace his desire to have me around."
The strongest force behind Bercovitch's new career was the impact it would have on her children. What would they think of her if she never pursued her dreams? What would they think of their own possibilities? "Yes, I was afraid of stepping out and leaping off a cliff into unknown territory. But I was more afraid of not following through--for my sake and my children's sake. I know I'm influencing them with every choice I make. Someday they will be faced with similar decisions, and they will have my example to help them.
"I didn't know anything about building a restaurant when I started this journey," says Bercovitch. During the process, she reminded herself often that her family was what really mattered. "There were times when I just didn't know what would happen. After we found the space, and I hired a contractor, I quickly realized we did not have the same vision. I went home, and I decided to get rid of my fear because I had nothing to lose that I could not replace. Releasing the fear changed everything," Bercovitch acknowledges. The next day she let the contractor go, hired the project manager in his place, and things started flowing. "It seemed that whenever I needed something, it would appear. When I decided I needed a publicist, it was if the need itself, created the publicist. While at dinner I overheard someone talking about their work. It turns out she was a publicist. I noticed these types of seeming coincidences happening all along the way. Each time I'd know I was on the right track, and I'd keep moving forward."
After twenty-five years of working in her family business and raising three happy children, Bercovitch has chosen herself and her dreams. She hopes to change the world by serving food with love and warmth in a place that's so comfortable it feels like home. "I have lots of plans for this space," she says with a little light in her eye. "I see us teaching classes in making pastries and preserves right in the kitchen, which is open for all to see." If her future in any way mirrors her past, we can be sure that providence will meet her, and those dreams will become a reality that all of us in L.A. can enjoy.
REAL LIFE. REAL NEWS. REAL VOICES.
Help us tell more of the stories that matter from voices that too often remain unheard.