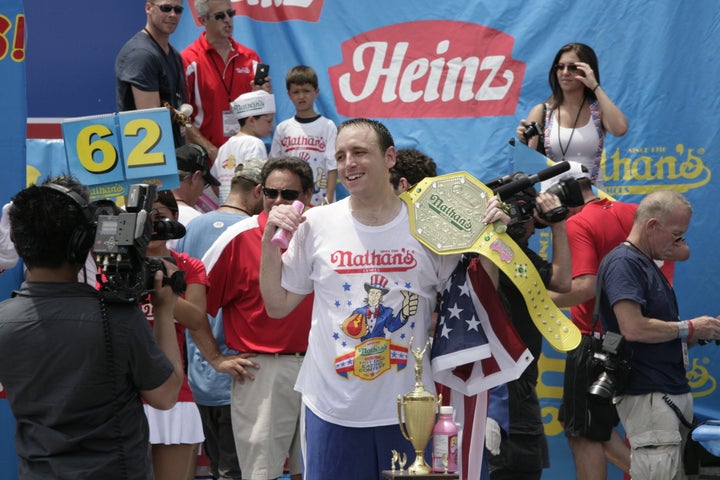 Takeru Kobayashi has regained the title of the world's greatest hot dog eater -- but this time it comes with an asterisk.
Joey Chestnut once again won the Mustard Belt at the Nathan's Famous International Hot Dog Eating Contest in Brooklyn, N.Y., but eating in exile on a rooftop in Manhattan, Kobayashi managed to put away a world record of 69 hot dogs in 10 minutes to Chesnut's 62.
And he made history, beating Chestnut's 2009 record by a single HDB (hot dog and bun) and Chestnut's 2011 showing by seven HDBs.
SEE THE ACTION IN CONEY ISLAND: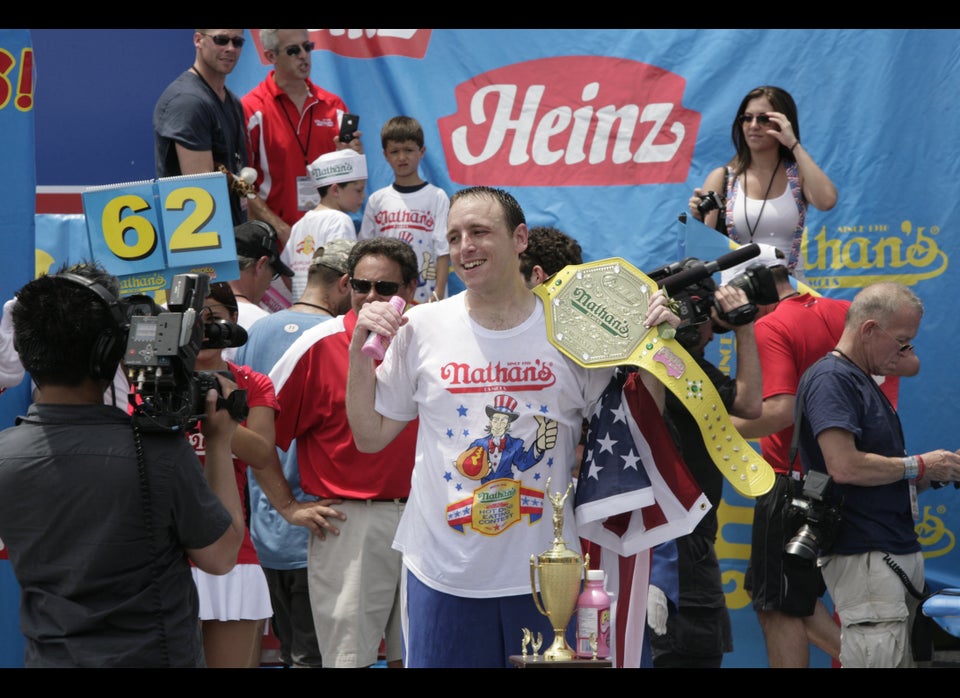 2011 Nathan's Famous International Hot Dog Eating Contest
In Coney Island, Chestnut relished in his 62-dog performance, unaware that Kobayashi had regained the world record in the unofficial event. He stated afterward that he was "feeling good."
The San Jose, Calif., native, fittingly known as "Jaws," started fast and hardly slowed at the Brooklyn event. Pat "Deep Dish" Bertoletti nearly kept pace, finishing with an impressive 55 HDBs. Third place finisher Tim "Eater X" Janus consumed 45 HDBs.
When informed of Kobayashi's historic performance, Major League Eating president and hot dog contest master of ceremonies George Shea called it a "farce."
"The champion of the world is crowned in Coney Island. Always has been, always will be," said Shea. "[Kobayashi] put a tin crown on his head and called himself king."
While the win in Coney Island further cements Chestnut's competitive eating legacy as one of dominance, Kobayashi's new world record makes it clear that the man known as "The Tsunami" isn't past his prime.
Kobayashi emerged on the competitive eating circuit a decade ago, winning six straight Nathan's Famous contests and earning a reputation as unbeatable. That is, until Chestnut took the Mustard Belt in 2007, winning in consecutive years with 66, 59, 68, 54, and now, 62 HDBs.
On the stage in Coney Island, Chestnut appeared dominant, with Bertoletti presenting his only real challenger. Tai Loi Mak, Lu Ming Kui and Yat Ming Lam -- the first challengers from China who have ever taken part in the hot dog event -- struggled against top tier gluttons. Tim "Gravy" Brown was disqualified after a "reversal of fortune."
Sixteen miles away, Kobayashi stood aside a 12-foot screen, which aired the ESPN coverage. The Japanse champ entered just before Chestnut was announced. He quickly jumped to a lead, and was finishing his 30th dog before Chestnut had downed his 24th.
"I am so happy I got this chance," Kobayshi told a packed house at the rooftop garden bar at 230 Fifth, slamming both fists on the table triumphantly, and thanking club owner Steven Greenberg for making the event happen.
"I watched the Coney Island event last year, and immediately after the police incident I contacted Koby's attorney," Greenberg said. "We thought the public deserved to see him compete."
Kobayashi told AOL Weird News that Major League Eating representatives contacted him before the event, but they refused to drop their demand that he sign a restrictive contract for the right to compete at Coney Island.
"I want to remain free to compete in the events that I want to compete in," Kobayashi said. "Today was a great success."
In the first-ever women-only contest, Sonya "The Black Widow" Thomas took home the $10,000 prize with 40 HDBs -- one fewer than her personal record of 41 HDBs.
After the competition, Thomas hopped onto competitive eater Eric "Badlands" Booker's shoulders and marched into the crowd, carrying flowers and her pink-colored Mustard Belt over her head.
Second place finisher Juliet Lee consumed 29.5 HDBs and said she struggled to concentrate while dining on competitive eating's biggest stage.
"I didn't focus -- too many things on my mind," said Lee, who noted that she was thinking of her daughter in China throughout the contest.
Rookie Stephanie Torres surprised the crowd with 28.5 HDBs, an impressive debut that earned her a third place finish.
Related
Popular in the Community