NASCAR driver Joey Logano visited AOL BUILD recently to talk about his career thus far, the changes in store for this season and this year's upcoming Daytona 500 (dubbed The Great American Race) on Sunday, February 21st! Logano became the first ever pro-racer to talk at AOL BUILD which is a nice little fun fact to know and share. To see and hear the full BUILD interview, click here.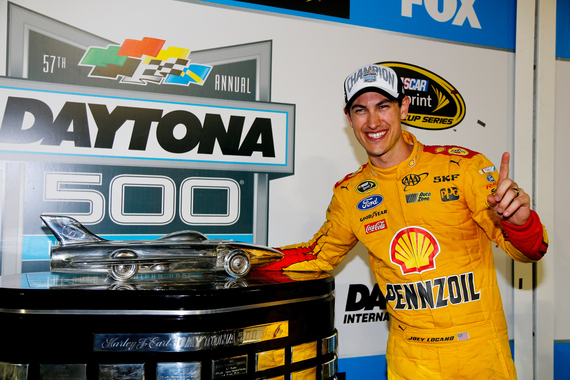 Joey Logano at just 25 years old is already considered a veteran of the sport. He started his full time Sprint Cup Series career back in 2009 for Joe Gibbs Racing (JGR). He won rookie of the year honors in 2009 in the #20 Home Depot sponsored car for JGR and so far to this date he's won 14 races (2 with JGR and the other 12 wins with his current team, Team Penske's #22 Shell/Pennzoil Ford). One of those special wins came last year, the prestigious Daytona 500 at Daytona International Speedway. Click here to relive how he won it as you see the final laps unfold.
The Daytona 500 is heralded as the biggest race of the NASCAR season. It's the "Super Bowl" of all races because it's the first race of the season, and a lot is at stake in trying to win the coveted Harley J. Earl Trophy (as seen below) and the post-race media attention the team gets. By winning the race, the driver will get a playoff spot later in the season providing they race the remaining races leading to the playoffs and stay in the top 30 in points. The driver also gets to celebrate with a champion's breakfast celebration the day after where they get a champion's jacket, a Rolex watch, and a ton of media attention from numerous media outlets. The Daytona 500 is simply a spectacle in motorsports and I feel this year is no exception as Logano tries to defend his win in the season opening event.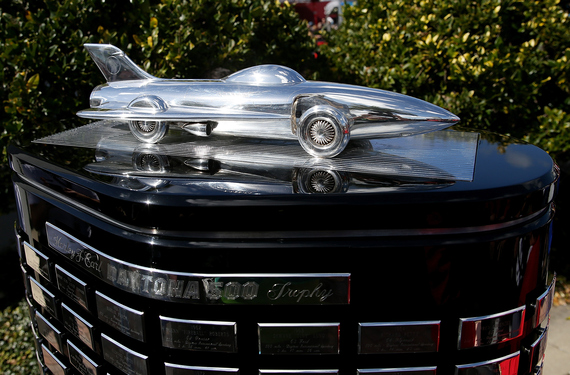 Logano explained to the BUILD audience that now that he's won it already, this year he isn't going to change much. He's going to remain confident in trying to race this year's big race. Of course due to the infinite scenarios that can take place during the race, (i.e. big crashes, unexpected mechanical failures, and or a mistake on pit road costing a lot of time and positions on track) don't expect it to be an easy task for him to repeat as Daytona 500 champion. Only 3 drivers in the history of the sport has ever accomplished that feat by the way. Logano will have to also enbrace the new rules that NASCAR has put in place for the 2016 season.
Starting in 2016, NASCAR has implemented several new changes such as the low downforce package in the Cup cars, and the charter system which gives teams more incentive and value as well as cutting the racing field from 43 cars to 40. Logano said that the low downforce rule this year "basically means there's not as much grip" for the car and "when you take some of the downforce away, there's less grip". The reason why that's a good thing is because you want to be able to race around cars since now the car's handling plays more into the driver's hands now and race packs are much closer. The leader of the race won't be able to get away so easily as seen in past seasons. This will lead to the strong likelihood of exciting pack racing which is ultimately great for the fans at the track and at home to watch.
Logano also expressed his agreement with the recently announced charter system or what he calls it the "charter owner system across the teams". He said "it's a really historic moment in our sport". There's going to be 36 charters and the charter grants you a guaranteed start in each race this season. 40 cars are eligible to race now. So 4 drivers must race their way in via qualifying sessions each week. Logano added that "it gives the teams a little bit more equity in their race team". We'll just have to wait and find out as the season progresses to see how this system will truly take shape.
Additional new rules are explained succinctly here.
(Note: These new rules were introduced after Logano's BUILD interview aired but I thought this link would be handy to share for readers and NASCAR fans alike).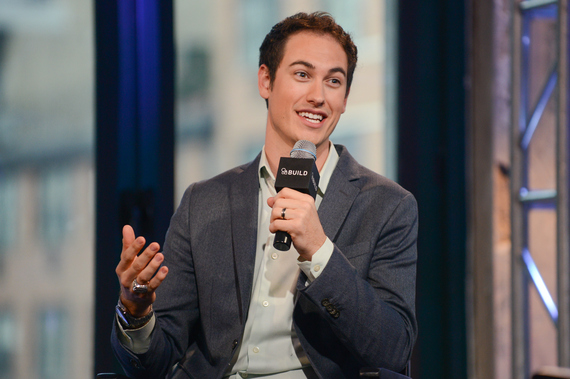 Besides racing week in and week out, Logano spends some time to work on his foundation called the Joey Logano Foundation. Through this foundation, Logano felt that with the success he's accomplished thus far, God put him in this position to help others. The mission of the foundation is "to inspire and assemble the NASCAR community to assist those across the nation who are in need of a second chance due to natural or human disaster. The Joey Logano Foundation partners with other organizations to provide comfort and relief to those in need after such unforeseen circumstances.". Logano works with homelessness and disaster relief. He explained a racing analogy that if at a race's end and there's practically no chance on winning it, a sudden caution flag is thrown and you get to pit for four fresh tires. Those new set of tires will help you get a better finish and potentially a race win. So Logano wholeheartedly wants to be those "four tires" for somebody a.k.a. the people needing a second chance. To learn more about his foundation, go to joeyloganofoundation.com and check out his foundation's Instagram page.
So even though Logano has yet to win a championship in the NASCAR Sprint Cup level he embodies the traits of a true champion both on and off track. I feel that these values will stick with him for the rest of his career and his future legacy. Also, I predict he will win many more races as well as a NASCAR Cup championship someday; maybe even as early as this season.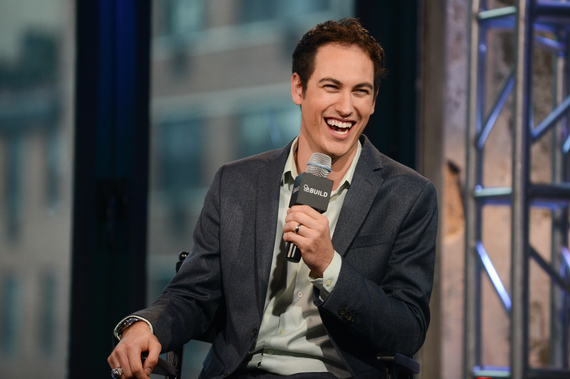 Follow Joey's social media accounts as he races in his 8th full time season this year: Facebook, Twitter, and Instagram.
Daytona International Speedway
2.5 mile speedway
200 laps, 500 miles
Broadcast: FOX and on the FOX Sports Go App
Alternatively you can listen online at MRN
Date: February 21, 2016
Time: 12 P.M.
Grand Marshal: Gerard Butler
Honorary Starter: Ken Griffey Jr.
Pace Car Driver: WWE Superstar/Actor John Cena
Check out this cool The Simpsons promo for the Daytona 500: http://youtube.com/watch?v=vyeEg3RRm2k
REAL LIFE. REAL NEWS. REAL VOICES.
Help us tell more of the stories that matter from voices that too often remain unheard.