The singer and actor just launched his own scripted show on Pop TV, and he's about to release an EP and kick off a tour with New Kids on the Block.
The TV series, dubbed "Return of the Mac," finds McIntyre playing an exaggerated version of himself alongside his real-life wife, Barrett Williams, and their three children. Loosely based on his life, the show finds McIntyre trying to land a serious acting gig on TV, but settling for a talk show hosting role instead. It features a slew of guest stars, including January Jones, Joey Fatone and Jenny McCarthy. And it's co-executive produced by a familiar face: fellow NKOTB member Donnie Wahlberg.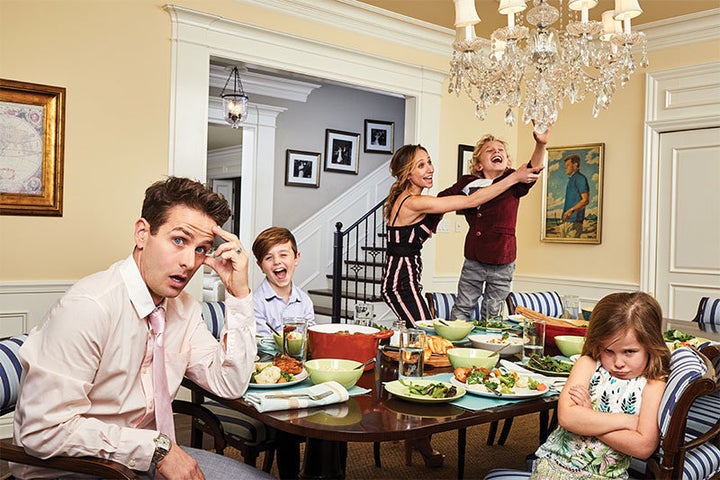 McIntyre, 44, says that Wahlberg, 47, was instrumental in getting the series off the ground.
"He was there when I needed him and he wasn't when I didn't need him. He would stay out of my hair," he said jokingly during an interview with The Huffington Post on Build Series. "No, he was very supportive."
But the friendship goes deeper than that.
"I've checked in with Donnie even without New Kids on different career stuff. He has a ton of experience, a ton of success. But I remember checking in with him in real life years ago and I asked him, 'How do you do it?' I maybe came from an audition or something like that. I didn't think he'd have this magical answer but he said, 'You gotta take your lumps.' It was so simple but it was pretty wise," McIntyre said. "No matter what you do you kind of got to go with the ups and downs and take your hits and take your lumps."
McIntyre and Wahlberg will soon spend a lot more time together when the New Kids kick off their tour this summer with Boyz II Men and Paula Abdul. While at Build, McIntyre got emotional thinking about the longevity of the group, which formed more than 30 years ago.
"It happens, it creeps up on you," he said about getting sentimental. "Because you get to do what you love to do with people you love and people you've grown with and people you learn from. And I know that we kind of represent the getaway for people. And the older you get you realize those getaways are important."
It's part of the reason their new EP is called "Thankful." Due May 12, the album will feature five tracks ― all with a pop, soul and R&B vibe.

And for any fans wondering about NKOTB's future, it sounds like McIntyre, Wahlberg, Danny Wood and Jon and Jordan Knight are in it for the long haul.
"We're super grateful … The gratitude that we have … It's easy to get emotional about it," McIntyre said. "We're family. Us and our fans are family. We've been through a lot together. And because of them [the fans], we're not going anywhere."
Watch our Build Series interview with McIntyre below. 
REAL LIFE. REAL NEWS. REAL VOICES.
Help us tell more of the stories that matter from voices that too often remain unheard.
BEFORE YOU GO
PHOTO GALLERY
Nineties Boy Bands