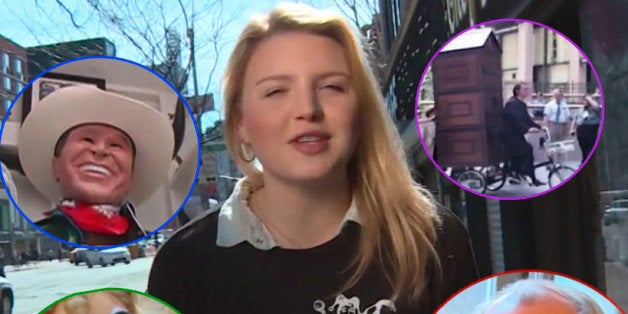 Master prankster Joey Skaggs has once again turned a news organization into an April Fools' Day casualty -- and we were there to see it happen.
You'd think after 30 years, journalists would catch on that the parade itself is an April Fools joke. Nevertheless, a couple of bewildered reporters still show up -- and Skaggs gets to boast once more that the media is dangerously gullible.
This year, he pranked SinoVision, a Chinese news agency with an English-language operation in New York, which ran a 4-minute segment (below) on the fake parade in advance of the April 1 non-event.
Skaggs supplemented his expert bullshit with archival footage of his old pranks, passed off as video from April Fools parades past. SinoVision didn't bother to check it out, which doesn't surprise Joey.
The artist indeed layers his pranks with delicious details. From the 2015 April Fools Day press release:
The theme for this year's parade is "Hands Up, Don't Shoot". The Grand Marshall will be Mayor Bill de Blasio wearing an "I Can't Breathe" T-shirt. He will lead the NYPD Marching Band playing Smokey Robinson's "You Really Got a Hold on Me", however, they will be marching backwards in a continuing show of disrespect for the Mayor. Special guests will include Ebola-infected volunteers recently returned from West Africa who have ignored their quarantines. Color commentary will be provided by NBC's Brian Williams making it up as it happens.

The first float will be a Mobile Carnival Shooting Gallery where police officers are firing at young minority targets. Then comes a Three-Story Glass Elevator float featuring President Obama on the 3rd floor with armed civilians; Beyoncé's sister Solange ferociously assaulting Jay-Z on the 2nd floor; and NFL star Ray Rice dragging out his unconscious fiancée on the ground floor.
"I think that people are fooling themselves all the time. We're predisposed to being delusional. It's just part of living," Skaggs told HuffPost Weird News.
SinoVision now joins some of the most famous media organizations on the planet as one of Skaggs' victims. The 69-year-old prankster once convinced CNN that criminal juries throughout the United States would soon be replaced by "Solomon Project" computers, which he had invented in response to the O.J. Simpson verdict.
Another time, Skaggs talked "Good Morning America" into believing that he was leader of "The Fat Squad," a group of retired Marines who would help you lose weight by physically restraining you from eating.
The Boston Globe fell for his "Hair Today" project, running a story on how he could treat baldness by transplanting hair from cadavers onto living men.
Over the years, Skaggs has also posed as the proprietor of a celebrity sperm bank (in Ms. magazine), the pimp for the world's first dog bordello (featured on WABC TV in NYC), and Jo Jo the Gypsy, who claimed (in the New York Times) that the term "Gypsy Moth" is an affront to his people.
The Huffington Post reached out to SinoVision for comment about the story, but they didn't get back to us. The reporter who covered the parade, Christie Clements, did not respond to requests for comment on social media.
Listen in on our podcast as Skaggs revisits some of his greatest hits, and teases pranks to come:
"I have perpetrated a hoax, and its out there in the world, and no one knows it's me," Skaggs said. "Lots of people witnessed it, but no one has put it together."
Last year, we covered Skaggs' promise to bring Bigfoot in a cage to New York City. Of course, we knew all along that it was just Joey dressed as a giant foot.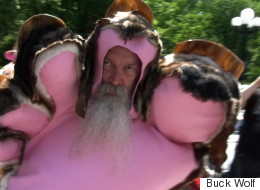 But if he's pulling your leg, he says there's a good reason behind it.
"My message is media literacy. Not only am I attempting to expose hype, hypocrisy, disinformation and sloppy journalism; I'm also bringing to light issues that are important," Skaggs told HuffPost Weird News. "We have racism. We have sexism. We have inequity in every form. We have waste. Wars. It hasn't changed since the '60s."
Podcast Produced by Katelyn Bogucki and edited by Jorge Corona.
Calling all HuffPost superfans!
Sign up for membership to become a founding member and help shape HuffPost's next chapter
BEFORE YOU GO
PHOTO GALLERY
Joey Skaggs: King Of The Pranksters