Call it a tempest in a D-cup: There is a brassiere bruhaha brewing over who deserves to own the record of the world's biggest bra.
The brassiere was colossal by any standards, so judges for Guinness World Records awarded it the coveted title of "World's Largest Bra."
Back in 1969, Joey Skaggs, a famed conceptual artist and media prankster, created a bra that was reportedly 120 feet long -- 50 feet for the cups alone -- as a statement about America's fixation on breasts.
"There was a woman named Francine Gottfried, who was an office worker on Wall Street who had very, very large breasts," Skaggs told HuffPost Weird News. "When Francine would go out to lunch many Wall Street workers would point, stare, whistle and hoot."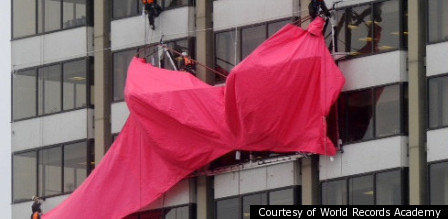 The story got national attention and inspired Skaggs to build a bra big enough to satisfy anyone with a chest obsession.
Although Skaggs first wanted to hang it around the Statue of Liberty, all attempts to provide support for Miss Liberty failed. Another attempt, stretching it across the Wall Street intersection, failed when Skaggs was removed from a lamp pole, bra in hand, by police officers.
Skaggs says he finally was able to show his support for Gottfried -- and all women -- on Valentine's Day 1969, when, with the help of friends, he tied one end of the bra to the outstretched arm of the statue of George Washington in front of the U.S. Treasury building on Wall Street.
After stretching the bra across the front of the building and tying the other end to a column, Skaggs waited to see the reaction to his work.
"When the flood of workers going to lunch saw what was happening, they became enraged," he said. "Hundreds of men attacked the bra and ripped it to pieces."
Police officers arrested some of Skaggs' friends, but Skaggs himself managed to slip away, narrowly averting, ahem, a big bust.
There is no physical evidence of his bra left, but Skaggs does have numerous newspaper clippings confirming its size and hopes to nip any controversy about the biggest bra in the bud.
SEE WHY JOEY SKAGGS IS KING OF THE PRANKSTERS (Story continues below)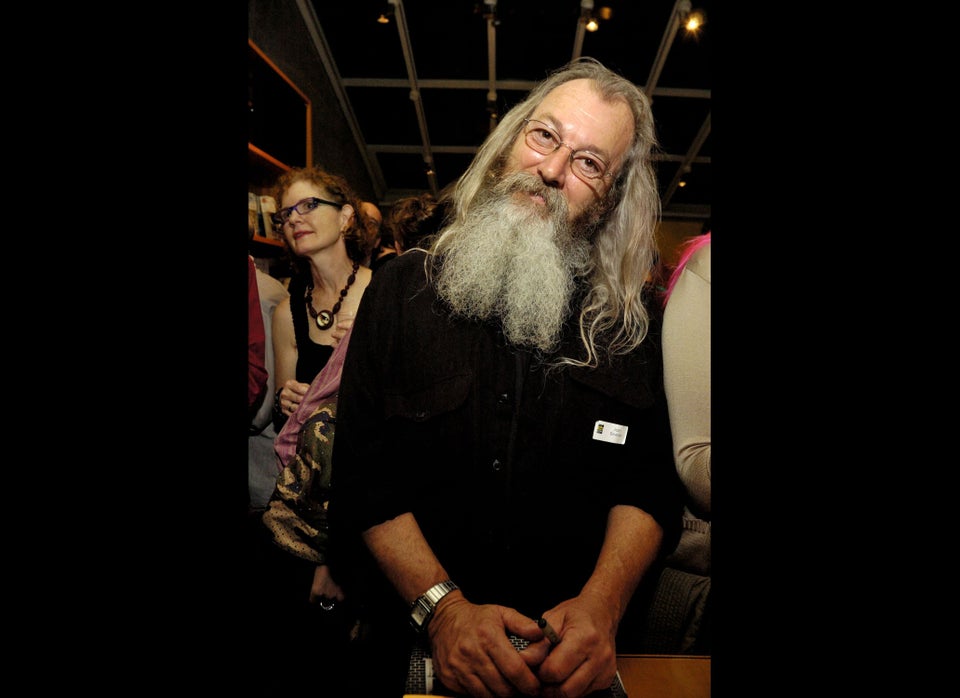 Joey Skaggs: King Of The Pranksters
"I have 50 feet of cups alone," he said. "Measuring strap-to-strap, I would win hands down, but I wasn't thinking about getting in the Guinness Book at the time."
No, Skaggs had his eye on bigger prizes: Skewering the media for its willingness to follow sensational stories without checking the validity.
According to a 2010 story by AOLNews.com, past examples of this included creating a "cathouse for dogs," where pooches could get sexually gratified by an assortment of female dogs; the "Fat Squad," a group of commandos who would follow larger people around to make sure they stuck to their diets; and the Solomon Project, a revamp of the American judicial system, where super-computers would replace judges and juries.
A Guinness representative says each record is evaluated on a case-by-case basis, but adds, "We have retroactively approved claims, should we receive enough evidence to validate it."
However, the rep is skeptical about Skaggs' bra being 120 feet since the building it was hoisted onto is only 100 feet long.
Skaggs is sticking out his chest at that accusation.
"I needed the extra yardage in order to be able to latch the bra on to the front of the building," he said.
Although this brassiere is just one of many stunts Skaggs has done over the years, he would like support for his achievement, especially because he feels his big bra was done for a purer reason than the British brassiere.
"Although breast cancer is a worthy cause, it seems like the company that commissioned that bra was doing it for a self-serving reason," Skaggs said. "I don't care about kudos, but want to raise awareness of this fixation with breasts and how it kept this woman from being able to walk across the street without being leered at."
Popular in the Community