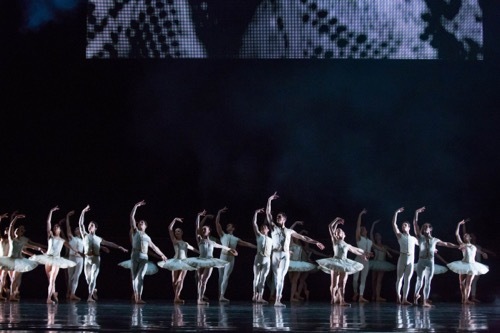 The Joffrey Ballet in Tulle (photo by Cheryl Mann)
The Joffrey Ballet displayed determination, range and energy as they tackled three disparate pieces on Wednesday night at Chicago's Auditorium Theatre. Unique Voices offers the work of two choreographers who explore the various aspects of relationships, and one who delves into the very nature of ballet itself.
Stanton Welch's Maninyas examines the layers of vulnerability and openness in love relationships, and a range of related feelings are explored throughout. As a backdrop, panels of fabric hang from the ceiling, and the dancers are dressed in vibrant hues, moving to Ross Edwards' Maninyas Concerto for Violin and Orchestra.
Five couples whirl and leap through a series of movements so complex that it's exhausting just to watch. The choreography is extremely challenging, and the dancers attack it with strength and energy -- although they fall a little short of perfection. That said, Maninyas is not an easy piece to dance flawlessly, and the company holds nothing back -- women fling skirts around with abandon, and men bravely tackle the most harrowing of lifts.
Specific movements are often repeated, reflecting various stages of self-protection -- or abandon. At times dancers cover their eyes, while in other moments they wildly hurl their arms open to the heavens as if giving up -- or giving in. Women arch backward and "trust fall" onto the backs of their partners, and in the final moments of the piece, the women's legs open widely in submission as men carry them off into the darkness.
James Kudelka's The Man in Black offers a totally different take on relationships. A decidedly non-showy piece, it meanders quietly through six different Johnny Cash covers -- and what feels like many years of relationships between four people. Set for three men (Derrick Agnoletti, Edson Barbosa and Fernando Duarte) and one lady (Joanna Wozniak), it is a very emotional piece that examines the impact each person has on the group as a whole.
Although it takes some time to settle in and get invested after the wild intensity of Maninyas, the simplicity of this piece is as beautiful as it is pure. The dancers drift in and out of relationship with one another, sometimes fighting, sometimes desperate to help one who is troubled, and sometimes just going along on the "journey." Cowboy boots are used both as costume and as a rhythm tool, and Cash's voice couldn't be more moving.
The Man in Black nearly comes across as an easy piece -- until you begin to realize that many of the movements are like a Jenga puzzle, with one person completely reliant upon another for stability. Unlike the complexity of Maninyas, here almost everything is stripped down to the core -- but paired with Cash's tremendously powerful voice, it has everything needed to make a striking impact. And that it does.
Hailed as a "ballet about ballet," this program-ending piece by Alexander Ekman is more theater than dance at the outset. Large LED panels serve as the backdrop, flashing images of eyes, clowns, and close-ups of what appears to be actual tulle fabric in a blue hue. The marvelous soundtrack by Mikael Karlsson is varied and includes counting, heavy breathing, stomping and more fun/funny sounds punctuating a variety of "scenes" throughout the piece. The five positions are called off, a dancer talks about why she loves ballet, and the history of the art form is examined in narrative.
At one point a bevy of "swans" wanders over to the edge of the stage and stops -- looking out at the audience in silence for an uncomfortable amount of time. In an unexpected move, they all nervously begin to whistle the music to Swan Lake. It's silly bits like this that add breadth to Tulle, and Ekman manages to deliver just the right amount -- without mocking the art form in too terrible a fashion.
Ultimately, this behind-the-scenes, humorous take on ballet dissolves into a tight display of technique and a powerful ensemble piece with music to match. And while Ekman may make light of this dance form in some ways, it is clear that there is also a reverence and respect for the beauty it unveils when all the elements come together on stage. That was on display for all to see on opening night.
And indeed, it was pretty fantastic.
Disclosure: Joffrey dancer Cara Marie Gary and conductor Scott Speck are contributing writers to 4dancers.
REAL LIFE. REAL NEWS. REAL VOICES.
Help us tell more of the stories that matter from voices that too often remain unheard.