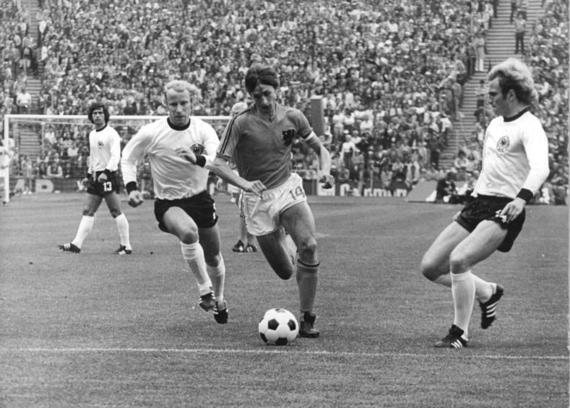 Like most people of my generation from the Netherlands, my life is closely associated with that of Johan Cruyff, the Dutch football icon who died Thursday at the age of 68. Wherever I would go around the world, from Canada to South Africa and from Kazakhstan to Chile, people would bring up "Kroif" and tell me about their admiration for "number 14" and their sadness that he and his "brilliant Oranjes" never won the World Cup.
I was too young to have seen Cruyff play during his glory days. To be honest, I initially had a deep dislike of him, as he was an icon of AFC Ajax, the dominant soccer team from Amsterdam, while I am a lifelong supporter of PSV Eindhoven, one of its main rivals. I also cannot remember the famous 1974 World Cup in Germany, in which the wonderful Dutch national team under Cruyff's guidance lost in a forever contested final to archrivals and soccer-opposites Germany. I do remember the almost equally traumatic 1978 World Cup, another Dutch loss in the final, and the nagging feeling of what could have been if Cruyff would have played.
Cruyff had boycotted the 1978 World Cup, because it was in Argentina, at that point a brutal military dictatorship -- although rumors had it that his wife Danny forbid him to go after finding out about sex parties in the team hotel in Germany four years earlier. It was unprecedented, a professional football player, at the top of his game, with a huge chance of finally lifting "The Cup," putting politics over sports, and over his own career. I still remember the campaign, launched by a soccer-crazy and desperate nation: "Pull Cruyff across the line" ("Trek Cruijff over de streep"). But no one could pull Cruyff anywhere, not even the whole Dutch nation. And so, Cruyff did not go to Argentina, the Dutch national team (known as "Oranje") did not win the tournament, and the greatest player in Dutch history, and according to many (Dutch) in the history of football, never won a World Cup.
In 1981, after an absence of eight years, Cruyff returned to Ajax, now an ageing star, who had transformed FC Barcelona in Spain and cashed in in the United States, playing for the Los Angeles Aztecs and Washington Diplomats in the short-lived North American Soccer League (NASL). Although aged 34, one of the oldest people in the Dutch league, he still mesmerized the crowds and celebrated two national championships before making the most controversial move in his career: to archrivals Feyenoord in Rotterdam. In his last season of playing professional football, at the age of 36, he almost single-handedly made Feyenoord Dutch champions.
One year after his retirement as a player Cruyff became the head coach of Ajax, followed, yet again, by Barcelona. Both periods were extremely successful with his teams winning championships while playing attractive football. As a coach his relationship with Oranje remained complex and tense. While his name was always mentioned as the ideal national coach, by the Dutch football elites and masses, he never accepted the countless invitations. Instead, he coached the non-recognized "national team" of Catalonia, his second fatherland.
Cruyff would continue to define football in the Netherlands as the most controversial and influential pundit on television. He was at least as much known for his very critical and sharp analyses of the game as for his unique language. The Dutch even came up with a term for it: Cruyff-isms. Among the most famous Cruyff-isms, a combination of neologisms and paradoxes, are "The ball is round" (undeniably true, at least in football), "Without the ball you can't win" (only partly true, as you can win through own goals by the opponent), and "Before I make a mistake, I don't make that mistake" (empirically wrong, as Cruyff made many mistakes in his life, one of which led him to financial bankruptcy).
In sports as in life Cruyff was controversial, outspoken, and rebellious. For example, he was an explicit elitist, believing that there were leaders and workers in a team (and in society), but he had the greatest respect for good workers -- or waterdragers (literally "water carriers") in Dutch football terminology. His self-confidence extended well beyond the soccer pitch. I remember an interview with his Feyenoord team members, complaining that Cruyff would even tell them how to play billiards in the clubhouse. And he was outspoken about everything, including highly controversial topics like politics and religion. For example, when playing in Catholic Spain in the 1970s, he once said in an interview: "I'm not religious. In Spain all 22 players make the sign of the cross before they enter the pitch. If it works all matches must therefore end in a draw."
Everyone acknowledges that Cruyff has had a defining influence on modern football. With Dutch national coach Rinus Michels he is credited as the inventor, or at least the ones who introduced it to the world, of "total football," a system in which every player both attacks and defends (ironically, given that he would hardly ever defend himself). He was also instrumental in promoting attacking football ("attack is the best defense"), proving that it could not just be attractive but also successful. He transformed first Ajax and then Barcelona into world-class football teams: many consider the unique style of "tiki-taka," the basis of the world-famous Barcelona team(s) of the 21st century, as a modern form of total football.
But while Cruyff has shaped modern football more than perhaps any other person, ironically modern football has no longer space for a person like Cruyff. Today, corporate football, dominated by the multibillion Champions League and English Premier League, breed and reward bland players and fully commercialized stars; like poster boys David Beckham and Cristiano Ronaldo, who are beautiful specimen of mankind and fantastic football players, but completely uncritical towards the larger structure shaping politics and sports.
Paradoxically, the club most shaped in his image, FC Barcelona, exemplifies this best. Tiki-taka might be build upon superior technique, it kills almost all individual creativity. And the one player who possible mirrors Cruyff the most, Argentinian superstar Lionel Messi, is as bland outside of the pitch as he is colorful on it. So, while cancer may have killed the body of Johan Cruyff, corporate football had killed his spirit many years ago.
REAL LIFE. REAL NEWS. REAL VOICES.
Help us tell more of the stories that matter from voices that too often remain unheard.