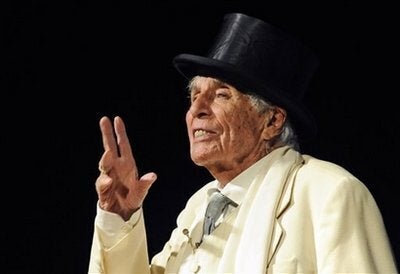 At 105, Johannes Heesters would like to be known as the world's oldest performing singer. He is appearing in the operetta The White Horse Inn, and sang recently on Dutch TV. But an outing he made 67 years ago has come back to haunt him, ensuring that he will always be remembered mainly as a favourite of Adolf Hitler and a friend of Germany's Nazi regime.
Last week a German judge threw out a libel suit Heesters brought against Volker Kuehn, a German documentary maker and author who said he had performed for SS guards at Dachau concentration camp. The singer never denied visiting the camp in 1941 as a member of the Munich Gärtnerplatz Theatre Ensemble, and admits he was "gullible, credulous and naïve", but says: "I was ordered there, and I never performed." Kuehn cited the testimony of a former Dachau inmate, who has since died. He said he actually "pulled the curtain" on the stage when Heesters entertained the brutal camp overseers.
The judge ruled there were "certain indications of a performance" by Heesters, but "more than six decades later it is no longer possible to clarify whether a performance took place". The inconclusive judgement means Heesters is unlikely ever to clear his name, particularly in his native Netherlands, where he was booed off stage when he attempted a comeback concert earlier this year. Many Dutch people have never forgiven Heesters for making a life in Germany - a good part of it in Nazi Germany, which inflicted so much suffering on his homeland. He has spent a good part of his later life seeking to justify himself, without much success.
He has pointed out that he was cleared by de-Nazification officials in 1945 in Germany, adding that he was never anti-Semitic, never carried out a state order for the Nazi cause and was not involved in subjugating his countrymen. But he did perform for Hitler and other leading Nazis at the dictator's request, and was a highly-paid star of Ufa, the Goebbels-controlled movie industry, making films right up until his patron ended his life in a Berlin bunker. After the war Heesters settled in Bavaria, about as far as it is possible to go in Germany from the Dutch border, and became a familiar figure in the German and Austrian cultural scenes. But he was never welcome in the Netherlands.
The redemption cause suffered another setback earlier this month when he was asked by a Dutch journalist on a current affairs show what he thought of Hitler. "A good guy, that's what he was," he said. His second wife, the actress Simone Rethel, corrected him, saying that Hitler was the worst criminal in the world. "I know, doll," Heesters responded, "but he was nice to me."The singer subsequently apologised on German TV, admitting he had said "something stupid, something horrible. For that I ask for forgiveness." He may have a long wait, particularly in Holland.
Related
Popular in the Community