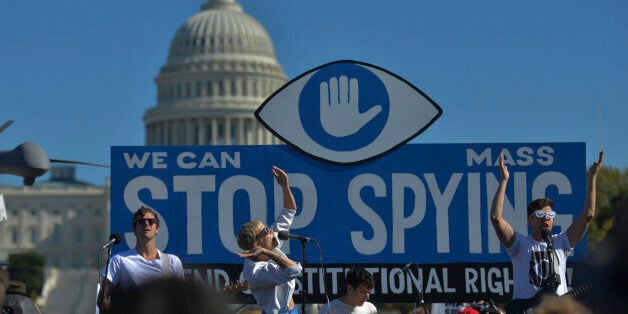 A federal judge who once sat on the nation's secret surveillance court took the rare step of inserting himself into the debate over the National Security Agency in a letter released Tuesday, slamming reform proposals because he says they would increase the federal courts' workload.
While claiming not to provide policy advice, Judge John Bates' letter and comments to the leaders of key congressional committees are littered with doomsday warnings about what will happen if the reforms proposed by the White House NSA review group and NSA critics in Congress are enacted.
If passed, Bates threatens, NSA reforms could disrupt the Foreign Intelligence Surveillance Court's ability to fulfill its "responsibilities under (the Foreign Intelligence Surveillance Act) and the Constitution to ensure that the privacy interests of United States citizens and others are adequately protected."
A proposal to create a special advocate for constitutional liberties, moreover, would provide "greater procedural protections for suspected foreign agents and international terrorists that for ordinary U.S. citizens in criminal investigations."
That critique by Bates, who was appointed by President George W. Bush in December 2001, is nearly identical to one made in November by Office of the Director of National Intelligence general counsel Robert Litt.
Bates is currently the director of the Administrative Office of the United States Courts. Two years ago he was on the Foreign Intelligence Surveillance Court, where he penned a significant opinion warning that the NSA was close to breaking the law in its program collecting metadata on Americans' Internet communications in bulk. And then he gave the agency more authority.
Bates said he wrote his letter in consultation with current and former surveillance court judges. He apparently did not seek the opinion of outside jurists like Washington, D.C., U.S. District Judge Richard Leon, who in December took a shot at the surveillance court by ruling that the NSA's phone metadata program was likely unconstitutional.
The timing and tone of Bates' letter are highly unusual, given that they come in the middle of an intense debate in Washington over NSA reform. Senate Foreign Intelligence Chair Dianne Feinstein (D-Calif.), who opposes making significant changes to the way the NSA operates, released the letter to the public.
President Barack Obama is scheduled to announce which NSA reforms the administration will endorse on Friday, roughly a month after his decision-making process was rocked by the recommendations of a White House-appointed NSA review group. The advisors' surprisingly tough proposals included creating a "special interest advocate," because, they argued, on complicated constitutional questions, "(h)earing only the government's side of the question leaves the judge without a researched and informed presentation of an opposing view."
Bates also cast aspersions on proposals that phone providers, not the NSA, should hold onto bulk metadata on Americans' phone calls; that the FBI should have to seek court approval before obtaining secret national security letters; and that the surveillance court should declassify more of its opinions for public review. If any major reforms do pass, he said, the surveillance court, and other federal courts, should be given more money.
"For the Courts to meet such new responsibilities effectively and with the dispatch often required by national security imperatives, they would need to receive commensurate augmentation of resources," he wrote.
"We also wish to stress, however, that even significantly increasing resources will not guarantee that all proposed changes will be successful."
Calling all HuffPost superfans!
Sign up for membership to become a founding member and help shape HuffPost's next chapter
BEFORE YOU GO
PHOTO GALLERY
U.S. Capitol Photos