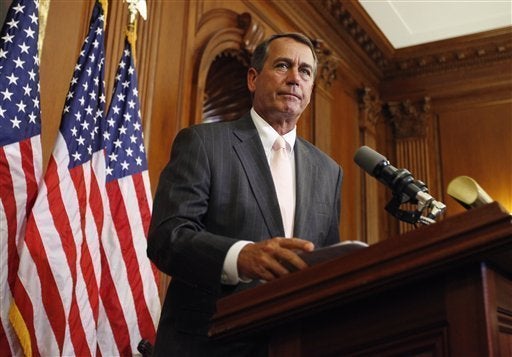 House Minority Leader John Boehner (R-Ohio) believes that a "political rebellion" akin to the American revolution of 1776 is brewing, that the Social Security retirement age should be raised to 70, and that the Wall Street reform bill currently moving through Congress is comparable to "killing an ant with a nuclear weapon."
In an explosive interview with the Pittsburgh Tribune-Review, the GOP leader also charged that Democrats are "snuffing out the America that I grew up in." He added, "Right now, we've got more Americans engaged in their government than at any time in our history. There's a political rebellion brewing, and I don't think we've seen anything like it since 1776."
Boehner did not go so far as to predict, as he has before, that this "political rebellion" would necessarily mean that Republicans will retake the House of Representatives in November, paving the way for him to become the next Speaker.
But he charged that the "American people have written off the Democrats. They're willing to look at [Republicans] again."
Boehner went on to say that the passage of the historic overhaul of the country's health care system had "pushed most Americans over the edge," and insisted that he would lead an effort to repeal the bill if Republicans were voted back into power in November.
Boehner's criticism of the Democratic agenda then moved to the recently-negotiated financial regulatory reform package, which he likened to "killing an ant with a nuclear weapon." According to the Pittsburgh Tribune-Review, Boehner argued that the financial system would be better served by "more transparency and better enforcement by regulators."
The minority leader also answered questions about Social Security, which he said could not remain solvent as it is currently structured.
Ensuring there's enough money to pay for the war will require reforming the country's entitlement system, Boehner said. He said he'd favor increasing the Social Security retirement age to 70 for people who have at least 20 years until retirement, tying cost-of-living increases to the consumer price index rather than wage inflation and limiting payments to those who need them.

"We need to look at the American people and explain to them that we're broke," Boehner said. "If you have substantial non-Social Security income while you're retired, why are we paying you at a time when we're broke? We just need to be honest with people.
White House press secretary Robert Gibbs responded to Boehner's attack on the Wall Street reform bill, accusing him of "opening one's mouth and removing most of the doubt that you're completely out of touch with America." Gibbs went on to say that millions of Americans had been financially devastated by the practices that the bill is designed to address and said that Boehner's criticism "demonstrates how out of touch you are currently and it demonstrates exactly the type of mindset that he would bring to leading the House of Representatives."
Majority Leader Steny Hoyer (D-Md.) has suggested similar solutions for extending the solvency of Social Security. During a speech at a Third Way event on June 22, 2010, Hoyer said:
"On the spending side, we could and should consider a higher retirement age, or one pegged to lifespan; more progressive Social Security and Medicare benefits; and a stronger safety net for the Americans who need it most."
Watch Boehner's health care comments:
Watch Boehner's social security comments:
Popular in the Community