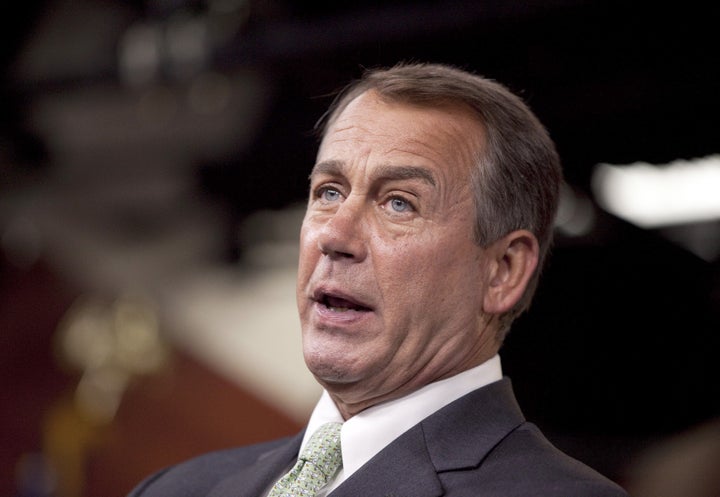 House Minority Leader John Boehner was asked by a liberal blogger Thursday to answer questions about an affair with a lobbyist, an allegation that will reportedly be the focus of an upcoming New York Times expose. Boehner ignored the question outright.
The Post sees a journalistic plot to drop a bombshell on the upcoming midterm elections by smearing a high-profile GOP leader:
Insiders on Capitol Hill are buzzing about an upcoming New York Times exposé that will detail an alleged Boehner affair. Sources say the Times is looking for the right time to drop the story in October to sway the election, similar to how the Times reported during the 2008 presidential campaign on an alleged John McCain affair that supposedly had taken place many years before and that was flatly denied by the woman in question.
Mike Stark, an activist and blogger, intercepted Leader Boehner after his highly publicized "Pledge to America" unveiling to ask him about the accusation:
"Speaker Boehner, have you been cheating with Lisbeth Lyons, the lobbyist for the American Printing Association?" Stark asks. Boehner did not respond.
Stark later contacted Lyons, the Vice President of Government Affairs at Printing Industries of America, to get a comment on the allegations. She didn't provide any.
The New York Post has since caught up with Lyons, who said the rumors were "unfounded."
"As you can imagine, I was stunned by such a question," Lyons told the Post. "I found it to be highly insulting, particularly as a female political professional, as well as unfounded. Beyond that, I have no further comment on the matter."
A Boehner spokesman blamed Democrats' allies in the liberal media for fabricating the charges.
"This is bull[bleep]," the spokesman told the Post. "The American people oppose Washington Democrats' job killing, so their desperate liberal allies are resorting to outright lies. It's low, and it's dirty."
[UPDATE: Boehner spokesman Michael Steel tells HuffPost Hill, "It is deeply disappointing that even a scandal-mongering rag like the NY Post prints 'bull(bleep)' when the spokesman clearly said it's 'bullshit.'"]
Popular in the Community