WASHINGTON -- House Speaker John Boehner (R-Ohio) sent a letter to President Barack Obama on Friday blaming him for the humanitarian crisis of unaccompanied minors crossing the U.S.-Mexico border, and calling for National Guard troops to go to the border to address the surge.
"The policies of your administration have directly resulted in the belief by these immigrants that once they reach U.S. soil, they will be able to stay here indefinitely," Boehner wrote.
"While we understand that many of these individuals are coming to this country to escape violence and hardship in their home country, the current climate along the border and our enforcement policies are only encouraging them to risk their lives and those of their children," he added later. "It is time that we confront the crisis along the border head-on through immediate and aggressive action."
Republicans have railed against Obama's policies and said they are the reason undocumented immigrants think they have a free pass to stay in the U.S. Democrats and the administration have acknowledged that there is misinformation about whether unaccompanied minors can stay -- they are not eligible for programs like Deferred Action for Childhood Arrivals that grant the ability to stay and work to undocumented immigrants who came to the U.S. as children -- but argue the larger problem is instability and violence in their native countries. A majority of the unaccompanied minors are coming from Honduras, El Salvador and Guatemala, all of which suffer from high murder rates.
Once in the country, the unaccompanied minors are put in deportation proceedings and then transferred to the Department of Health and Human Service's Office of Refugee Resettlement, which is charged with finding their family members or housing them itself. But the influx has caused many children to remain in detention for longer than the three day maximum required by law, putting a burden on border patrol agents who are not trained to take care of children.
Many Democrats have said more social workers and social service agencies should be sent to help deal with the crisis, given the need for childcare and legal help is greater than the need for troops.
But some Republicans have called for the National Guard to enter the fray. Rep. Candice Miller (R-Mich.) urged the president this week "to call upon the National Guard to assist our overwhelmed border agents in not only addressing the unfolding humanitarian crisis, but also to assist our agents in defending our border against the violent drug cartels who are increasing smuggling operations as a result of this crisis."
Boehner wrote in his letter that the president should also begin discussions with Central American countries "to ensure that apprehended migrants can be promptly and efficiently returned to their home countries." He also called on him to send additional personnel, such as immigration judges and special assistant U.S. attorneys, to the border to process and deport undocumented immigrants.
He wrote that families should be detained, but that alternatives to detention -- which often include ankle bracelets or requirements to check in with immigration officers -- should be used until family detention facilities are available.
UPDATE: 1:30 p.m. -- Department of Homeland Security Deputy Secretary Alejandro Mayorkas told reporters later Friday that the agency would review his letter and request for National Guard troops. But he said the primary concerns at the border fall under the purview of the departments of Homeland Security and Justice.
"The question before us is how can we make the process more efficient, given the surge in the number of individuals who are being apprehended, and how best can we address those individuals in terms of their humanitarian claims of relief as well as the removal for those who are not claiming credible fear," Mayorkas said on a call with reporters. "That is not a process in which the National Guard is involved."
Before You Go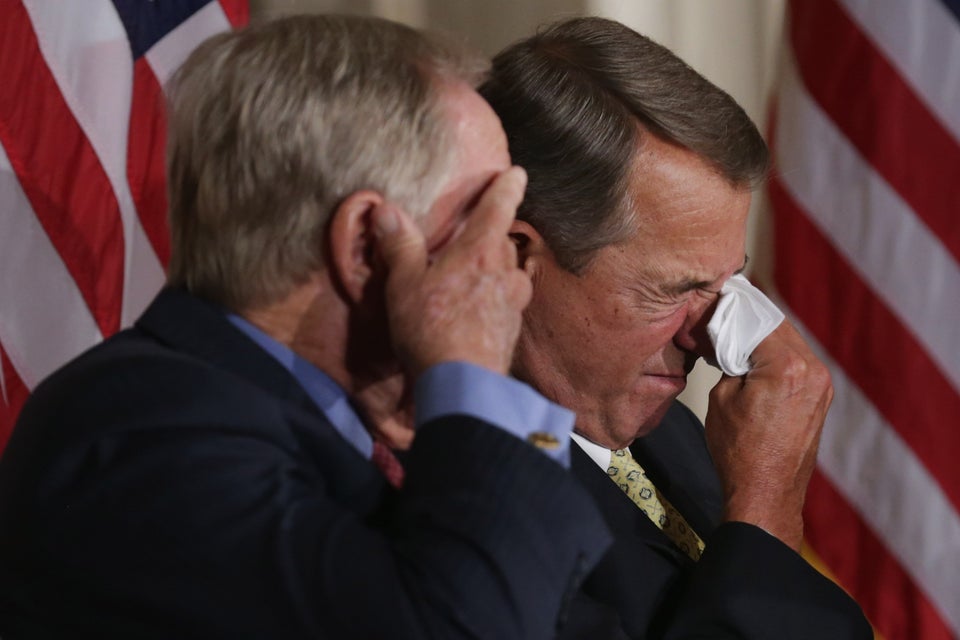 John Boehner Cries
Popular in the Community