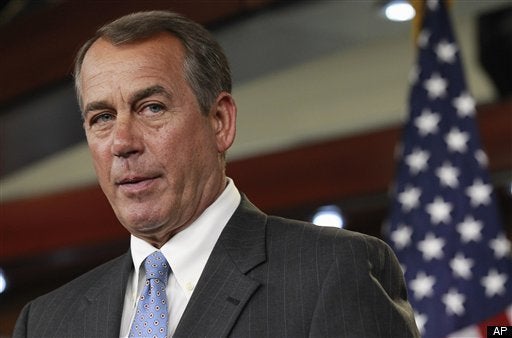 WASHINGTON -- House Republicans remain divided on whether their upcoming budget for fiscal year 2012 will include cuts to government entitlement programs, but Speaker John Boehner suggested Tuesday that reductions in Social Security and Medicare funding were indeed possible.
"Republicans will not punt," Boehner (R-Ohio) said at a press conference on Tuesday. "Everything is on the table."
But Boehner said he would defer to House Budget Chairman Ryan (R-Wis.), who led the Republican effort to draft a budget proposal this spring, as to whether the budget would include changes to Social Security and Medicare. On Monday, Boehner and Ryan both declined to comment on specifics, even after House Majority Leader Eric Cantor (R-Va.) told reporters the GOP proposal would include "bold reforms" to entitlement spending.
"We will be presenting our own budget, a serious document that will reflect the type of path we feel we should be taking to address the fiscal situation, including addressing entitlement reforms," Cantor said Monday. "It's high time we see from Harry Reid and the president their plans ... Where's the demonstration that they're willing to make tough decisions?"
For his part, Ryan said Monday that he supports entitlement reform but could not comment on the GOP's budget proposal because it has not yet been drafted.
House Republicans have criticized Democrats, including President Barack Obama, for failing to come forward with similar proposals. Obama left changes to Social Security out of his budget proposal, and senior adviser David Plouffe said Monday that the president would support only reforms that do not "slash" or "reduce benefits."
Even before facing Obama, any House GOP efforts to cut Social Security would have to get through the Senate, where Majority Leader Harry Reid (D-Nev.) has declared them "off the table."
"As long as I'm the majority leader, I'm going to do everything within my legislative powers to prevent privatizing or eliminating Social Security -- put simply, say, 'It's off the table,'" Reid said last month.
Still, Republicans hinted that they plan to take on the issue. "We will be specific about reform, unlike any of the Democrats on Capitol Hill or the president," Cantor said at a press conference on Tuesday.

UPDATE, 3 p.m.: The House Budget Committee confirmed in a statement on Tuesday afternoon that its upcoming budget proposal will include entitlement reform. "Our budget will lead where the President has failed, and it will include real entitlement reforms so that we can have a conversation with the American people about the challenges we face and the need to chart a new path to prosperity," Ryan said in the statement.