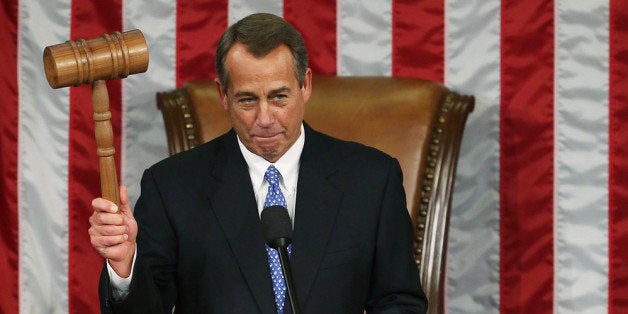 WASHINGTON -- After House Speaker John Boehner (R-Ohio) announced Wednesday he will support a Senate deal to reopen the government and raise the debt ceiling with no real concessions, Republican members awarded him with a standing ovation.
Conservatives within Boehner's conference were once expected to revolt. Emboldened by the ill-fated bid of Sen. Ted Cruz (R-Texas) to defund President Barack Obama's signature health care law, they spent the last month demanding anti-Obamacare riders in any bill to fund the government and increase the debt limit. In the end, they got next to nothing they wanted. But instead of crying foul, they sung Boehner's praises.
"I think more of him than ever," Rep. Austin Scott (R-Ga.) said as he left a House GOP meeting. "None of this is his fault. He did everything he could to listen to us and be responsive, and I say that as a very conservative Republican."
The right flank instead blamed moderate Republicans, who they said gave Boehner little choice but to go along with the deal reached by Senate Majority Leader Harry Reid (D-Nev.) and Senate Minority Leader Mitch McConnell (R-Ky.). Boehner said his members had fought the good fight, but any effort to stand in the way of that agreement would risk the House Republican majority.
"The House has fought with everything it has to convince the president of the United States to engage in bipartisan negotiations aimed at addressing our country's debt and providing fairness for the American people under ObamaCare. That fight will continue," Boehner said in a statement Wednesday afternoon. "But blocking the bipartisan agreement reached today by the members of the Senate will not be a tactic for us. In addition to the risk of default, doing so would open the door for the Democratic majority in Washington to raise taxes again on the American people and undo the spending caps in the 2011 Budget Control Act without replacing them with better spending cuts."
Rep. John Fleming (R-La.) said he won't vote for the Senate-brokered deal, but understood why Boehner decided to break the so-called Hastert rule -- that a Republican speaker won't hold a vote on a bill that a majority of his or her conference opposes -- in order to pass it. The speaker had to cave, according to Fleming, because moderate Republicans did first.
"Once they threw the towel in, you knew that this thing was going to happen, we were going to be jammed, is I think the term they used, and so I can't blame the speaker for responding to that," he said. "He's got to do what he has to do."
If anything, Fleming said House Republicans are more confident in Boehner.
"He's gone far beyond any expectations I had," he said. "To think that he would really wade in this fight for over two weeks like this under all the pressure I think is just outstanding. Far beyond anything I would have expected. So he got a standing ovation in there, and I would say that his job is more secure than ever."
Even Reps. Tim Huelskamp (R-Kan.) and Tom Massie (R-Ky.), who both voted against allowing Boehner a second term as speaker in January, had few complaints with his leadership.
"It's the 20 to 30 moderate to liberal Republicans that are actually holding him back," Huelskamp said.
Massie said Boehner is "our speaker for this Congress," and he planned to stick by him.
Asked about the next Congress, Massie said, "There's a lot of stuff that's going to happen between now and then."
Rep. Michele Bachmann (R-Minn.), who voted to give Boehner another chance when it looked like he might not secure a majority, said the speaker received an "excellent" response from members in the room.
"This has been a very difficult slog. We fought as hard as we possibly could fight … so we're grateful for his leadership," she said.
After Boehner's narrow reelection as speaker earlier this year, his approach to almost every major issue has been seen through the lens of whether it will doom his chances of keeping the position.
But Rep. Jim Jordan (R-Ohio) said Wednesday morning at an event with fellow conservatives and reporters that there was "absolutely no talk" of removing Boehner as speaker. He reiterated later in the day that "not a single member" was discussing any kind of coup.
"I think the speaker's done an admirable job," he said. "I mean, look, for a couple weeks here, you've seen us very unified."
Moderates like Rep. Peter King disagreed with the notion that House Republicans were unified. The New York Republican was one of the most vocal critics of both Cruz and the tea party faction in the House throughout the entire saga.
But King agreed with his conservative colleagues on one point: "John did the best he could," he said, referring to Boehner by his first name.
"I'm not critical of anything he's done. He had to try to manage this," King added. "He has to look at the big picture. He was against this from the start, and he had to keep the party together and move forward."
Before You Go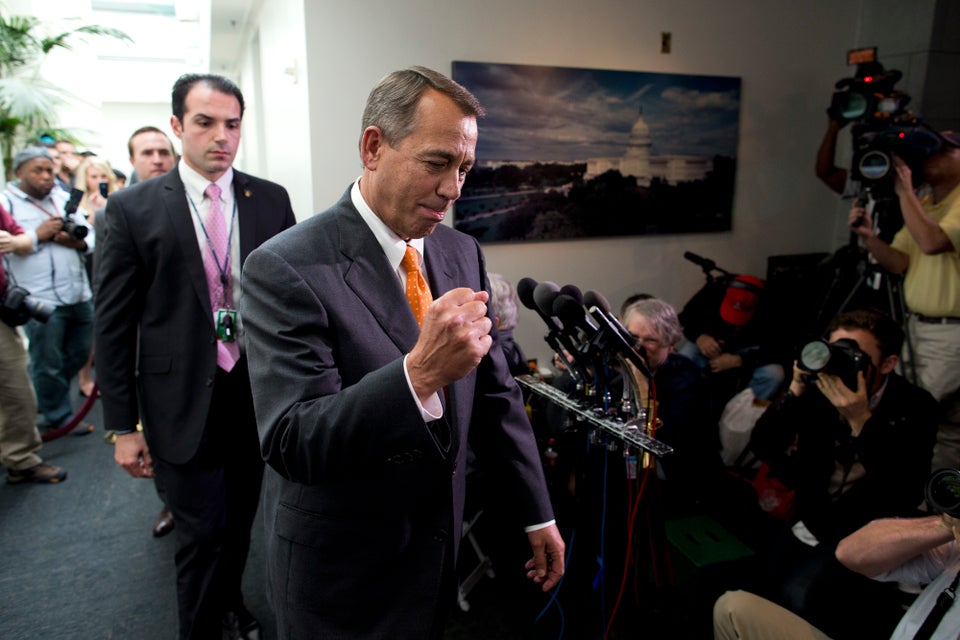 2013 Government Shutdown
Popular in the Community