WASHINGTON -- House Speaker John Boehner (R-Ohio) stood by Rep. Darrell Issa (R-Calif.) Thursday amid Democratic calls to remove Issa from his post as chair of the House Oversight Committee over a contentious hearing on the Internal Revenue Service.
Issa angrily shut down a committee hearing Wednesday when former IRS official Lois Lerner again asserted her Fifth Amendment rights and refused to answer questions about the agency's targeting of "social welfare" nonprofits, many of them affiliated with conservatives. The hearing turned even more dramatic when Issa cut off the microphone of Rep. Elijah Cummings (D-Md.), who ripped into the chairman for refusing to allow Democrats to ask questions.
"From what I understand, I think Mr. Issa was within his rights to adjourn the hearing when he did," Boehner told reporters at his weekly press conference. "The issue here is our effort to try to get the truth of the abuse by the IRS of groups around the country that some in the administration don't agree with."
Pressed further on whether Issa's behavior was appropriate, Boehner repeated that Issa was "within his rights to do what he did." He later rejected the notion that Issa should be removed from his leadership position.
"Darrell Issa is the chairman, he's done an effective job as chairman, and I support him," Boehner said.
Rep. Marcia Fudge (D-Ohio), who chairs the Congressional Black Caucus, wrote to Boehner Thursday and requested that he revoke Issa's chairmanship. Fudge argued that Issa violated House decorum and committee rules mandating that members be allowed five minutes to question witnesses.
"Congressman Darrell Issa of California abused his authority and therefore must be reprimanded to ensure the dignity of the House of Representatives is preserved," Fudge wrote. "On behalf of the Congressional Black Caucus and the people we represent, I urge you to take immediate action to address the recent deplorable conduct of Oversight & Government Reform Committee Chairman Darrell Issa."
Fudge added, "Mr. Issa is a disgrace and should not be allowed to continue in a leadership role."
Fudge took the issue further on Thursday by formally offering a resolution condemning Issa's handling of the hearing. House Republicans blocked the resolution in the afternoon, voting to table it.
"The House of Representatives strongly condemns the offensive and disrespectful manner in which Chairman Darrell E. Issa conducted the hearing of the House Committee on Oversight and Government Reform on March 5, 2014, during which he turned off the microphones of the Ranking Member while he was speaking and adjourned the hearing without a vote or a unanimous consent agreement."
House Majority Leader Eric Cantor (R-Va.) tried to table the motion by a voice vote, which was rejected by Democrats. The final vote on the motion to table was 211 to 186, with 10 members voting present.
House Democrats also kept the pressure on Issa on Thursday afternoon in a briefing on the IRS hearing.
"Chairman Issa cut off my microphone because he did not like what I had to say or what he thought I might say," Cummings said. "Not only were Chairman Issa's actions an abuse of authority, they were in fact counter productive."
Rep. Sander Levin (D-Mich.) disputed Boehner's assertion that Issa had the right to abruptly end Wednesday's hearing without allowing Democrats to speak. "That can't be the protocol of this institution," Levin said. "When I saw Darrell Issa in action yesterday, I thought back to all my years here, and I think that he has brought this to an unbearable crescendo. It has to stop."
This is a developing piece that has been updated.
Before You Go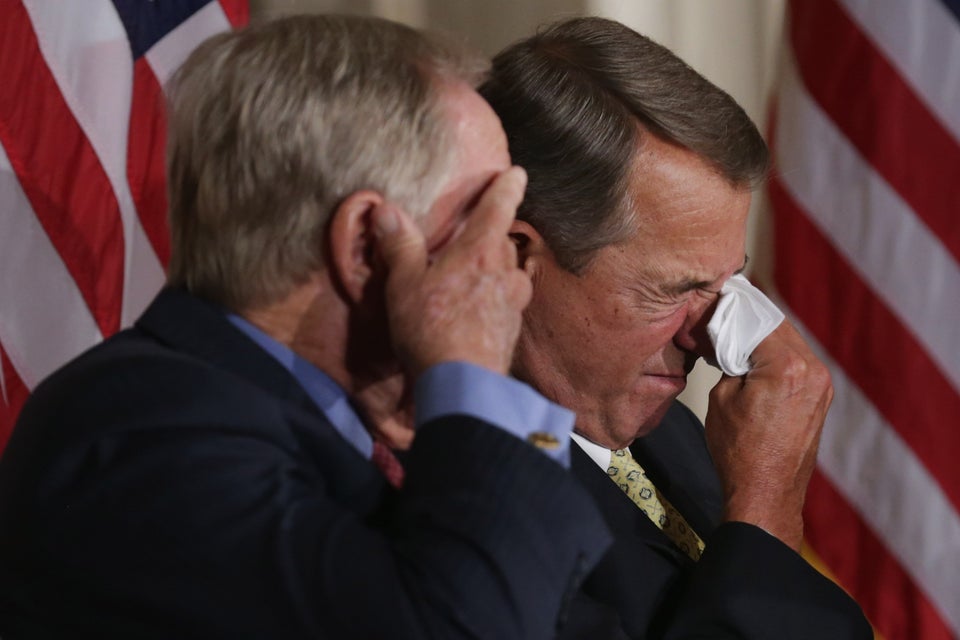 John Boehner Cries
Popular in the Community