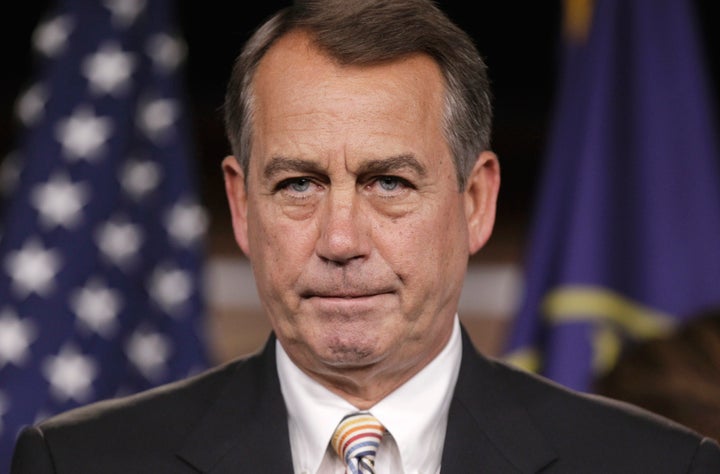 WASHINGTON -- The House of Representatives passed a bill on Friday to raise the debt ceiling and cut $22 billion from next year's spending. Passed as part of a power play by Speaker John Boehner (R-Ohio), the bill died in the Senate later Friday evening.
In retribution, the House announced it will vote on Saturday against a different debt ceiling bill authored by Senate Majority Leader Harry Reid (D-Nev.), in order to prove that his legislation is dead on arrival in the House.
The House voted on Boehner's bill just four days before the government may begin to default on its loans, after two earlier versions failed to win over anti-spending stalwarts in his party. The Senate then voted to table the bill in a 59-41 vote. All 53 Democrats, along with Republican Sens. Jim DeMint (R-S.C.), Rand Paul (R-Ky.) Mike Lee (R-Utah), David Vitter (R-La.), Lindsey Graham (R-S.C.) and Orrin Hatch (R-Utah), voted down the bill.
The Senate now plans to strip Boehner's bill of its content and replace it with language crafted by Reid.
By altering certain provisions of his bill, Boehner was able to win the support of 218 members of the 240-member Republican conference. In the process, however, he further alienated House Democrats, none of whom ended up supporting his plan.
A total of 22 House Republicans bucked their party leaders on the final vote.
Some waited until the very last second to cast their votes, watching the vote board to see where the final tally was ending up before voting no. Reps. Trey Gowdy (R-S.C.), Joe Wilson (R-S.C.), Paul Broun (R-Ga.) and Tom Latham (R-Iowa) all logged their votes in the final moments.
Others who voted against Boehner's bill included Reps. Justin Amash (Mich.), Michele Bachmann (Minn.), Jason Chaffetz (Utah), Jeff Duncan (S.C.), Tom Graves (Ga.), Tim Huelskamp (Kansas), Steve King (Iowa), Jim Jordan (Ohio), Connie Mack (Fla.), Mick Mulvaney (S.C.), Ron Paul (Texas), Steve Southerland (Fla.), and Joe Walsh (Ill.). Some of these lawmakers resisted serious arm-twisting from GOP leaders the day before.
Five Democrats didn't vote. Among them, three were from California: Reps. Maxine Waters, Jackie Speier and Joe Baca. The two others, Reps. Gabrielle Giffords (Ariz.) and Maurice Hinchey (N.Y.) have been absent for medical reasons.
To gain support from the Republican conference's most conservative members, it also includes a requirement for the passage of a balanced budget amendment to trigger the second phase of the bill, which would raise the debt ceiling again later this year.
That provision was added on Friday morning to win over members who said the balanced budget amendment measure in the original plan, which required a vote but not passage, was too weak.
Requiring passage of the balanced budget amendment "got a lot of votes," Rep. Mo Brooks (R-Ala.) said after a GOP conference meeting on Friday in which Boehner announced the change.
Ahead of the vote, several Republicans who had opposed the bill as recently as Thursday night explained why Boehner's last-minute addition of a balanced budget amendment had been enough to bring them onboard.
"This is close enough to the spirit of [Cut, Cap and Balance] and maybe gets them [enough votes for passage]," Rep. Phil Gingrey (R-Ga.) said.
Rep. Jeff Flake (R-Ariz.), who is running for Senate in 2012, said Boehner's original bill wasn't sufficient because "it was only two parts of the Cut, Cap and Balance."
"The 'balance' is now there," he said.
Given the political reality that Boehner's bill was dead on arrival in the Senate, Flake wouldn't speculate on what needs to happen next to ensure a deal is passed by August 2. But he noted that at this point, there's "not that much difference" between Boehner's and Reid's bills. And if Reid were willing to attach a balanced budget amendment to his proposal, Flake said he would support that plan.
Reid's bill currently "has cuts, meager. Caps, eh, somewhat," he said. "But if you put some balance in there, I'm there."
The Reid bill would actually cut $2.2 trillion from the deficit over the next decade, while raising the debt ceiling beyond the 2012 election.
According to Rep. Mike Simpson (R-Idaho), who attended the meeting, said the mood had been friendly, with Boehner telling his conference "I love all of you."
Rep. Louie Gohmert (R-Texas), who declared himself a "bloodied and beaten 'no'" on Thursday, said he had likely been convinced by Boehner's appeals in the conference meeting.
"I need to read [the bill]," Gohmert said. "I think I can [support it], but I need to read it."
But while Boehner may have won with the Tea Party, he lost with the Senate. Reid had already declared the bill a non-starter in the Senate, but said it was even less digestible with a balanced budget amendment requirement.
Cut, Cap and Balance, a House bill that would have raised the debt limit with a balanced budget amendment requirement, failed in the Senate earlier this month in a 51 to 46 vote. (Three senators were missing.)
Boehner's plan met the same fate, after all 53 Democratic senators signed a letter earlier this week vowing to block the bill. House Republicans have indicated the Boehner bill will be their last offering to the Senate.
"Harry Reid has three different options," House Majority Leader Eric Cantor (R-Va.) said on Thursday. "One is to suffer the economic consequences of default, which all of us hope he doesn't choose. Two is to bring up the bill we sent prior [Cut, Cap and Balance] or to accept the compromise bill that we are sending over today," Cantor added.
Now that the Boehner bill has failed in the Senate, the chamber will likely proceed with Reid's bill. Reid has been rallying support among Republicans for the plan, with some centrist Republicans hinting they may be willing to compromise.
"I'll vote for Boehner, and I'll vote for Reid," Sen. Scott Brown (R-Mass.) said on Friday. "I've already said that. We need to move our country forward. It's time."
This article has been updated to reflect the results of the Senate vote. A previous version listed Sen. Mark Kirk (R-Ill.) as one of the Republicans who voted alongside Democrats to table the bill, when in fact it was Sen. Orrin Hatch (R-Utah). The error has been corrected.
Calling all HuffPost superfans!
Sign up for membership to become a founding member and help shape HuffPost's next chapter