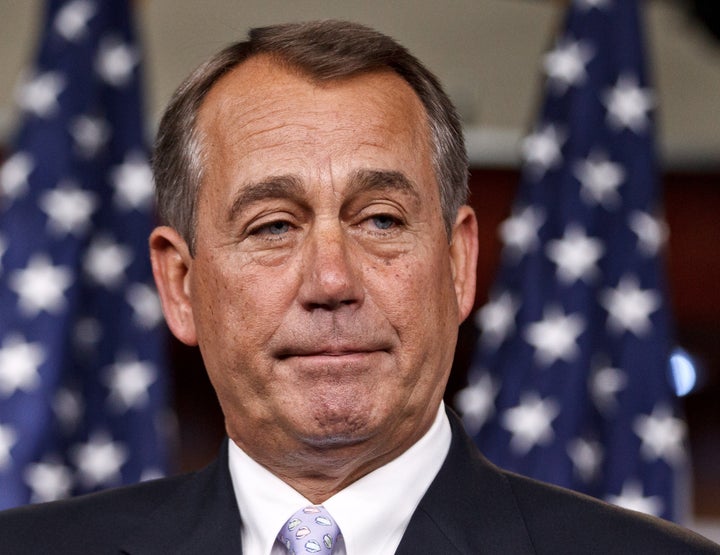 WASHINGTON -- Senior administration officials said Tuesday that House Speaker John Boehner (R-Ohio) isn't going to win if he keeps up a fight about tying trillions in spending cuts to raising the debt ceiling.
But senior administration officials, who held a background briefing with reporters and spoke on the condition they wouldn't be quoted, said President Barack Obama isn't about to reenact the debacle that occurred last year when Republicans demanded spending cuts in exchange for a debt limit increase, a vote that historically has cleared Congress with little fanfare. The result of last year's protracted fight drove the U.S. to the brink of default and resulted in the country's credit rating being downgraded for the first time.
Boehner won't win this battle, said one official, and he is simply going to have to find a way to get House Republicans to sign off on a clean increase in the debt ceiling this time.
The official questioned Boehner's logic in even suggesting that lawmakers revisit the showdown that took place last year, particularly in an election year. When it was suggested that Boehner drew a line in the sand to appease his freshman class of Tea Party-backed Republicans, the official wondered aloud if many of those lawmakers would even be around after November.
A second official characterized another potential fight over raising the debt limit as the most irresponsible thing possible in terms of aiding the economy. The debt limit has to be raised no matter what, said this official, and the White House isn't about to say it has to be tied to spending cuts just because of Boehner.
In terms of producing a deficit reduction package -- that is, separate from a debt ceiling hike -- both officials noted that some Republicans agree with Democrats that any final package has to include new revenues as well as spending cuts. The officials pointed to the bipartisan work done last year by the Senate's "Gang of Six," which produced a $4 trillion debt reduction package that ultimately failed to advance.
That package is proof that Congress doesn't have to start from scratch when it comes to achieving significant deficit reduction, the second official said.
If lawmakers are serious about deficit reduction, the easiest path forward is for GOP leaders to compromise on including new revenues along with spending cuts, the official added.
REAL LIFE. REAL NEWS. REAL VOICES.
Help us tell more of the stories that matter from voices that too often remain unheard.
BEFORE YOU GO