WASHINGTON -- Less than two hours after President Barack Obama turned up political pressure on Republicans to reopen the government and raise the debt ceiling, House Speaker John Boehner (R-Ohio) said the president was looking for "unconditional surrender."
"The president said today if there's unconditional surrender by Republicans, he'll sit down and talk to us," Boehner said Tuesday. "That's not the way our government works."
The Ohio Republican addressed reporters just outside his office to rebut Obama's earlier press conference. His message to the president was clear: The ongoing government shutdown and pending debt ceiling deadline would not be resolved without negotiations.
"It's time to have that conversation," Boehner said. "Not next week, not next month -- the conversation needs to begin today. The long and short of it is, there's going to be a negotiation."
Boehner ducked a question on what would happen if Congress found itself in the final minutes before a debt ceiling breach without an agreement, reiterating the need to talk.
Obama placed a call to Boehner earlier in the day, to reaffirm his position that Republicans should pass 'clean' bills, with no strings attached, to end the government shutdown and to increase the debt ceiling. Boehner said it was a "pleasant" conversation, but he was left "disappointed."
House Republicans unveiled a new strategy Tuesday to deal with both the shutdown and the looming debt ceiling crisis: a bipartisan negotiating team, resembling 2011's supercommittee, that would hash out a deal to solve both issues. Senate Democrats showed little interest in the idea, and plan to bring a clean bill to the floor this week that would extend the debt limit through the end of 2014.
"All we're asking for is to sit down and have a conversation," Boehner said. "There's no reason to make it more difficult to bring people to the table. There's no boundaries here. There's nothing on the table, there's nothing off the table. I'm trying to do everything I can to bring people together and have a conversation."
Both Obama and Democrats said they would be willing to have that conversation, but only after Republicans reopen the government and raise the debt ceiling. Rep. Chris Van Hollen (D-Md.), the House Budget Committee's top Democrat, also pointed out that Republicans did not include tax reform in the so-called negotiating team's points of discussion, making the prospects of a deficit-reduction deal unlikely.
If no breakthrough is made in the next week, Congress will move dangerously close to the Oct. 17 deadline for the government to breach the current debt limit. Economists have warned the consequences of default may include sending stock and bond markets into nosedives and tipping off another recession.
Boehner said he agreed with the president that the consequences of default would be severe.
"I didn't come here to shut down the government," Boehner said. "And I certainly didn't come here to default on our debt."
This article has been updated with the comment of Rep. Chris Van Hollen and with additional comments of House Speaker John Boehner.

Before You Go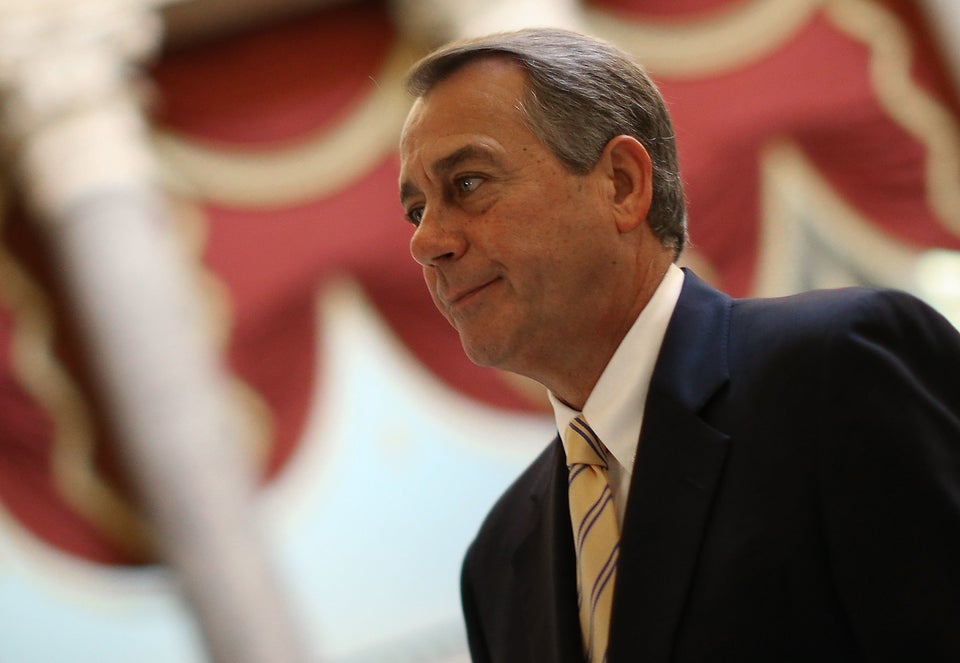 John Boehner's Shutdown Showdown Stares
Popular in the Community