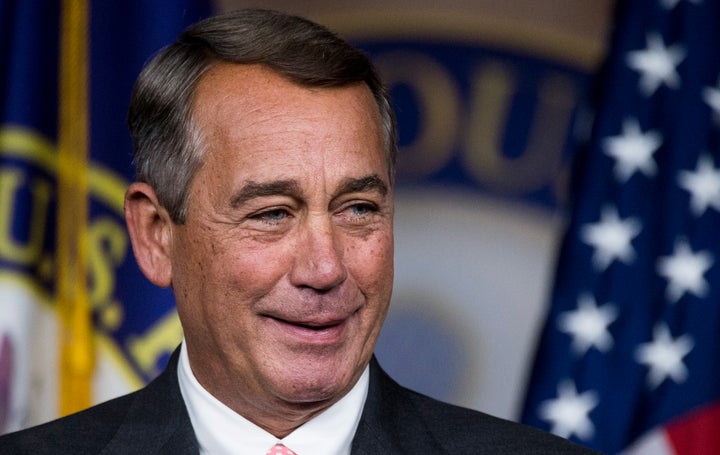 Democrats and independents have been looking a little more favorably on Speaker John Boehner (R-Ohio) since he announced in September that he would be resigning from Congress.
Boehner's favorable rating has climbed to 31 percent, according to a Gallup poll released Thursday. That's up 8 percentage points since August.
The bump is a direct result of better feelings among Democrats and independents. Thirty percent of Democrats now have a favorable opinion of the speaker, a significant rise from 19 percent in August. Among independents, 29 percent rate him favorably, up from 17 percent in August.
Republicans' views of Boehner remain largely unchanged. Thirty-six percent rate him favorably, essentially no change from 37 percent in August. 
Gallup conjectures that perhaps having seen the Republican Party's ultra-conservative wing force him out, Democrats and independents now see Boehner as "more of an ally." 
Despite the rise in his favorable rating, Boehner remains largely unpopular among Americans, with a net negative rating of 14 percent. Other than a brief period right after he took the House's top job in 2011, overall opinion of Boehner has remained in the negatives throughout his tenure as speaker. 
Still, low favorable ratings are not unusual for speakers of the House. Gallup notes that two of Boehner's recent predecessors, Democrat Nancy Pelosi and Republican Newt Gingrich, experienced low favorable ratings during their tenures. 
Boehner initially announced he would resign from Congress on Oct. 30. However, when his expected successor, House Majority Leader Kevin McCarthy (R-Calif.) abruptly dropped out of the race, Boehner postponed his caucus' vote on a new speaker and said he would stay on the job until a replacement was chosen. 
Gallup surveyed 1,015 adults nationally using live interviewers via landline and cell phone from Oct. 7 to 11. 
Calling all HuffPost superfans!
Sign up for membership to become a founding member and help shape HuffPost's next chapter