WASHINGTON -- After gunmen attacked a satirical French newspaper on Wednesday, House Speaker John Boehner (R-Ohio) said Republicans won't back away from a fight over immigration that risks halting funding for the U.S. Department of Homeland Security.
"I believe that the president's executive actions with regard to immigration are outside of the Constitution and outside of his powers, and I believe that we can deal with that issue in the Department of Homeland Security bill without jeopardizing the security of our country," he told reporters when asked whether the Paris attacks would change the GOP's strategy on funding DHS.
The department is set to run out of funding at the end of February, after a deal cut last month excluded it from longer-term appropriations made for the rest of the government. Now, Republicans are working on a plan to fund DHS that includes measures to block President Barack Obama's executive actions on immigration, which would give work authorization to up to 5 million people.
If those measures led to a DHS shutdown -- and there's a very real chance they could, given Obama's opposition to efforts to kill his programs -- both parties would likely blame each other. But Republicans will have to determine how to fight Obama on immigration while funding DHS, even if they think the ultimate blame for a shutdown should be placed on the president.
While Boehner said a DHS funding fight over immigration wouldn't harm national security, other GOP members questioned the strategy. Rep. Peter King (R-N.Y.), who chairs the House Homeland Security Subcommittee on Counterterrorism and Intelligence, said Wednesday on Fox News that he hopes the attack in Paris will be "a wake-up call in Congress" that members need to fund DHS.
"Whatever we do on that, as far as immigration, cannot in any way be allowed to interfere with our counterterrorism methods," he said. "The juxtaposition would be terrible -- a terrorist slaughter in Paris and U.S. cuts back on Homeland Security funding. We have to be sure whatever we do, if it's going to involve immigration, we cannot in any way allow the funding or the programs that stop terrorism in this country to be impeded whatsoever."
Sen. Lindsey Graham (R-S.C.) told CNN later Wednesday morning that he hopes Republicans are rethinking their plans to use the DHS funding to retaliate against executive action on immigration. He said it would "make sense" to block funding that could be used to implement executive action, but not to allow DHS to go unfunded.
"I hope we can challenge the executive action of the president in a mature fashion," he said. "I've never been for shutting down Homeland Security."
DHS Secretary Jeh Johnson said during a congressional hearing last month that the agency needs longer-term funding to carry out plans such as expanding immigrant detention center capacity and hiring new Secret Service officers.
Still, it's not clear how big an effect a DHS shutdown would have in the short term. Even during a shutdown, employees who are deemed necessary to protect life and property continue to work, and much of DHS fits in that category. The Congressional Research Service reported after the October 2013 government shutdown that more than 85 percent of DHS employees kept working despite the funding lapse.
UPDATE: 2:56 p.m. -- Asked later Wednesday whether he thinks the funding bill is the right place to have a fight over immigration, Senate Majority Leader Mitch McConnell (R-Ky.) said Republicans had yet to determine an exact plan but Congress would fund DHS.
"It's an important piece of legislation and we'll decide in February how to handle it, but at the end of the day we're going to fund the department, obviously," he told reporters.
Michael McAuliff contributed reporting.
Support HuffPost
The Stakes Have Never Been Higher
Before You Go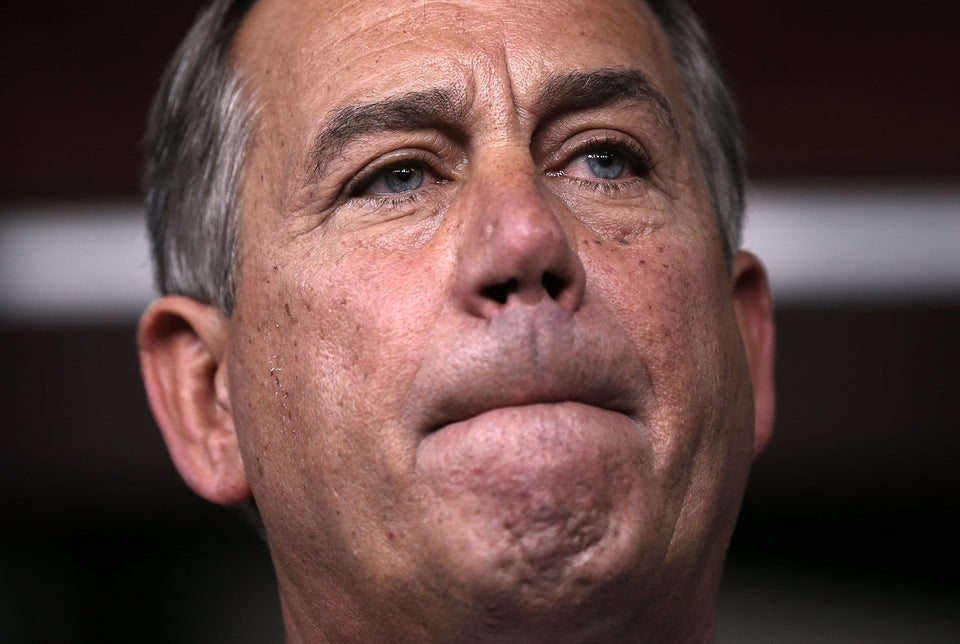 John Boehner's Lips Are Sealed
Popular in the Community