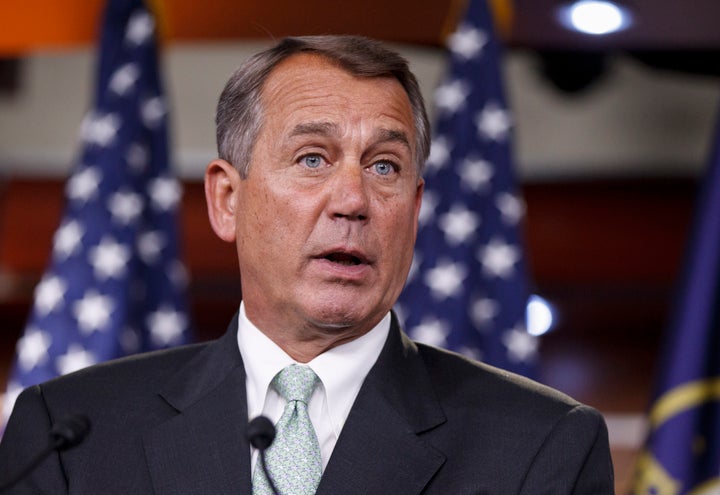 WASHINGTON -- Ever since House Speaker John Boehner (R-Ohio) signed on last year to defend the Defense of Marriage Act (DOMA) in court, it's been a mystery trying to figure out where, exactly, he was getting the taxpayer funds to pay for it.
But those numbers became clear Tuesday as lawmakers sparred over the point, and the costs, of the House hiring outside attorneys to defend the federal ban on gay marriage at a time when money is tight and when various courts -- but not the U.S. Supreme Court -- have ruled that the law is unconstitutional.
Boehner so far has collected $742,000 to defend DOMA, and that money was skimmed from funds that would normally go toward House officer and employee salaries, Chief Administrative Officer Dan Strodel told members of a House Appropriations subcommittee. Strodel said none of that money came out of the budget of the Justice Department, which dropped its defense of DOMA in February 2011 after Attorney General Eric Holder determined it to be unconstitutional. Boehner, in his authority as speaker, has been defending the law on behalf of the federal government ever since.
House leaders agreed to a contract in October 2011 to spend as much as $1.5 million in their defense of DOMA. Amid the confusion of how they would pay for it, GOP aides in past months have suggested that the House had slashed funds for the Justice Department as a kind of payback for the House incurring the costs of defending DOMA. But Democratic aides said Tuesday's hearing clarifies that was never the case.
"False reports that Republicans were able to get funds from the Dept. of Justice have now been thoroughly debunked," Ryan Nickel, a spokesman for Democrats on the House Appropriations Committee, told The Huffington Post in an email. "In these difficult fiscal times, Democrats will continue to ask Republican leadership how they intend to pay for this contract."
A GOP spokeswoman for the Appropriations Committee declined to weigh in on the funding streams and deferred to Boehner's office. A Boehner spokesman reiterated that the Justice Department's budget was cut last year. This was, of course, the case with nearly all federal agencies.
House General Counsel Kerry Kirchner, who was appointed by Boehner and whose job it is to represent lawmakers in legal disputes, said Tuesday that the House has ties to 12 DOMA lawsuits so far. The House is currently involved in nine active cases, there are two it is still preparing to intervene in, and one case is complete. In an effort to cut the costs of paying for outside counsel, Kirchner said that Boehner has been forking over money from his own budget to the House General Counsel's office to cover legal expenses.
"We've brought more of the DOMA work back into my office in order to reduce the amount that we expend on outside counsel," he told the subcommittee.
Kirchner stopped short of saying how much of that $742,000 has actually been spent. Asked by The Huffington Post how much has already gone out the door to attorneys, Kirchner said that he knew what the number was, but wouldn't share it. "If you want the answers to questions like that, just ask the speaker's office," he said.
The Boehner spokesman deferred to the House Appropriations Committee, which previously deferred to Boehner's office. So it still remains unclear how much money the House has actually spent on DOMA to date.
One committee member, Rep. David Price (D-N.C.), pressed Kirchner to give an estimate on what the total costs will be to the House to defend DOMA. Kirchner said that figure remains elusive.
"It's very difficult for me to answer questions about how much because I just don't know how long this is going to play out," Kirchner said. The goal is to get the issue before the Supreme Court and let them resolve it once and for all, he said. Until then, debate over the constitutionality of DOMA will continue to play out in lower courts and the House will continue to defend it.
"There are a lot of balls in the air on this one," Kirchner said, which "has monetary implications for the House."
The issue of the House defending DOMA rarely comes up for debate, so when it did on Tuesday, it brought with it some fiery exchanges.
As Rep. Mike Honda (D-Calif.) pressed Kirchner on why the House is defending an "unconstitutional law that separates all of us," Rep. Steven LaTourette (R-Ohio) jumped in and asked, "When is the Department of Justice going to do their job? You can't pick which laws you want to defend and which laws you don't feel like enforcing."
Honda then said that defending DOMA is a waste of money that could be put to better use, such as for "resources to the family of Trayvon Martin in Florida."
"Bill Clinton signed DOMA! It's the law of the land!" LaTourette shouted back. "The Department of Justice can't cherry-pick what they choose to defend or don't defend. It's costing more because the Department of Justice is in bed with the plaintiffs!"
In a bizarre moment, a Republican lawmaker proposed paying for DOMA legal fees by getting rid of organic food in the House cafeteria.
"I think organic food is a wonderful thing. I know most American families can't afford to buy organic food, but it's a nice choice for folks to be able to make in a free marketplace. But I don't know if that's necessarily the case here that people must eat it at the cafeteria," Rep. Ken Calvert (R-Calif.) said.
He pressed Strodel to renegotiate the food service contract with Restaurant Associates, the company that runs the House cafeterias, to cut costs by removing organic food options. When Strodel said that it didn't cost the House anything extra to provide organic versus non-organic food, Calvert then switched gears and lamented that Hill staffers who eat in the House cafeteria may be not able to afford buying organic food.
"I think that's an option, that for any future contract you can have organic food that people can have the choice to acquire, but they shouldn't be forced to acquire something at a higher price," he said. "I believe in choice."
This story has been updated to include a Boehner spokesman's response as to how much the House has spent on DOMA.
Calling all HuffPost superfans!
Sign up for membership to become a founding member and help shape HuffPost's next chapter
BEFORE YOU GO