WASHINGTON -- House Speaker John Boehner (R-Ohio) has long opposed gay rights, from his opposition to repealing "don't ask, don't tell" to his vote against the Employment Non-Discrimination Act to his decision to defend the Defense of Marriage Act in court to the tune of $1.5 million in taxpayer dollars.
But when it comes to the prospect of ousting a House Democrat in favor of a Republican, Boehner seems willing to overlook that record.
Boehner spent Tuesday morning raising money for Republican candidate Richard Tisei, who is openly gay and supports same-sex marriage.
Tisei, who is running against Rep. John Tierney (D-Mass.), seemed to indirectly address the fact that Boehner opposes gay rights in a statement ahead of their joint breakfast event in Boston.
"The Speaker understands that he and I do not agree on absolutely everything, and that I will often be a voice of independent leadership -- particularly if it is not in the interests of the Sixth District," Tisei said. "I look forward to working with the Speaker as a voice of reason and moderation in Congress to help solve our nation's problems."
Tisei campaign spokeswoman Jennifer Drogus declined to respond more specifically when asked about Tisei's take on Boehner's ongoing defense of DOMA. Boehner, along with House Majority Leader Eric Cantor (R-Va.) and House Majority Whip Kevin McCarthy (R-Calif.), decided to defend DOMA in court after Attorney General Eric Holder said in February 2011 that he would no longer defend the law because he had determined it to be unconstitutional.
Boehner campaign spokesman Cory Fritz also demurred when asked to explain how Boehner squares his support for Tisei with his views on gay rights.
"While they don't agree on every issue, Richard and the Speaker respect one another, and we expect Richard will be a strong, independent voice for his Massachusetts constituents that want a new approach to help create jobs and prosperity," Fritz said in a statement.
Before You Go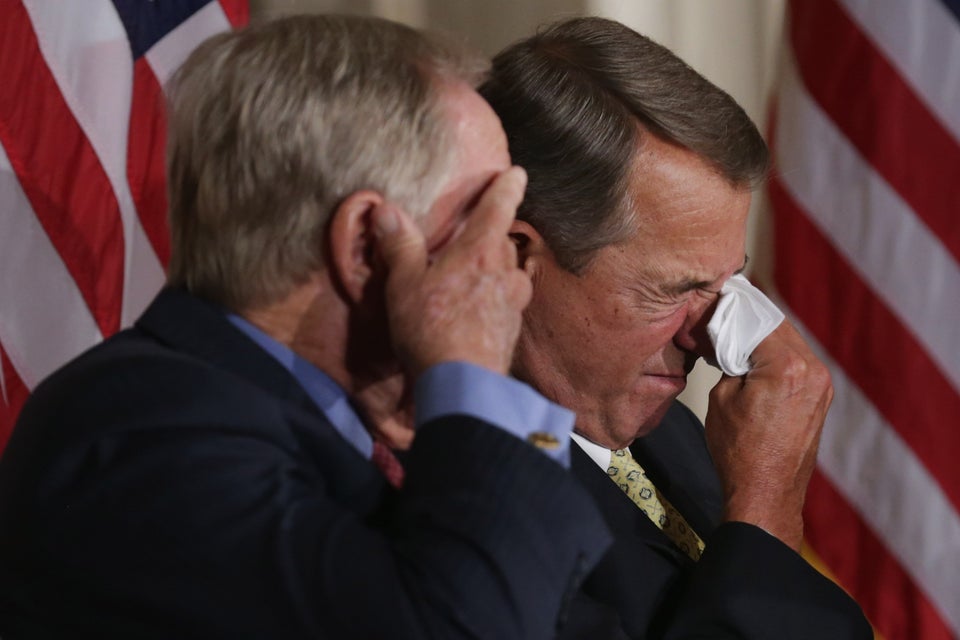 John Boehner Cries
Popular in the Community