Former House Speaker John Boehner (R-Ohio) isn't impressed with President Donald Trump.
Speaking at an energy conference in Houston on Wednesday, Boehner did praise Trump on foreign affairs and said he had stepped up the fight against the Islamic State militant group. But he generally gave a grim assessment of the president's first few months in office, according to energy publication Rigzone.
"Everything else he's done [in office] has been a complete disaster," Boehner said. "He's still learning how to be president."
Boehner, who backed the businessman during the presidential campaign, criticized the Trump's late-night tweets and said he hadn't imagined him becoming commander-in-chief.
The former speaker, who retired from Congress in 2015, suggested investigations into Russian interference in the election were necessary, but said talk of impeaching Trump would only boost the president's political support.
"I don't know why either of these [2016 presidential] campaigns were talking to Russians, but they need to get to the bottom of this," he said. "The crazy left-wing Democratic colleagues of mine bringing up impeachment talks … talk of impeachment is the best way to rile up Trump supporters. Remember, impeachment is not a legal process; it's a political process."
Boehner also said he thought a border adjustment tax, favored by House Speaker Paul Ryan (R-Wis.), was "deader than a doornail" and called the prospect of tax reform just "happy talk."
Since leaving office, Boehner has joined a D.C. lobbying firm and the board of tobacco giant Reynolds American, Inc. He told the energy conference he has no regrets about leaving Congress.
"I wake up every day, drink my morning coffee and say hallelujah, hallelujah, hallelujah," he said.
Before You Go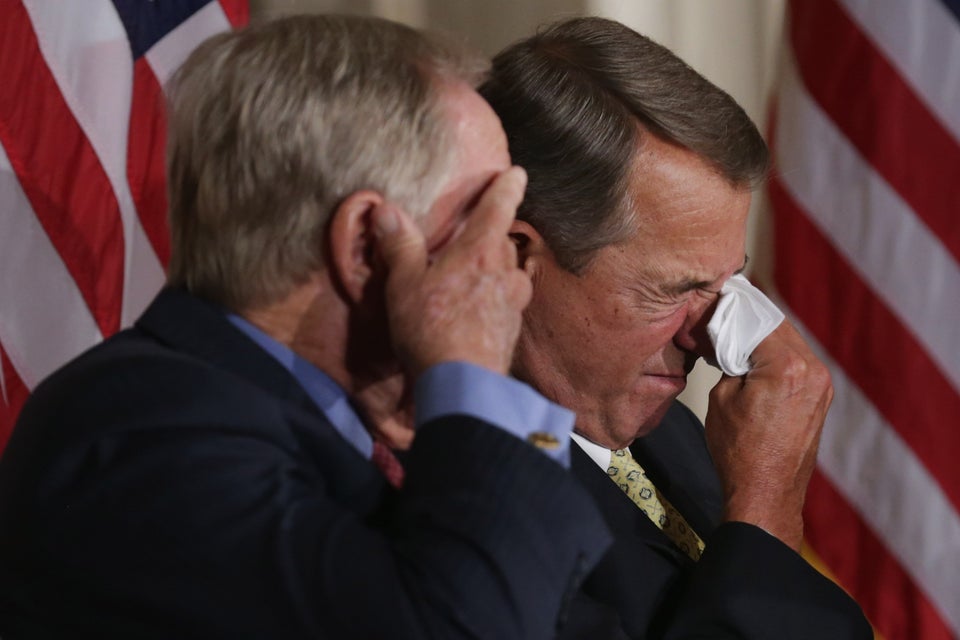 John Boehner Cries
Popular in the Community