WASHINGTON -- For all the fighting on Capitol Hill over how to end the government shutdown, the reality is that House Speaker John Boehner (R-Ohio) could do it right now if he wanted to.
All Boehner has to do is bring a "clean" continuing resolution to the House floor -- that is, a bill to fund the government without any strings attached -- and give it a vote. Most, if not all, Democrats would vote for it, and enough Republicans are publicly now on board to pass it. The Huffington Post has been keeping a running tally of which Republicans have said they support doing this. Privately, more GOP lawmakers have indicated they would as well.
Rep. Charlie Dent (R-Pa.), who is among those publicly backing a clean bill, said he has talked to some of those quieter members who would support the bill if it came up for a vote, although he declined to put a number on them.
"I've had many members say things to me that they are prepared to vote for one," Dent said. "They were prepared to vote for one [Monday]; they were prepared to vote for one [Tuesday]."
"Some members just haven't gone public," said Rep. Scott Rigell (R-Va.), also among those publicly calling for a vote on a clean bill, during a Tuesday interview on CNN. "I'm certain there are a lot more."
If the House did pass a clean funding bill, it would sail through the Senate and President Barack Obama would sign it. Some senators have been pointing out how easily Boehner could resolve the whole situation.
"The key to opening the government is not only sitting in the House, the key is already in the lock. All the speaker has to do is turn it ever so slightly," Sen. Bob Casey (D-Pa.) said Wednesday.
A Boehner spokesman did not provide a comment.
The math is fairly simple in terms of what it takes to get a bill across the finish line. If all 200 House Democrats stayed united behind a clean funding bill, it would take only 17 Republicans to join them in passing it. And as of Wednesday afternoon, there were 17 House Republicans publicly saying they would back such a bill.
In fact, if House Republicans hadn't decided to link the funding bill to delaying or defunding Obamacare, the bill likely would have passed already because Democrats in the Senate agreed earlier to accept the GOP's spending levels in the bill, at least for a period of six weeks.
But any action requires Boehner to put the measure on the floor in the first place.
If Boehner continues to refuse to put a clean funding bill on the floor and Democrats want to play hardball, they could force a House vote on it through what's called a discharge petition. They would need 218 lawmakers to sign the petition, which would require having 18 Republicans on board. But this process is incredibly time-consuming, taking up to 30 days if leaders do not cooperate and only allowing for a possible vote on the second and fourth Mondays of the month.
Some members have expressed trepidation about the tactics of Boehner and the tea party, especially after the House repeatedly voted on measures to block Obamacare that were summarily rejected by the Senate.
"We tried it a couple of times. We were running out of time," said Rep. Mario Diaz-Balart (R-Fla.), signaling his displeasure. "My issue there was, 'Guys, I don't see this progressing, let's switch strategy,'" he told reporters after House GOP leaders again decided against floating a clean bill Tuesday.
Diaz-Balart wouldn't quite commit to the easy solution. "I don't think it would be prudent for me to tie my hands down," he said after the leaders decided they would try to pass piecemeal bills to fund agencies they like, one at a time.
But he hinted he might look beyond Boehner's strategy. "It's not abandoning -- that's why the thing about the clean CR. I'm not conceding yet," he said. "But that strategy wasn't working."
Rep. Devin Nunes (R-Calif.), another backer of moving a clean funding bill, thought the piecemeal approach would at least stall things for a while, though he wasn't sure how long.
"Who knows?" he said. "We've got to play this out. We're going to keep playing this out."
Currently, the House GOP is making a stand over what they call the refusal of the president and the Democratic-controlled Senate to consider talking about Obamacare in the context of keeping the government running.
"[Senate Majority Leader] Harry Reid's refusal to negotiate is an arrogance that I haven't seen in this town," said Rep. Alan Nunnelee (R-Miss.), who offered that statement after being asked about the chances of a clean bill getting a vote.
Obama did agree to meet with congressional leaders on Wednesday evening. But when they emerged more than an hour later, it didn't seem that anything had been accomplished. Boehner complained to reporters that Obama "will not negotiate," and Reid said Boehner "cannot take yes for an answer."
While the White House meeting may not have yielded much progress, Sen. John McCain (R-Ariz.) had suggested on Tuesday that such talks might give House leaders a way out of what another Republican senator, Bob Corker of Tennessee, called a "box canyon."
"The House Republicans are looking for a way out of this because of the reaction of the American people, but they're also trying to preserve their position, and it's a very difficult situation for them," McCain said. "Hopefully, we can find something that would give some small satisfaction to our friends in the House that they could agree to."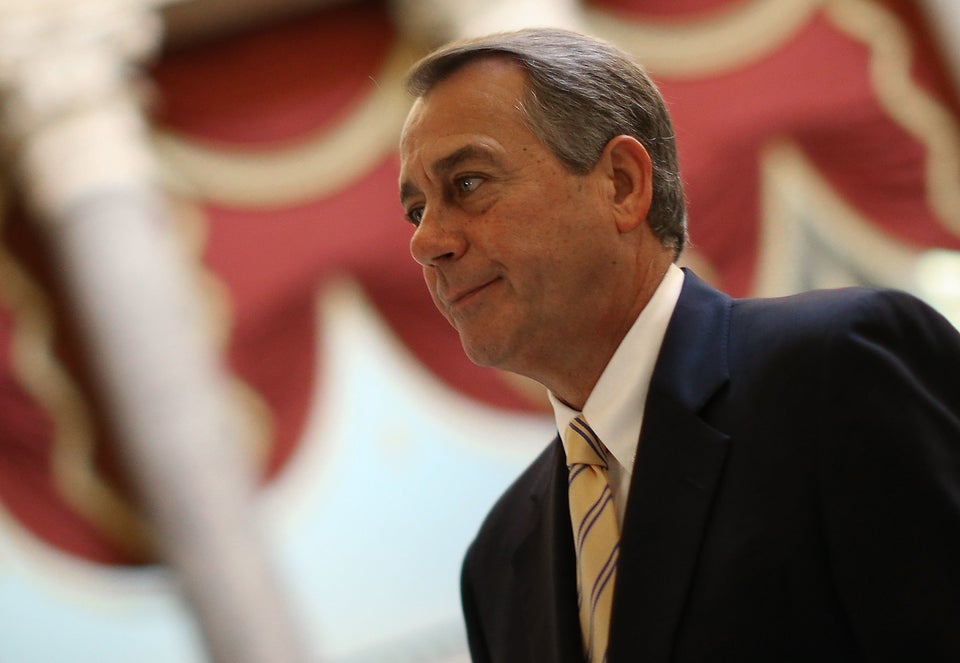 John Boehner's Shutdown Showdown Stares
Popular in the Community