 WASHINGTON -- Two of the most powerful and politically active conservative groups in Washington are not pleased with the fiscal cliff proposal put forward by Speaker of the House John Boehner (R-Ohio) on Monday.
Americans for Prosperity and FreedomWorks stated their disappointment and opposition to the proposal put forward by Boehner as a counter to President Barack Obama's offer because it contains $800 billion in new tax revenue and not enough spending reductions.
"The President's proposal and Speaker Boehner's counteroffer fail to seriously deal with the reality of the problems facing the nation," Americans for Prosperity president Tim Phillips said in a statement Monday.
Matt Kibbe, president of FreedomWorks, told CNN on Tuesday, "I think (Boehner) is negotiating with himself. I wish Republicans would lay out a more substantial vision."
The two groups are among the top 10 most politically active conservative groups in the 2012 elections having combined to spend $59 million. In 2009, they helped mobilize the Tea Party movement and propelled the Republicans into the majority in the House of Representatives with massive campaign spending.
FreedomWorks, along with the similarly conservative Club for Growth, have used their political might to enforce conservative orthodoxy in primary elections. In the most recent elections they helped Sens.-elect Ted Cruz (R-Texas) and Jeff Flake (R-Ariz.) win tough primary battles against better funded opponents. They also aided Indiana Treasurer Richard Mourdock (R-Ind.) as he unseated Sen. Richard Lugar (R-Ind.) and then went on to lose in the general election.
These conservative groups have opposed deals and proposals from Boehner and House leadership in the past and aren't going to oppose the latest plans silently.
"If the deal is a bad deal, then this will be a big part of our scorecard and we'll work very hard to educate the grassroots about why it's a bad deal," FreedomWorks legislative counsel Dean Clancy told The Huffington Post. "We're not going to be loyal soldiers and just fall in line because it's the best that could be gotten, if it's a truly bad deal."
Clancy clarified that he believes the Republican leadership is still operating in "good faith," but it has put forward an "unserious proposal."
The White House already rejected Boehner's plan outright and called on Republicans to come closer to its proposal, insisting that they accept higher tax rates for the nation's highest earners. The statements by these powerful groups, however, help shed light on how little room Boehner actually has to maneuver as he seeks to make a deal with the White House prior to Jan. 1.
For FreedomWorks, a serious proposal, "would go somewhere in the direction of the Paul Ryan budget that passed the House," according to Clancy. That budget included large spending cuts, the introduction of private plans to Medicare and the repeal of the Affordable Care Act, among many other provisions.
Before Republican members could face the wrath of these political groups at the ballot box, House leadership is already facing a revolt within their own ranks.
"The current leadership is skating a little bit too close to thin ice at this point," FreedomWorks' Clancy says.
Conservative House Republicans are calling Boehner's offer a bad deal. Rep. Austin Scott (R-Ga.) said, "I'd like to see more cuts," and Rep. Louie Gohmert (R-Texas) told Fox News that it was "not a good place to start."
Influential conservative blogger Erick Erickson penned a call for political action against the leadership by these conservative groups at his web site Red State, "Freedomworks, Americans for Prosperity, Club for Growth, Heritage Action for America, Madison Project, Concerned Women of America, Susan B. Anthony, Gun Owners of America, etc. etc. etc. must start working hard immediately to find quality candidates to challenge incumbent Republicans."
Erickson ended by saying, "Conservatives must seek retribution or become the paper tiger John Boehner, Eric Cantor, and Kevin McCarthy just declared them to be."
"Speaker Boehner has been an abysmal failure as speaker, and his latest purge is the nail in the coffin for conservatives." American Majority Action president and CEO Ned Ryun said in a statement on Thursday, "Boehner has never won a negation battle with the White House or Senate—and he's been nothing short of an embarrassing spokesman for the Conservative Movement. It's time for him to go."
House GOP leadership is already under fire from these conservative groups over Boehner's decision to remove conservative Republicans from powerful committees after they split on important votes over the past two years. The deposed congressmen -- Reps. Justin Amash (R-Mich.), Dave Schweikert (R-Ariz.), Tim Huelskamp (R-Kan.) and Walter Jones (R-N.C.) -- blasted Boehner and Republican leadership at an event at the conservative Heritage Foundation.
Michael McAuliff contributed reporting.
Before You Go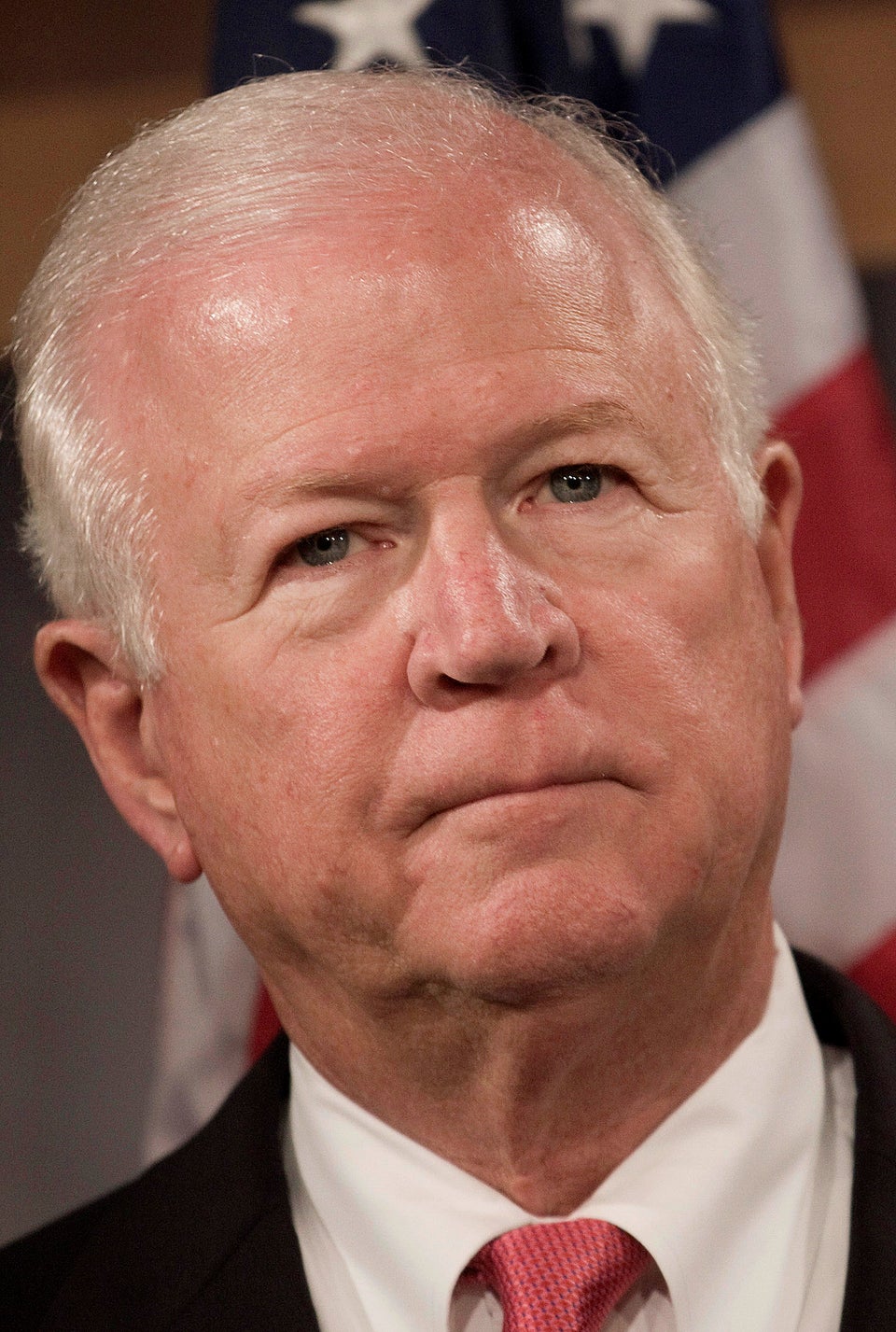 GOP Lawmakers Run Away From Grover
Popular in the Community