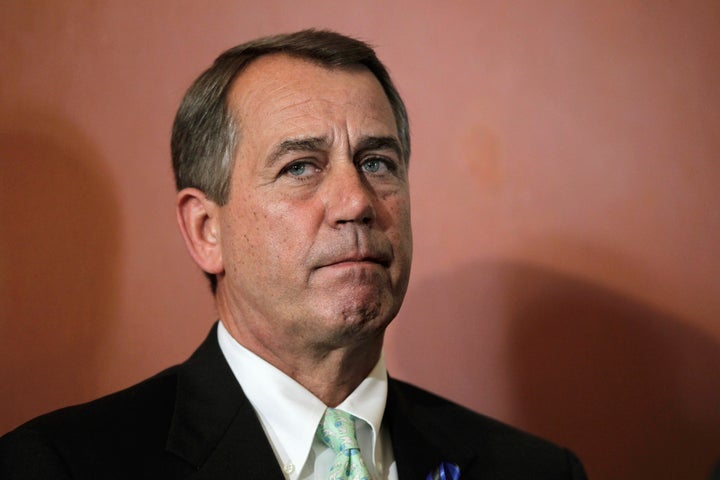 With a mere eight lines buried in an 82,000-word budget bill passed in 2006, Congress eliminated legislation that had for more than a decade limited how many students colleges could enroll in online courses -- rules aimed at protecting students against dubious programs. Those eight lines have proven a potent fertilizer for a for-profit college industry that has since grown to enormous proportions, collecting most of its profits via federal student aid dollars.
In the five years since Congress deregulated online education, enrollments at for-profit colleges have nearly doubled. Six major corporations owning for-profit institutions have enjoyed initial public offerings on Wall Street, with each promoting the rapid growth of online classes to investors and netting millions in compensation for executives. Revenues have doubled at the University of Phoenix and Kaplan University, two of the largest players -- so has the rate at which its students have defaulted on their federal loans.
The story of how this single snippet of legislation became law, propelling a collection of for-profit colleges into a full-scale industry, presents a classic case of the workings of power in Washington. It reveals the degree to which for-profit colleges -- now confronting accusations that they have preyed on students and cheated taxpayers -- owe their growth to a sophisticated lobbying effort that has cultivated powerful allies in Congress and in the administration of President George W. Bush. The lobby has played a crucial role in fighting off consumer protection rules that limited the companies' expansion opportunities.
Such was the case with the 2006 removal of a law known as the 50 Percent Rule, which had previously limited enrollment numbers at universities with online course offerings. That stricture was eliminated at the insistence of current House Speaker John Boehner, then the chairman of the House Education and Workforce committee -- now the prime public negotiator in a high-stakes clash over raising the nation's debt ceiling -- and Sen. Mike Enzi, a Wyoming Republican who headed the Senate Education committee. Their legislative handiwork opened the floodgates to online enrollment, while enabling for-profit colleges to more aggressively tap Wall Street for the capital they have used to expand.
"Most of the large publicly traded institutions would not be able to exist the way they do today if that rule had not been taken away," said Kevin Kinser, an associate professor at the University at Albany who studies the history of for-profit higher education. "You have an entirely new revenue source that's been open to these institutions. ... The cost goes down, the revenue goes up, and that's a pretty attractive investment vehicle."
Boehner did not respond to repeated requests for comment. A spokesman for Enzi said the change was needed to enable students who lack access to physical campuses to gain educational opportunities over the Web.
"Senator Enzi has always been a supporter of access to quality education throughout life," the spokesman said. "For many individuals, that means access through technology."
The 50 Percent Rule had been put in place with other consumer safeguard measures in the early 1990s, in an effort to protect students and taxpayers in the face of widespread reports of abuse and fraud involving federal student aid programs. The deregulation was the result of a fierce lobbying effort waged by the for profit-college industry, coupled with strategic campaign donations distributed to Boehner, Enzi and Rep. Howard "Buck" McKeon (R-Calif.), the men who controlled the Education committees in the House and the Senate.
McKeon held and sold stock for Corinthian Colleges Inc., a for-profit college corporation, during the time he was crafting policies for the industry on the House Education committee, according to his required personal financial disclosure forms. According to the documents, he owned between $1,000 and $15,000 in Corinthian stock in 2003, and sold it off in 2004.
For the three election cycles between 2002 and 2006, those three lawmakers and their political action committees alone took in nearly one-fifth of the money donated to federal candidates and committees by the for-profit college industry.
The industry has also benefited from Washington's traditional revolving door: President Bush's assistant secretary for post-secondary education, Sally Stroup, had served previously as a lobbyist for the Apollo Group, which owns the University of Phoenix. During her tenure overseeing higher education policy from 2002 through 2006, she authored a series of reports outlining an imperative to lift the online learning restrictions – a major impetus for Congress to ultimately scrap the 50 Percent Rule.
Through a spokeswoman, Stroup declined to comment.
Any large industry takes heed of federal policy, but the for-profit college industry has a special interest: It has prospered by positioning itself to capture out-sized shares of federal student aid dollars.
In 2000, for-profit colleges took in 13 percent of the dollar value of Pell Grants, which are awarded to low-income students, and 11 percent of federal student loan dollars overall. By the 2009 school year, for-profit schools were taking in 25 percent of both Pell grants and overall aid, an artery of cash that by then reached $32 billion -- a seven-fold increase in less than a decade.
Intake of federal student loan dollars, by higher education sector
Source: Department of Education
The percentage of students failing to pay back their federal loans has also grown, with nearly a quarter of for-profit college students defaulting within three years of leaving school -- more than twice the rate of students at public colleges, and nearly four times the default rate at private non-profit colleges, according to Department of Education data.
Despite the fact that the online learning rule was lifted five years ago, the Department of Education has yet to collect specific data to track student loan default rates or graduation rates for programs that are mostly online.
Eduventures Inc., a higher education research and consulting firm, estimates that enrollment in college classes that are 80 percent online has more than doubled since 2006 -- when the 50 Percent Rule was abolished -- growing from 1.2 million students to nearly 2.5 million students in fall 2010.
Intake of federal Pell Grant dollars, by higher education sector
Source: Department of Education
The for-profit sector amounts to 43 percent of the total online enrollments, according to the firm, although only about 10 percent of students nationwide are enrolled at for-profit colleges.
The new frontier of online learning -- and the federal dollars that come with it -- has led to a host of new players in the for-profit education industry and continued growth for well-established stalwarts such as Education Management Corp. and the University of Phoenix, which now claims more students than the entire for-profit college sector did 10 years ago. Yet graduation rates for some of the largest online-only universities hover at less than 20 percent.
Among the new players since the rule was abolished is Bridgepoint Education Inc. of San Diego, which purchased a small, failing college in Iowa and grew enrollment from fewer than 350 students in 2005 to more than 76,000 students by the end of 2010. Grand Canyon Education Inc. grew online enrollments from 3,000 in 2003 to more than 42,000 by the beginning of 2011.
For the for-profit college industry, the bottom-line benefits of the online realm are considerable, allowing institutions to deliver courses to students virtually anywhere, without incurring the costs of operating a physical facility.
In the documents released to market its 2009 initial public offering, Education Management Corp., a Pittsburgh company backed in part by Goldman Sachs, noted the merits: "Online offerings are also a cost-effective means for us to utilize many of our existing education curricula and generate attractive returns on capital."
Online enrollments at the company grew fivefold between 2006 and July 2009, when the company went public, according to documents filed with the Securities and Exchange Commission. The Justice Department recently intervened in a whistleblower lawsuit filed against Education Management Corp. that accused the company of illegally handing out bonuses and raises to recruiters based on the number of enrollments they secured.
Major state universities, community colleges and long-entrenched private schools have themselves turned to the web in an effort to supplement their offerings and increase access to college. But experts assert that an absence of adequate quality controls governing the online programs at some for-profit schools make them particularly troubling.
"The bottom line is that the accreditation system just hasn't been modernized, and it isn't really structured to be able to deal with these fully online institutions in the for-profit sector," Donald Heller, director of the Center for the Study of Higher Education at Pennsylvania State University, told the Huffington Post, echoing criticisms he made in testimony before Congress in 2003. "Therefore they're not providing the necessary oversight to ensure that students aren't being fleeced and that money is being well spent."
The 50 Percent Rule was put in place in 1992 in an effort to prevent the very problems that are again at the forefront of the conversation.
The rule was the product of a Senate investigation that featured a series of high-profile hearings probing waste and abuse of the federal student aid programs by for-profit colleges.
At that time, the makeup of the industry was much different than today. There were no multi-billion dollar, publicly-traded corporations with national advertising campaigns. Instead, the abuses stemmed from a series of fly-by-night vocational programs -- smaller, family-owned beauty and mechanical schools that made money by swindling unsuspecting students.
Timeline of regulations for the for-profit college industry
The committee heard testimony about an Ohio auto repair school that was run out of a fruit stand, yet was still eligible for federal student loan and grant money. A Florida school for travel agents actively encouraged recruiters to target public housing projects and welfare offices to find potential enrollments.
"Unwary Americans are being lured into so-called educational schools by sophisticated sales pitches that offer promises of bright futures, high-paying jobs and federal loans for financing," former Sen. Sam Nunn, the Georgia Democrat who then chaired the Senate Permanent Subcommittee on Investigations, said during a hearing in 1990. "Victimized by unscrupulous profiteers and their fraudulent schools, students have received neither the training nor the skills they hoped to acquire, and instead, have been left burdened with debts they cannot repay."
The hearings led to a number of reforms of the Higher Education Act, including a rule that limited the amount of federal funding going to "distance education" programs. At the time, the law was intended to address the rise of fraudulent correspondence schools and diploma mills, which offered courses over videotapes or through written coursework -- or simply mailed diplomas and credentials in exchange for money.
The 50 Percent Rule, as it came to be known, required that at least half of a college's students be enrolled at a physical campus in order for a program to be eligible for federal student aid funding. But as the Internet emerged in the years after the rule was passed, a new opportunity for growth beckoned -- one the industry wasted little time in penetrating.
When the Higher Education Act came up for re-authorization in 1998, Congress mandated that the Department of Education run a pilot program -- the Distance Education Demonstration Program. It allowed some schools to surpass the 50 percent limit while being monitored by the federal government.
Number of students enrolled at for-profit colleges
Source: Department of Education
Stroup -- who would later become Bush's appointee to oversee higher education -- helped create the program as a staffer on the House Education and Workforce committee. In 2001 she took a $220,000-a-year job as a lobbyist for the Apollo Group, the parent company for the University of Phoenix, an early and enthusiastic participant in the online college demonstration program.
When President Bush appointed Stroup as assistant secretary for post-secondary education later that year, he gave her direct oversight of the program, thereby completing a classic Washington trajectory: Hill staffer, to lobbyist, to regulator overseeing the central interest of her previous employer.
In a series of reports, Stroup's office at the Department of Education recommended that Congress lift the 50 percent rule for courses delivered by "telecommunications," including the Internet.
"Five years of experience working with demonstration program participants indicates that the potential risk to (federal) student financial aid programs has more to do with the integrity of the institution than with the way in which the education is offered," a 2005 report noted.
Despite those assurances, evidence was already suggesting there were problems with online courses. An audit from the Department of Education's Inspector General issued the year before criticized several of the conclusions made by the department about online learning in a prior report, saying it made "unsupported, incomplete and inaccurate statements" about the results of online education.
Among other problems, the Inspector General found that the department used data from several schools that was not consistent, creating a misleading depiction of aggregate student performance. Numbers showing student retention rates in online programs varied widely -- from 20 percent to 99 percent. But the reports averaged out each school's statistics, thus masking the bottom performers, supporting the notion that online student outcomes were no different than national averages at other schools.
The Inspector General also found fault with another claim in the online report: that the department had "uncovered no evidence that waiving the 50% rules ... has resulted in any problems or had negative consequences." One of the first colleges to participate in the online pilot program, a California vocational school called the Masters Institute, had to shut its doors after rapid online enrollment growth that led to numerous cases of financial aid fraud.
The Inspector General noted that waiving the 50 percent rule "substantially increased the number of students and dollars impacted by the institution's lack of administrative capability. The report did not disclose this negative consequence."
At the same time that Bush's Department of Education was writing reports urging a rollback of the rules, the for-profit college industry was heavily lobbying Congress to follow through. The pressure campaign found a significant ally in the man who today serves as Speaker of the House, John Boehner.
Boehner began his term as chairman of the House Education and the Workforce committee in 2001, his first committee chairmanship after a decade-long career in the House where he played a central role in orchestrating Newt Gingrich's 1994 "Contract with America."
After being appointed Education chairman, he swiftly joined fellow Republicans in introducing a bill to repeal the 50 percent rule in May 2001. The bill passed the House later that year, but it never made it out of the Senate's Health, Education, Labor and Pensions committee.
Over the course of the next five years, Boehner co-sponsored two other bills that aimed to do away with the 50 percent rule and several other consumer protection measures that had been written into higher education law after the scandals of the 1980s.
Much as financial deregulation was touted by Democrats and Republicans alike as a means of opening up home ownership to lower income and minority communities, Boehner advanced the rationale that rules restricting online learning had to be lifted to open up educational opportunities to students lacking access to physical campuses.
"We're dealing with antiquated regulations that may have been well-intentioned when put into place, but today are simply a burden on students pursuing higher education," Boehner said at a House Education committee meeting on the issue in 2004.
The Career College Association, the for-profit college industry's lobbying group and chief campaign donor, expressed its gratitude for Boehner's support of their agenda. The group's president at the time, Nicholas Glakas, boasted in a note to member colleges in 2004: "Seven of (our) top ten legislative issues were included in House legislation."
After Boehner and McKeon co-sponsored a 2004 bill that aimed to repeal the 50 percent rule and several other higher education consumer protection regulations, the Career College Association wrote a lengthy letter to both of them expressing "strong support" for the bill and the move to "eliminate outdated barriers to college access."
The two were rewarded with a large share of the money doled out by the for-profit college industry in the election cycles between 2002 and 2006, according to a HuffPost analysis of campaign donations over the past decade. Although the money given to candidates and political action committees by the for-profit industry is small by Washington standards -- about $4 million over three election cycles – it was doled out disproportionately to those who controlled higher education policy in Congress.
Boehner's lucrative political action committee, The Freedom Project, which played a major role in his ascent to House Majority Leader in 2006, received nearly $200,000 in donations from the for-profit college industry -- about 5 percent of the money raised by Boehner's committee during those years.
McKeon's 21st Century PAC received more than $300,000 from the industry. Only the National Republican Congressional Committee, which registered $303,000 in donations, received more money from the for-profit college industry and its executives between 2002 and 2006.
McKeon did not respond to requests for comment.
According to his financial disclosure form, McKeon at the time held stock in Corinthian Colleges Inc., whose chief executive officer also testified before the committee in favor of deregulation in 2004.
"This was sort of a hallmark of that time," said a Democratic staffer on the Education and the Workforce committee, who declined to be identified because he is not authorized to speak publicly about negotiations. "We were at a time when the interest in regulation in the Department (of Education) was going down, and when the lobbying pressure from this interest group was going up."
The narrative of the day advanced forth by industry leaders was that the problems of the past had been resolved, and the for-profit colleges could be trusted to deliver valuable course offerings.
"I recognize that some members of this committee remember the days when unscrupulous operators left a trail of disappointed students and debts to the federal treasury," Andrew Rosen, president and chief operating officer of Kaplan Inc., said at a House hearing in 2004. "The changes in the law passed by Congress weeded out those bad actors. The for-profit industry, including online institutions, has matured."
But at a series of hearings on legislation sponsored by Boehner to undo the 50 percent rule and other safeguards, many witnesses sounded the alarm about scrapping consumer protection measures without adding in new regulations to ensure the quality of online programs.
"The question I would always ask when you're doing away with a rule is, 'What abuse was it designed to stop?' " said Thomas Carter, the deputy inspector general at the Department of Education, as he testified about his concerns over lifting the 50 Percent Rule during a 2005 hearing. "If you wish to eliminate that rule, then I think you have to consider what substitutes there might be out there."
Rep. George Miller (D-Calif.), who was the ranking Democrat on the House Education committee at the time, raised similar concerns, referencing the abuses from the 1980s that had prompted such regulations in the first place.
"What deeply concerns me is that we appear to be on kind of a wholesale track here to get rid of the existing protections that were put there for a very valid reason," Miller said at a 2005 hearing. "I think we have some additional work to do. Otherwise I think we're going to be back here revisiting this subject more often than we would like, and more often certainly than the taxpayers or those students would like us to be revisiting it."
But the for-profit college lobby easily overrode such admonitions, successfully framing the question as a simple choice between educating low-income students who lacked access to campuses or depriving them of education.
In an e-mailed statement, a spokesman for the Association of Private Sector Colleges and Universities -- formerly the Career College Association -- stressed the idea of increased access to education.
"The removal of the 50 percent rule was important for expanding educational opportunities to students who, due to time and geographic limitations, would otherwise be shut out of postsecondary education," the spokesman, Bob Cohen, wrote in an e-mail. "Lifting the rule allowed more students to access postsecondary education without the constraints placed on them by a brick and mortar program – be it the time the class takes place, or the number of seats in the room."
Proponents of keeping the 50 Percent Rule were easily portrayed as self-interested opportunists: Most of the opposition to deregulating online instruction came from a loose coalition of groups representing traditional universities and community colleges.
"The issue was not whether distance education, in its most pristine form, is as good as or maybe even better than in-person instruction for some content," said Barmak Nassirian, associate executive director of the American Association of Collegiate Registrars and Admissions Officers, which represents traditional universities. "They constantly referred to the fact that the Internet is good. Yes, the Internet is good. But the Internet also lowers the barriers to entry for fraud."
Boehner had long demonstrated his intention to lift the 50 Percent Rule, but he had yet to find an effective vehicle to get the job done.
Two bills introduced out of the House Education committee in 2003 and 2004, intended as reauthorizations of the Higher Education Act, had been consumed by disagreements over other elements, including changes to the private student lending programs.
Boehner's committee passed another bill in 2005 that got rid of the rule, but it stalled. So Boehner and Enzi, who chaired the Senate's Education committee, pursued nixing the 50 percent rule through the budget process, attaching their favored alteration to a giant piece of legislation funding government operations.
A former staffer for the House Education and the Workforce committee, who declined to be identified because he still works on education issues in Washington, said the online learning rule successfully survived the legislative process because it was seen as the least objectionable of several consumer protection laws that Boehner and McKeon were attempting to remove.
Another proposal they sought would have allowed for-profit colleges to derive all of their revenue from federal student loans and grants, lifting a requirement that at least 10 percent come from other sources. By comparison, killing the 50 Percent Rule seemed modest.
"It's probably fair to say that the 50 percent rule was not the number one issue for people to be concerned about, so that means that people weren't as focused on it," the former staffer said. "This was the one thing that was much more likely to succeed than the others. And it did, in the end."
Hurricane Katrina also appears to have lent support to the campaign to end the 50 Percent Rule. A spokesman for Enzi -- now the ranking minority member on the Senate's Education committee -- said the proposal to eliminate rule as part of the budget bill came as part of a bipartisan agreement with then-Sen. Edward Kennedy (D-Mass.), who has since passed away. Kennedy expressed support for eliminating the online learning rule in the wake of Hurricane Katrina, when many college students along the Gulf Coast were scattered across the country.
The elimination of the 50 percent rule went into effect in February 2006, the same time Boehner was elected House Majority Leader following the resignation of Tom DeLay (R-Texas).
Less than a year later, Capella Education Co., an online university based in Minnesota, went public on Wall Street. In the years since, it has more than doubled enrollment, from 18,000 students to nearly 40,000 students. Grand Canyon Education Co., American Public Education Company, Education Management Corp. and National American University holdings would soon follow, each more than doubling enrollment just a few years after the 50 percent rule was lifted.
Bridgepoint Education Inc. grew enrollment at Ashford University from fewer than 350 students in 2006 to more than 76,000 students in 2010. Internal documents from Bridgepoint show that the school employs more than 1,700 recruiters to aggressively pursue new enrollments, but has only one employee dedicated to career placement.
Based on calculations from the school's budget documents, Bridgepoint spends nearly four times as much money on recruiting students as it does educating them, according to testimony at a Senate hearing earlier this year.
Recently, the Obama administration has been seeking to tighten the nation's system of college accreditation to address the fact that many programs are not providing adequate support while enrolling students who have little preparation for higher education. Some schools, such as Kaplan University, have begun offering students the ability to enroll in classes for up to five weeks at no charge, risking significant slowdown in enrollment growth.
University of Phoenix late last year had to lay off hundreds of employees after estimating much slower enrollment growth in 2011 -- the result of heightened scrutiny by the federal government.
"I think it's a healthy corrective to significant growth, unprecedented growth delivered by online delivery, and I believe online will ultimately emerge stronger as a result," said Richard Garrett, a managing director with Eduventures, the online higher education research firm. "In a sense, we are back to where we were in 1992, with new attempts to try and harness this unbridled growth."
Support HuffPost
The Stakes Have Never Been Higher
Related
Popular in the Community