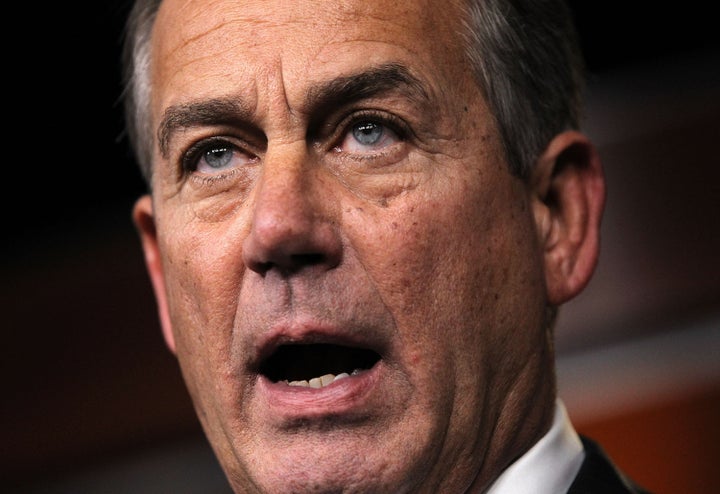 WASHINGTON -- House Speaker John Boehner (R-Ohio) yelled at a member of his own caucus on Tuesday night, after lawmakers from New Jersey and New York repeatedly pressed him to bring the Superstorm Sandy relief bill to the floor for a vote.
Boehner had a heated exchange with Rep. Frank LoBiondo (R-N.J.), one of the members urging the House Republican leadership to bring up the Sandy legislation, according to fellow Rep. Peter King (R-N.Y.). The House adjourned on Tuesday night without passing the $60.4 billion Sandy relief package that the Senate approved last week.
"I was chasing the Speaker all over the House floor last night, trying to talk to him and his staff," King said on CNN on Wednesday morning. "He kept telling me, wait until the vote is over, wait until the fiscal cliff vote is over, everything will be taken care of. And then he was gone. He refused to meet with us. He actually yelled at Congressman LoBiondo, saying, 'I'm not meeting with you people.'"
LoBiondo spokesman Jason Galanes confirmed that King's account was "accurate."
In a follow-up interview with Politicker NJ, LoBiondo said he had received assurances from House Majority Leader Eric Cantor (R-Va.) that the Sandy bill would come up for a vote as soon as the fiscal cliff deal was voted on.
"I kept asking Eric, not just myself, but a number of us," LoBiondo told Politicker NJ. "He said 'I'm ready to go but don't have the green light to go.' By late afternoon I asked for a meeting. His reaction was not what I expected. It's not how it needed to be handled. We were told there will not be a decision until after the fiscal cliff."
Boehner's office did not return a request for comment, although his spokesman, Michael Steel, told The Huffington Post on Wednesday morning that the speaker is "committed to getting this bill passed this month." Boehner was scheduled to meet with lawmakers from New York and New Jersey at 3:00 p.m. to discuss the legislation.
Calling all HuffPost superfans!
Sign up for membership to become a founding member and help shape HuffPost's next chapter
BEFORE YOU GO
PHOTO GALLERY
More Crazy Examples of Congressional Theatrics