WASHINGTON -- John Boehner, a House Speaker who was relieved to quit his job, gave up his gavel Thursday, offering tears and chuckles as he cleared the way for Rep. Paul Ryan (R-Wis.) to take over.
Boehner, an emotive 65-year-old from Ohio, kept a box of tissues at his side as he began proceedings and bade farewell to Congress, saying he did so with pride and gratitude.
"I leave with no regrets, no burdens," Boehner said, only occasionally reaching for the Kleenex. "If anything, I leave the way I started, just a regular guy, humbled by the chance to do a big job. That's what I'm most proud of."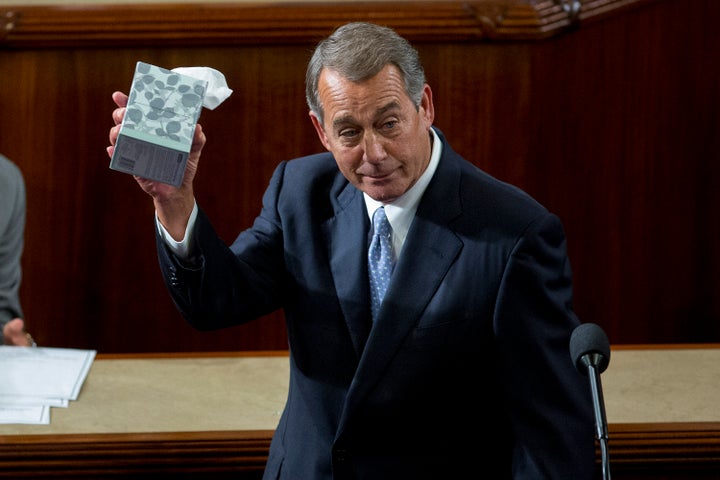 Boehner didn't choke up as much as he might have, but he found it hard when he talked about the staffers who helped him, and his humble beginnings as one of 12 children in his family.
"I describe my life as a chase for the American dream, and that chase began at the bottom of the hill just off the main drag in Reading, Ohio, right outside Cincinnati," Boehner said.
"Top of the hill was a small house with a big family, a shining city in its own right. The hill had twists. The hill had turns, and even a few tears -- nothing wrong with that," Boehner said, dabbing his eyes. "But let me tell you, it was just perfect. Never forget we're the luckiest people on the Earth." 
After Boehner's formal goodbye, and after the names of Ryan and House Minority Leader Nancy Pelosi (D-Calif.) were formally placed in nomination, the House moved to a slow, roll-call vote that made the 45-year-old from Janesville, Wisconsin, its 54th speaker.
Ryan earned 236 votes, making him the youngest person to hold the post in 150 years.
Ryan had resisted calls to run for the post after Majority Leader Kevin McCarthy (R-Calif.) so memorably imploded earlier this month, quitting the race when it became clear he could not get the votes he needed. 
Calling all HuffPost superfans!
Sign up for membership to become a founding member and help shape HuffPost's next chapter