WASHINGTON -- House Speaker John Boehner (R-Ohio) said Thursday that he believes Republicans are making progress toward appealing to women voters, but they still have work to do.
"[We're] trying to get them to be a little more sensitive," Boehner said of fellow Republicans at a press conference. "You know, you look around the Congress, there are a lot more females in the Democratic caucus than there are in the Republican conference. And some of our members just aren't as sensitive as they ought to be."
Some Republican members are receiving training from the National Republican Congressional Committee on how to run against female candidates in an effort to stop the GOP's trend of poor performance among women voters.
Then-Republican presidential candidate Mitt Romney lost to President Barack Obama among women voters in 2012, and the party was harmed in congressional races by several candidates' missteps on women's issues. One of the biggest examples was failed Senate candidate Todd Akin, who drew criticism from outside and inside the party for saying victims of "legitimate rape" rarely get pregnant.
There are at least 10 races in which male House Republican incumbents are being challenged by Democratic women.
Boehner also addressed another group of people with whom the Republican party has performed poorly when asked about two openly gay GOP candidates. Politico reported Thursday that Rep. Randy Forbes (R-Va.) has urged the National Republican Congressional Committee to deny support to anyone who is openly gay.
Boehner was asked whether he believes the GOP should give money and other support to the two openly gay candidates, Richard Tisei in Massachusetts and Carl DeMaio in California.
He responded, simply, "I do."
UPDATE: 2:15 p.m. -- White House press secretary Jay Carney said during his daily briefing later Thursday that the GOP is going to need more than talking points if they want to win over women.
If Republicans truly want to help women, he said, they should vote to raise the minimum wage, which would disproportionately benefit women. He continued that GOP lawmakers should also stop trying to repeal Obamacare, which prohibits insurance companies from charging women double for insurance policies that men receive.

"The problem that Republicans have had with women isn't about language," Carney said, "it's about policies."
Jennifer Bendery contributed reporting.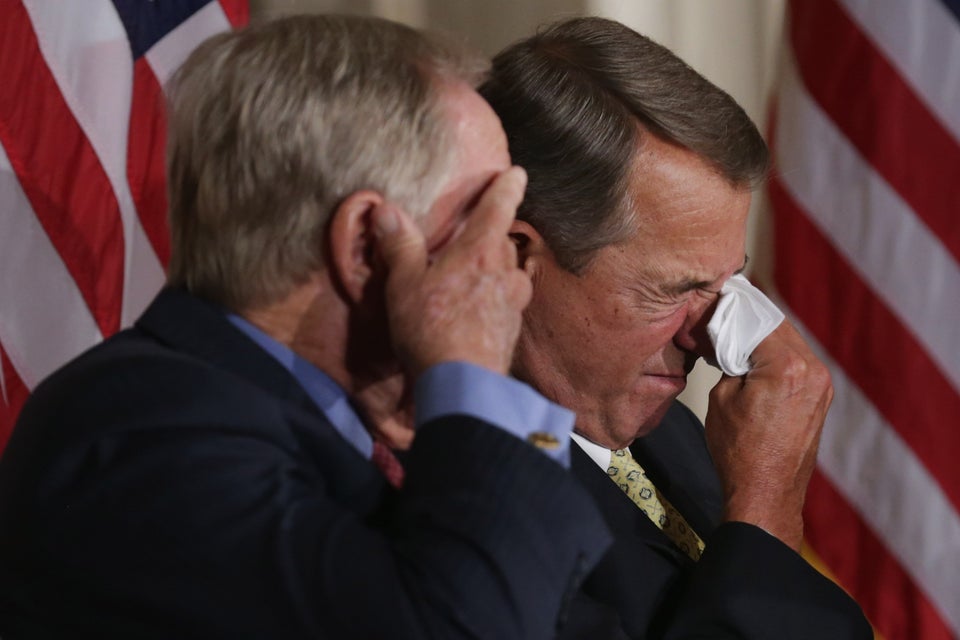 John Boehner Cries
Popular in the Community