 WASHINGTON -- When President Barack Obama signed an executive order Monday making it illegal for federal contractors to fire or harass employees based on their sexual orientation or gender identity, civil rights advocates hailed the move as one of the most important actions ever taken by a president to stem discrimination.
Democratic lawmakers raced to issue statements celebrating the advancement for the lesbian, gay, bisexual and transgender community. In addition to offering new protections for transgender federal employees, the executive order covers the broad federal contracting community -- some 24,000 companies employing 28 million workers, or about one-fifth of the nation's workforce.
But in Republican quarters on Capitol Hill, it's as if nothing happened. GOP leaders have been silent. Socially conservative members have gone quiet.
The Huffington Post searched the websites of the 18 congressional Republican backers of the proposed Employment Non-Discrimination Act -- a companion bill to the executive order -- to see if any of them put out a statement. Only one did: Sen. Rob Portman (R-Ohio), who said he supports the policy behind the executive order because "employees shouldn't face unjust discrimination in the workplace simply because of their sexual orientation," though he raised concerns about the rights of religious employers.
For all the LGBT rights advancements in recent years -- including the repeal of the military's Don't Ask, Don't Tell policy; the Supreme Court's striking down the Defense of Marriage Act; and some 90 policy changes put into place by the Obama administration for federal employees -- the preferred response among congressional Republicans has been no response at all.
Perhaps nobody better illustrated this point than House Speaker John Boehner (R-Ohio). HuffPost asked him Thursday if he had any reaction to Obama's LGBT executive order.
"Nope," Boehner said at his weekly briefing. "The president signs a lot of executive orders."
Asked if he supports the principle of workplace protections being extended to LGBT employees, he punted again.
"Listen, the president is going to make his decisions. He can," Boehner said.
HuffPost reached out to some socially conservative groups -- Focus on the Family, the Faith and Freedom Coalition, the Family Research Council and the American Family Association -- to see if they were frustrated with the silence from their GOP allies on Capitol Hill. HuffPost also reached out to LGBT rights groups, including the Human Rights Campaign and Americans for Workplace Opportunity, for their assessments. Most did not immediately respond to a request for comment.
A spokeswoman for Focus on the Family declined to comment, but pointed to a colleague's recent blog post lamenting that the president of a Christian college has been "bullied" for urging Obama to let religiously affiliated institutions with federal contracts openly refuse to hire someone because he or she is LGBT.
On the other side, Human Rights Campaign spokesman Fred Sainz said he considers Republicans' silence golden.
"While I would far prefer they speak on behalf of the equality their constituents support, it's definitely evidence of our progress when some say nothing," Sainz said.
One factor may be that Republicans simply aren't keeping up with the flurry of LGBT rights advancements. Rep. Michael Grimm (R-N.Y.), one of the eight House GOP co-sponsors of ENDA, said Thursday that he didn't know about Obama's executive order. But he emphasized that if it has the same goal as ENDA -- which it does, except that ENDA has far broader implications -- he supports it.
"I co-sponsored ENDA because I think that should be the law for everyone," Grimm said.
The Republican lawmaker shrugged when asked if he thinks it's hurting his party that so many are sitting on the sidelines amid a revolution in LGBT rights. He said he thinks his colleagues are coming around. Slowly.
"Generally, I think our party is in transition," Grimm added. "More people are starting to pay attention."
Before You Go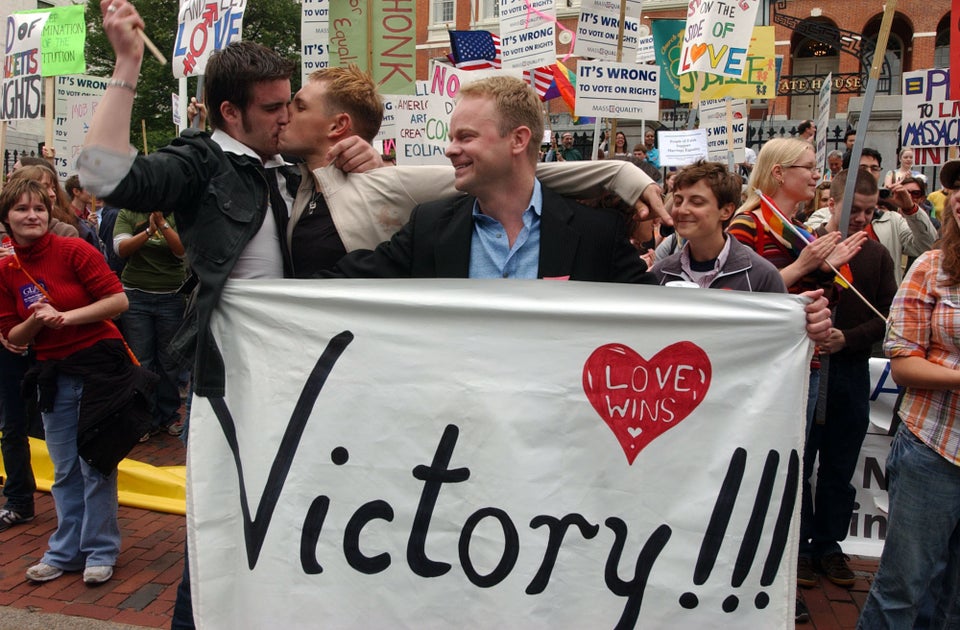 10 Incredible Improvements For LGBT People Since The First State Legalized Gay Marriage
Popular in the Community