WASHINGTON -- House Speaker John Boehner (R-Ohio) stepped back on Tuesday from an immediate confrontation with President Barack Obama over immigration, taxes and funding the government, deferring a showdown until a new Republican Congress is sworn in next year.
Though no plans have been formally announced, early reports suggest that House Republicans will pass the yearly massive appropriations bill to fund the government through next year, since current funding runs through Dec. 11. But they want to break out funding for the Department of Homeland Security and pass that as a continuing resolution, keeping the funding for the agency at current levels until March. Their strategy to get through the lame-duck session also includes the possibility of a disapproval vote on the president's executive action on immigration.
The decision to separate DHS funding from the rest of the budget is purely political. Republicans will control the Senate come 2015, in addition to having an increased majority in the House. That additional leverage could be funneled into a confrontation with Obama over his move to shield up to 5 million undocumented immigrants from deportation.
"No decisions have been made at this point," Boehner said in a Capitol Hill news conference after his conference met Tuesday morning, when asked if this was his game plan. The speaker added that he and his members would look at a variety of options in the lame-duck session and emphasized that they still believe that the president's move on immigration represents an egregious overstepping of his authority.
"We don't believe that the president has the authority to do what he did," Boehner said. "This is a serious breach of our Constitution. It is a serious threat to our system of government. And frankly, we have limited options and limited abilities to deal with it directly."
Should House Republicans pursue the so-called Cromnibus, or continuing resolution and omnibus, it would be a victory for the speaker, who has had difficulty keeping his fractious, tea party-driven conference in line in past budget battles.
"I think they understand it is going to be difficult to make meaningful action as long as we have Democratic control of the Senate," Boehner said, suggesting that he had, indeed, put a lid on intra-party angst. GOP leadership has also reportedly headed off an attempt to vote on the House floor on whether to censure the president for his immigration executive action.
But minutes after Boehner's statement, several more conservative members made it clear that they weren't eager to play along.
Rep. Tim Huelskamp (R-Kan.) characterized the Cromnibus as a "punt," and Rep. John Fleming (R-La.) said he would likely oppose the idea unless the length of the continuing resolution for DHS funding was shortened.
"Why not vote on it the first day we are back when we do get all our troops in the Senate?" he asked.
Conservatives outside Congress weren't entirely pleased with reports that a fight over the president's immigration policy would be punted until March. Dan Holler, the communications director for the influential Heritage Action Fund, called the procedural move a "blank check" for amnesty.
"Putting an expiration date on DHS funding does not do anything to block the President's executive actions – it allows them to proceed for several months unchecked," said Holler. "It is essentially a promise to fight at a later date, but that promised has not been defined or articulated clearly. Most significantly, GOP leaders have not promised to use the appropriations process to stop the actions come March. Hard to see how any of this lines up as taking a stand against the President and preparing to block his actions."
Heritage Action, Holler added, would be communicating their disapproval with the idea to House Republican offices.
Democrats, likewise, don't seem particularly eager to give Boehner cover for such a move. Leadership was expected to address Boehner's comments later in the day. But at roughly the same time the speaker made his remarks, Secretary of Homeland Security Jeh Johnson was urging Congress to act on the administration's appropriations request instead of extending funding for the agency until March.
"That is, in my judgment, a very bad idea for Homeland Security, because during that period of the CR we do not engage in new starts," he said Tuesday morning, speaking before the House Committee on Homeland Security. "We've got some Homeland Security priorities that need to be funded now."
Johnson said should Congress only pass a short-term continuing resolution, he would be unable to hire new Secret Service agents needed ahead of the 2016 presidential elections. A funding bill that stretched only to March would also harm the agency's ability to fund its new detention facility in Texas, he said.
"I need the help of Congress to support and build upon border security that I believe all of you support," he said.
White House spokesman Josh Earnest told reporters later Tuesday that Obama would oppose any bills that would undo his executive actions on immigration, though he did not say whether the president would veto a bill with short-term funding for DHS. But he said the White House wants to see government funding for the full year and for the full government.
"The administration believes that it's the responsibility of Congress to pass a full year budget for the federal government, and that is what we would like to see them do," he said. "We'd like to see them pass that full-year budget for the full government. As I think I said yesterday, we're not asking them to do anything heroic, we're asking them to do their job."
Senate Majority Leader Harry Reid (D-Nev.), meanwhile, indicated Tuesday afternoon that Democrats would be open to approving a short-term funding bill for DHS. He said Senate Democrats would have to see whether other measures got attached to such a funding bill, but he did not rule out allowing a vote.
"I think it's kind of unfortunate they're talking about not doing Homeland Security, but that's the way it is, and we'll have to wait and see," he said.
Reid said he would not allow for a Senate vote if the House sent over a bill stating disapproval with Obama's executive actions on immigration.
Sen. John McCain (R-Ariz.), one of the co-authors of the 2013 Senate immigration bill, expressed initial support for the House GOP's plan to approve short-term funding for DHS and separately vote to voice their disapproval with Obama's actions.
"I think it's a good idea," McCain told The Huffington Post on Tuesday.
Sen. Marco Rubio (R-Fla.), another co-author of the Senate bill, declined to weigh in on a potential disapproval vote in the House, saying he would need to see the language first. But he said he, too, disapproves of the executive action, "not just because of what it does but primarily because of the precedent that it sets."
Rubio added that the best response for Republicans would be to begin working on immigration reform, pointing out that Obama could veto any measures designed to strip funding from immigration-related activities.
"I don't necessarily think that would be a bad thing to do, I just don't know how tactically you do it," Rubio said. "I'm in favor of it, but I certainly don't necessarily think it would be the most effective way of getting to a result. I think the better result would be to supersede what he did by passing our own measures on immigration that deals with the problem in its totality."
This article was updated after publication with comments from Josh Earnest and Harry Reid. Sabrina Siddiqui contributed reporting.
Before You Go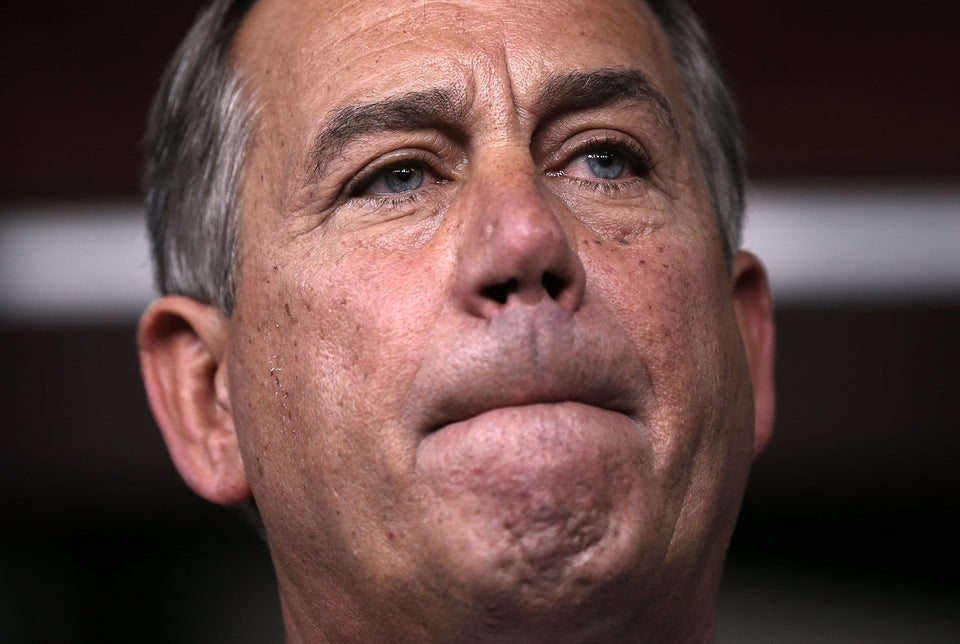 John Boehner's Lips Are Sealed
Popular in the Community