House Speaker John Boehner (R-Ohio) criticized his GOP colleagues at an event in his district on Thursday for resisting immigration reform, the Cincinnati Enquirer reported.
"Here's the attitude. 'Ohhhh. Don't make me do this. Ohhhh. This is too hard,'" Boehner told the Middletown Rotary Club, mimicking some House Republicans, according to the Enquirer. "We get elected to make choices. We get elected to solve problems and it's remarkable to me how many of my colleagues just don't want to. ... They'll take the path of least resistance."
Boehner spokesman Brendan Buck confirmed the remarks. "As the speaker often says to his colleagues, you only tease the ones you love," he said in an email to The Huffington Post.
The Senate passed a bipartisan comprehensive immigration reform bill last June. Ten months later, the House hasn't done much of anything on immigration, and for now it looks likely that it won't act on reform this year at all. Boehner has pinned much of the blame for that inaction on President Barack Obama for making it too difficult for the House GOP to work with him.
"The American people want us to deal with immigration reform," Boehner said on Fox News earlier this month. "I've tried to get the House to move on this now for the last 15 or 16 months. But every time the president ignores the law, like the 38 times he has on Obamacare, our members look up and go, 'Wait a minute: You can't have immigration reform without strong border security and internal enforcement, how can we trust the president to actually obey the law and enforce the law that we would write?'"
Boehner said Thursday, as he has before, that he wants to deal with immigration reform, but emphasized it has been and will be difficult.
"I've had every brick and bat and arrow shot at me over this issue just because I wanted to deal with it. I didn't say it was going to be easy," he said, according to the Enquirer.
"It's disappointing, but by now not surprising, that the Republican Speaker is attacking conservatives looking to retake the Senate," Heritage Action chief Michael A. Needham said. "The Republican Party should be large enough for fact-based policy debates. Unfortunately, John Boehner is more interested in advancing the agenda of high-powered DC special interests than inspiring Americans with a policy vision that allows freedom, opportunity, prosperity and civil society to flourish."
Before You Go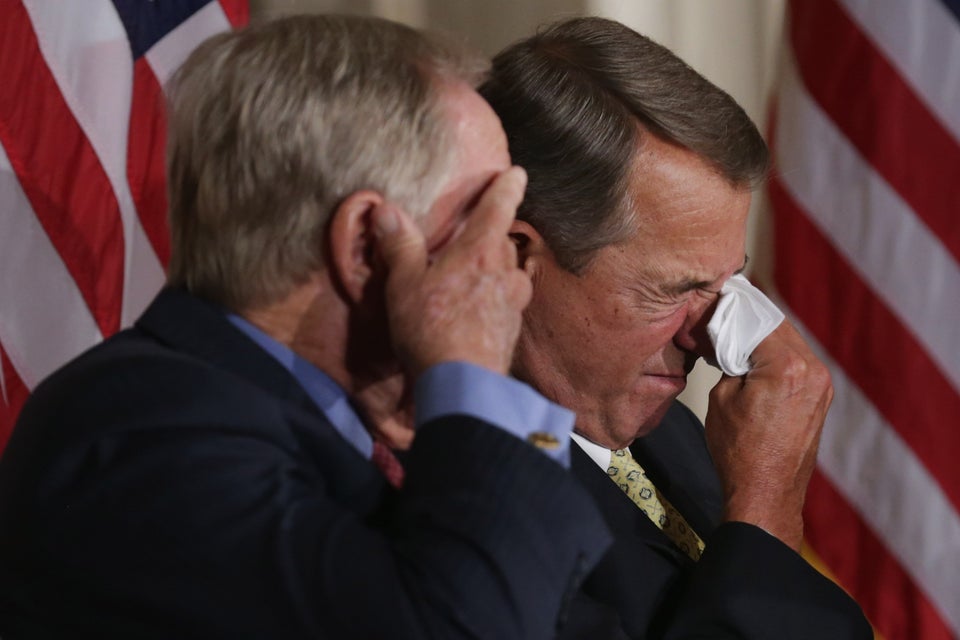 John Boehner Cries
Popular in the Community