WASHINGTON -- One of President Barack Obama's top advisers said on Friday that he expects House Republicans will ultimately file articles of impeachment against the president.
Dan Pfeiffer, a senior aide who has been with the administration since Obama first took office, told reporters that he anticipated that a lawsuit filed by House Speaker John Boehner (R-Ohio) over executive actions taken by the president on health care would ultimately not be enough to satisfy some of the more vocal conservatives in Congress.
Pfeiffer added that coming executive actions surrounding immigration reform would only stoke the impeachment flames.
"I think a lot of people in this town laugh that off," said Pfeiffer. "I would not discount that possibility. I think that Speaker Boehner, by going down this path of this lawsuit, has opened the door to Republicans possibly considering impeachment at some point in the future."
Speaking at the Christian Science Monitor breakfast, Pfeiffer based his prediction on several factors. The first was former Alaska Gov. Sarah Palin (R) calling for articles of impeachment to be drawn over the president's executive action allowing certain young undocumented immigrants to stay in the country. The second was a CNN poll released Friday morning showing that while just 33 percent of the country supported impeachment, a full 57 percent of Republicans were in favor of it.
"I think impeachment is a very serious thing that has been bandied about by the recent Republican vice presidential nominee and others in a very unserious way," said Pfeiffer. "And no one has even made any allegation of anything that would be within six universes from what is generally considered in that space."
Boehner has said repeatedly that he is not interested in drafting articles of impeachment against the president.
UPDATE: 10:25 a.m. -- Boehner's spokesman Michael Steel emailed the following response to Pfeiffer.
We have a humanitarian crisis at our border, and the White House is making matters worse with inattention and mixed signals. It is telling, and sad, that a senior White House official is focused on political games, rather than helping these kids and securing the border.
While Pfeiffer did float the prospect of impeachment without much, if any, prodding, it's worth noting that he did also discuss the crisis at the border during Friday's breakfast session.
Want more updates from Sam? Sign up for his newsletter, Spam Stein.
Before You Go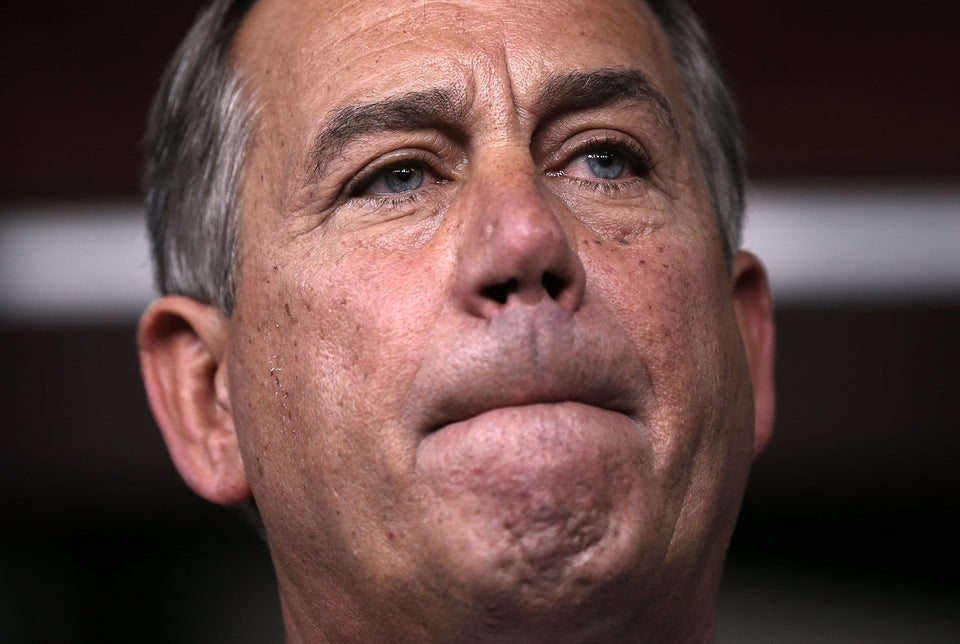 John Boehner's Lips Are Sealed
Popular in the Community