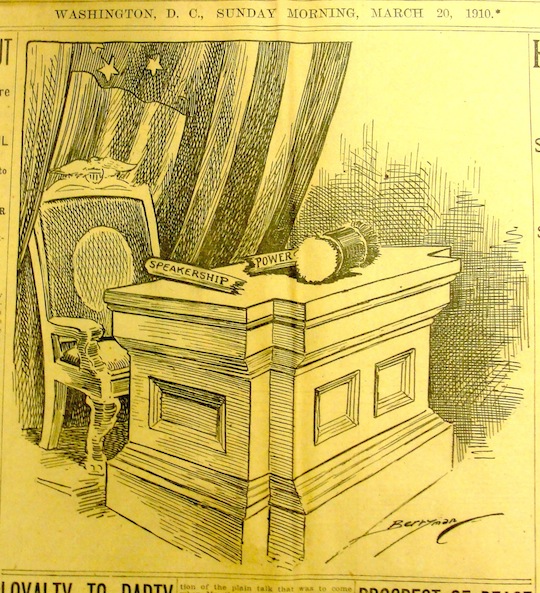 How long has the United States House of Representatives been broken? John Boehner (R.-Ohio) is not the first House Speaker to get his nose bloodied by overactive insurgents in his own Party Caucus, and the wound he suffered last past week from his Republican colleagues is hardly the worst by House standards.
Take a look at the cartoon above from the Washington Star of March 20, 1910 -- over a century ago. The Speaker back then was none less than Joseph G. Cannon (R-Ill.), venerable namesake of today's Cannon House Office Building in Washington, D.C. Cannon served as House Speaker for eight years from 1903 to 1911, longer than anyone else up to that point. A strict disciplinarian and arch conservative, Cannon used his power as Speaker to block much of President Theodore Roosevelt's progressive agenda and win passage of strict old-fashioned Protective Tariffs.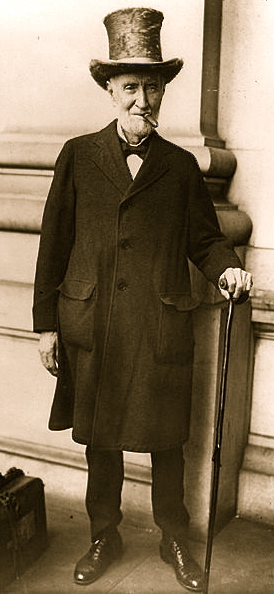 Tall, lanky, outgoing, always a cigar in his teeth, quick with an off-color joke, a back-slapping poker player, Cannon received 58 votes for president of the United States at the 1908 Republican Convention and had his picture on two different brands of chewing tobacco. But reformers cringed at Cannon's unapologetic, self-described "stand pat" attitude toward social change and his heavy-handed use of the gavel to silence dissent.
Not even Joe Cannon, though, could avoid attacks from his own caucus. On March 17, 1910, a group of dissident Republican progressives, sick of Cannon's bullying, launched an uprising on the House floor. Their leader, young Nebraska congressman and future senator George W. Norris (R-Neb.), gained recognition and moved that Cannon be stripped of his chairmanship of the House Rules Committee, a key pillar of the speaker's power at the time.
The battle quickly turned ugly, a three-day parliamentary siege during which Cannon had to filibuster from the speaker's chair just to be heard. Many of Cannon's usual House backers were absent for Saint Patrick's Day, making him vulnerable to a vote. Cannon's friends sent panicked telegrams across the country telling absent Congressmen to rush back, but it was too late.
In the end, the House approved Norris's motion, Republican dissidents teaming with Democrats to make a new majority. Then, having humiliated the speaker, they decided to let Cannon keep his title, but without the power. Within a year, Cannon would lose the speakership altogether to a Democrat and, in 1912, he would lose the Illinois Congressional seat he had held since 1873. (For more on the Cannon story, see "Uncle Joe" Cannon, the real ghost haunting John Boehner this summer as speaker of the House.)
By contrast, the bruising that John Boehner suffered this month in the House is relatively small potatoes. Boehner won re-election as House speaker last week, but 12 of his own Republicans either voted against him or didn't vote. Days earlier, Republicans had undercut Boehner in his negotiations with President Barack Obama over the "fiscal cliff" by refusing to support his high-profile "Plan B" idea. Then, a few days later, 151 Republicans, including two members of the leadership team, voted against the final resolution of the "fiscal cliff" issue that Boehner brought to the House Floor.
As a result, Boehner today remains speaker, but many consider him damaged goods, a weak negotiator compared with President Obama or Republican Senator Leader Mitch McConnell (R-Ky.) -- one who can't be counted on to deliver his own party members to a deal.
But there is hope in this story, and the comparison to Joe Cannon has a happy ending. Cannon bounced back after his 1910 humiliation. He was 75 years old when he returned home to Danville, Ill. as a defeated former congressman in 1912. But rather than sulking off to a bitter retirement, Joe Cannon soon started approaching friends and neighbors in his home town to ask for a second chance. They sent him back to Congress in 1915 and Cannon worked hard to rebuild friendships. He made peace with former enemies, even George Norris, the young congressman who led the anti-Cannon crusade of 1910 and was now a U.S. Senator.
Cannon would serve eight more years until 1923 -- almost 50 years altogether (also a record back then). By the time he retired, he had made himself such a respected figure that Time magazine put him on the cover of its first-ever edition. A few years later, when time came for Congress to pick a popular name to attach to its signature new office building, they picked Joe Cannon. The humiliation had been forgotten.
America loves second acts, and now it's John Boehner's chance. He still has a full two-year term as speaker of the House and, in many ways, the stakes for the country in his success are much higher that those for Joe Cannon back in 1910. Washington today faces a parade of challenges over the next few months from debt ceiling to sequestration (the "mini-fiscal cliffs") to immigration and a host of other pressing issues. Whether you look at it as a Republican or Democrat, liberal or conservative, everyone would benefit from having an effective speaker who can bring House Republicans to the table to navigate these crises. And right now, there's nobody else who wants the job.
Is 2013's John Boehner up to the task of making himself the new Joe Cannon of 1915, ready for his second act? Time will tell, but let's hope so.
Popular in the Community